Crystal Serenity Showcases Bright New Looks and Tastes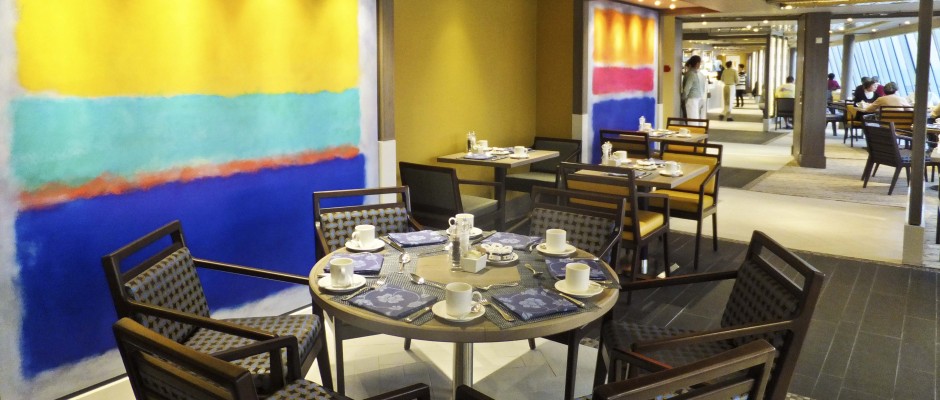 Tastes change and even a cruise ship that's consistently stayed at the top of the best ship rankings has to keep up to date.
That's why Crystal Cruises just invested $17-million in a massive overhaul of the Crystal Serenity's Lido Deck and created a new style of penthouses.
For two weeks in dry dock, more than 700 workers worked non-stop to rip out a big part of Serenity's upper deck and replace it with a new look and new furnishings. Work continued as guests boarded for a 12-day trip from Lisbon to the Canary Islands, Morocco and Spain in December.
And when the wrappings came off and all was finally revealed, it was worth the wait.
The covered Lido Deck area sports a brighter new design. A former small swimming pool was replaced by teak decking and walls of living plants. The furnishings are white wicker and the room is divided with panels of ornate fretwork described as "California Riviera" in style.
There are now three food outlets on the deck. The Trident Grill has been relocated and is now teamed up with a Ben and Jerry's ice cream parlor.
The new Tastes restaurant that shares the Lido deck features an open kitchen serving California-inspired fare. The Lido Cafe that now has smaller salad, entree and dessert serving stations rather than one long buffet line is the new spot for lunches on deck.
Change can only go so far of course, and there are familiar areas as well on deck. The open area of the Lido still features its dramatic pool with two whirlpool tubs and double-sized lounge sofas.
And the Palm Court at the front of the deck remains an elegant place for afternoon tea and dancing in the evening. A tradition on Crystal Serenity and sister ship Crystal Symphony are the gala Mozart afternoon teas with a Viennese theme featuring a string quartet playing chamber music and the staff dressed in frilled finery evoking the baroque era in Austria.
The long brocaded gowns on the ladies and the colorful waist coats on the men are all very authentic and a golden bust of Wolfgang Amadeus himself overseeing the buffet of swet treats adds to the festive occasion.
A preview tour of four new hypo-allergenic penthouses revealed a contemporary look and one of the most dramatic views on any ship, from a bath tub that literally lets bathers float on a massaging stream of air bubbles.
This is only a sneak peek of the new look. I`m looking forward to experiencing the new sights and Tastes as the cruise goes on.