Crystal's Serenity Plans Become Clear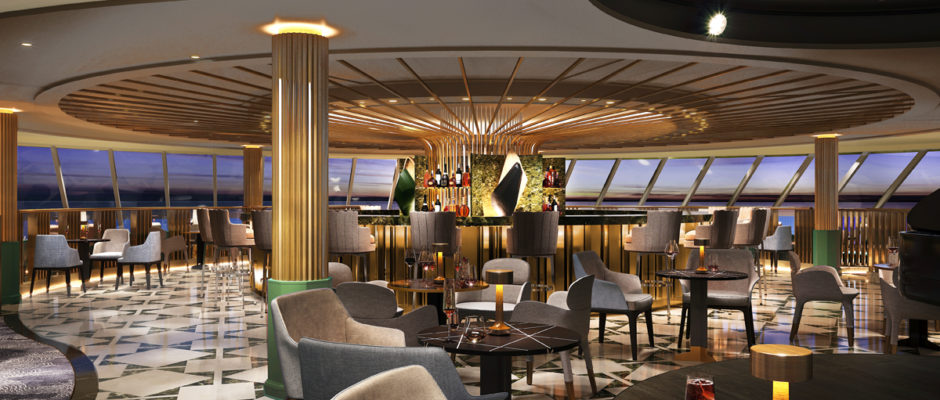 Crystal Cruises has revealed tantalizing details of the transformation of Crystal Serenity that aim to elevate the onboard guest experience.
While the three-week rebuilding of the ship in October, 2018 will reflect the dramatic changes that debuted in 2017 on Crystal Symphony, there will be unique refinements in the accommodations, dining options and technology.
"Our ocean vessels are the heart of the Crystal brand and represent the pillars of our company that our guests have embraced for more than 27 years," Crystal president and CEO Tom Wolber said in announcing the enhancements at the Seatrade Global conference in Fort Lauderdale in March. "We will continue to invest in their success and with an eye to innovation and a design aesthetic that is pleasing to our guests of today and tomorrow."
New Penthouses
Crystal Serenity will receive 36 new Penthouses and two new Penthouse Suites in place of verandah staterooms on Penthouse Deck 10, which will offer Crystal's acclaimed personal butler service, walk-in closets, spa-like bathrooms and spacious square footage as the current Penthouses on board (403 or 538 square feet). The transformation will reduce the ship's capacity from 1,070 guests to 980 guests, while the number of crew on board will remain the same.
New Dining Options
Open seating dining will debut aboard Crystal Serenity, allowing guests to dine at their leisure with whom and where they choose affording more flexibility for evening activities and entertainment. New dining options with a new range of globally inspired cuisine will also debut:
Waterside
Taking the place of the Crystal Dining Room and reflecting the chic elegance of the main dining venues aboard Crystal River Cruises and Crystal Symphony, this centrally located restaurant will continue to serve daily changing menus of international classic and modern cuisine, paired with unlimited fine wines, spirits and beers. More tables for two and four will be added, slightly increasing the overall capacity to 500 guests.
The Marketplace and Churrascaria
These are new daytime and evening restaurants of the current Lido Café. Both will feature an open-kitchen concept with dishes made to order. The Marketplace will continue to serve an expansive menu of buffet-style breakfast and lunch options and will transform into Churrascaria during the dinner hours. This Brazilian version of barbecue will offer a wide variety of tapas, ceviche, salads, and grilled meats carved and served tableside by Crystal "gauchos" on sword-like skewers.
Silk Kitchen & Bar
This Asian-inspired venue will be located in what is now Tastes and will feature Chinese comfort food, served family-style. An array of dim sum and seafood will be featured on the dinner menu, while lunch options include favorites from the noodle bar, traditional dumplings and Chinois soup. The space will be completely refitted with new fabrics, lighting and decorative features such as illuminated columns and screens to create an elegant al fresco ambiance.
Refreshed Public Spaces
Palm Court
The lounge will receive new finishes, carpeting and more tables for two including a combination of cocktail tables and chairs, dramatic wingback chairs with footstools, sofas and coffee tables. The stage will be removed and relocated  as an "in-the-round" concept along with a new modernized bar area.
The Stardust Club
Will receive new finishes, seating and tables, a new dance floor and dynamic lighting to support a more multi-purpose use of the space from bridge tournaments to exciting evening entertainment. Crystal Serenity's spacious enrichment facilities will also undergo a redesign. The Computer [email protected] as well as the multi-purpose Studio, will receive new carpeting; seating and equipment, along with 70-inch TVs to enhance the extensive programming offered through Crystal's Creative Learning Institute and Crystal Visions Lecture Series.
Crystal Serenity will emerge from her three-week dry dock on November 10, 2018, to begin a winter season that includes Pacific cruises to Hawaii from Los Angeles and an exotic itineraries around Australia and along the coasts of Africa.