Dining Around is Commitment-Free on Azamara Journey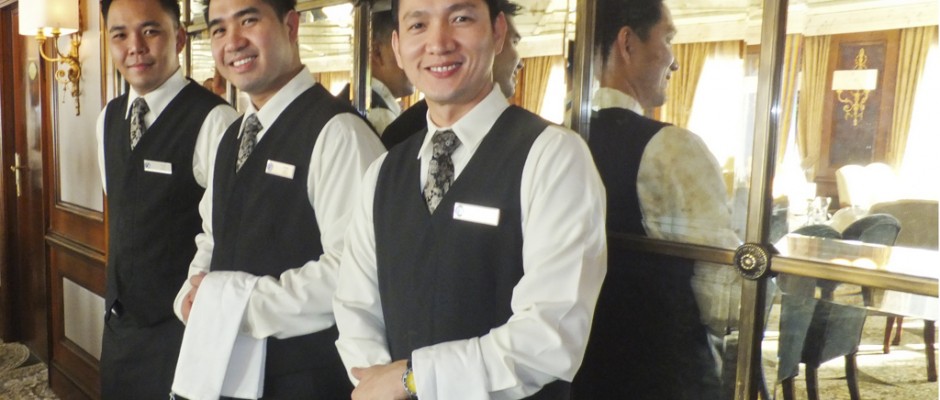 Azamara Journey is a fascinating ship in the modern cruise world.
Even when it's got a full house there are only 694 passengers on board, so it's considered a small ship.  But it and Azamara Club Cruises' sister ship Azamara Quest are large enough to offer a phenomenal number of options.
When it's time for dinner you can actually dine somewhere different every night, several of the venues have their own kitchens and all of them intimate enough to feel like a restaurant on land. With only a week on board, I had to try them all, and it meant trying a different dining option every evening.
Let's look at each:
AQUALINA
As the name implies, this is the seafood house and on this cruise in the Greek Isles, it meant the opportunity to sample some local catches of the day.  They're particularly proud of their starters, like seafood bouillabaisse, lobster and asparagus salad and white mushrooms with parmesan and white truffle cream.
PRIME C
The classic elements of this steak house includes wood paneling and a menu of huge prime cuts of meat. I actually ordered a half portion because the steaks can weigh in at up to 16 ounces. I loved the crab cakes as an opener. And for dessert there was a unique trio of donuts with a selection of dipping sauces, I held out for the Grand Marnier soufflé.
DISCOVERIES RESTAURANT
Azamara Journeys main restaurant is a bright, airy room with wraparound glass windows, so most any table you choose has a view. An open seating plan means the maitre'd generally has a table available for any size group. If there is a wait, there's a large lounge area and bar just outside the door that becomes a convenient meeting point for dinner parties.
I found the menu more varied than in either  of the alternative restaurants and the presentations were just as elegant.
WINDOWS CAFE
The upper deck buffet area does double duty as a breakfast and lunch buffet and then becomes the casual dining area in the evening. The outdoor seating on the rear deck of the ship is at a premium and its first come, first served. In addition to themed buffets, the serving stations include daily sushi, stir fries and pastas as well as a carving station and dessert bar.
THE WINE CELLAR
Azamara ships are proud of their wine cellars, including many small label and vintage bottles. There are wine appreciation events with sommeliers describing wines and pairings. The cellar is available by reservation for  special dinner parties in the evening.
MOSAIC CAFE
This became my hangout for brunches. Located mid-ship with a view of the atrium lobby, it's a European-style coffee house with a selection of snacks that changes throughout the day. The baristas deliver cappucino, espresso or hot tea with freshly made biscotti. The sandwiches here make for a substantial meal at lunch.
POOL GRILL
The poolside grill serves fish kabobs, burgers, fries and salad by day. In the evening, it often turns into a venue for dining. On memorable event was the white dinner, where all passengers are encouraged to wear white clothes. It's a chance to party under the stars and one group joined together 15 tables to create a gathering of 32.
IT'S MOSTLY COMPLIMENTARY
I found myself confused by the two-tier pricing at bars. The pours of the day are complimentary, but if you order a premium brand they cost between $6 and $9. The house liquors were perfectly acceptable Smirnoff, Gordon's, Beefeater, Mount Gay, Seagrams 7, Jim Beam ,Cutty Sark and Jose Cuervo.
The complimentary table wines of the day– which I generally also found quite entertaining–are free. There was a different pair of reds and whites each day and they were from Chile, California, France and South Africa. They were actually also pouring a fine rose complimentary every day, but that was not mentioned on any of the menus.  If you want them to open up something else, the price is $8 to $10 a glass.
Budweiser and my favorite import beer, Becks, are available complimentary. In fact, Becks was being served everywhere on draft as well. But if your taste favors Amstel, Carlsberg, Corona or Red Stripe you can opt for a premium package that costs $11.95 a day.
Upscale liquor comes in premium, top shelf and ultimate categories. A vodka drink would cost $6 made with Absolut and $9 made with Level and more if made with Grey Goose. Of course, you could get a premium upgrade package for an additional $12.95 to $15.95 depending on the brands.
And even water comes at a premium. They have a good reverse osmosis system on board so tap water doesn't have that chemical taste you often find on cruise ships. But if you opt for premium water such as Evian, Perrier or San Pellegrino, it adds $4 a bottle to your tab.
I was happy with sticking to the house pours.
But to each his or her own.