Dining Your Way! Savor the Newest and Tastiest Restaurants at Sea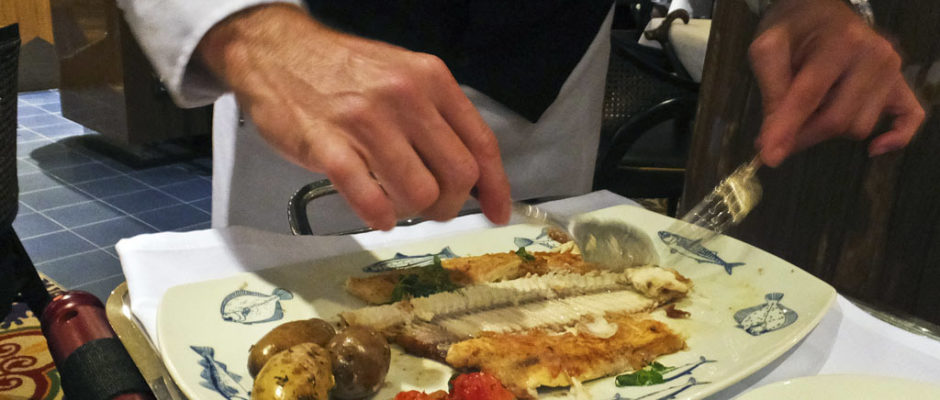 What are you in the mood for tonight? Perhaps a steakhouse with a French bistro flair, or a pick a  catch of the day and have it prepared your way? Or perhaps a sushi place with sing-along Japanese waiters?
Ever more varied and exotic dining options have cropped up on cruise ships.
We asked readers of The Cruisington Times what innovative restaurants at sea wowed them this year. The criteria were not only what's on the plate but the ambiance, service and factors that make a special cruise meal memorable.
Here's our by no means exhaustive list of choices of cruise restaurants that are worth the trip:
Sel de Mer–Holland America's Koningsdam
This is one of the most intimate restaurants on any cruise ship. It's reminiscent of a cozy bistro in Paris, with belle époque murals on the walls and a big glass case at the entrance displaying the fresh catches of the day on ice.
The menu's on a big card with traditional bistro hors d'oeuvres and all those favorites like bouillabaisse, steak frites and  cassoulet, along with daily specials. The friendly waiter explains that the fish selections are  local catches from the region and they can be prepared our way and will be boned and garnished at the table.
Best bites: The reviewers' choices were the salt- crusted fish baked with herbs of Provence and butter as well as the dover sole meunière. Profiteroles or crepes suzette are among the irresistible dessert options.
All the courses are a la carte.  Hors d'oeuvres range from $7 to $14, entrees from $16 to $32 and desserts are $4. Yes, they're the kind of prices you'd pay at a good restaurant on land, but the meal and the service will be a highlight of your cruise.
Readers also commended Holland America's Culinary Arts Centers, which offer hands on cooking demonstrations and opportunities to taste the results.
Bonsai Sushi–Carnival Vista
An a la carte restaurant is a new concept for Carnival, and this one would be right at home in Tokyo.   The chefs know their business and the wait staff will guide you through the menu that offers a full range of Japanese specialties from sushi and teppanyaki to bento boxes and noodle dishes. The concept got a new twist on the Carnival Vista, where Bonsai is in a prime mid-ship location and it has an outdoor patio that offers comfy seating, charming colors and a panoramic view.
Best bites: Highly recommended is the "Let us entertain you" omakase menu. It means literally "I leave it up to you" and the chef makes what he thinks will intrigue you based on your preferences. You can have as many courses as you wish for $22 for two guests.
On a recent cruise, the chef's meal started with batter fried fresh jumbo shrimp with a succulent sauce. That was followed by an elegant roll that turned out to be a spinach cake with a spicy peanut sesame sauce. Then came succulent black cod with a bean sauce on a green leaf with rice and plum sauce. The chef knows his business and if you want, he'll keep experimenting. But of course, there's always dessert.
Of course, there are those "Fun Ship" Carnival touches, like the fact the delightfully friendly wait staff might take a break and launch into a song and dance routine. You're encouraged to join in while waving silk pennants.
The prices are a la carte, with skewers and soups at $2, sushi rolls at $5 and bento boxes at $10. Order a "ship for two" at $17 if you want to sample it all. But be warned: it's a lot of food. 
Wonderland—Royal Caribbean
This food-as-fantasy restaurant first appeared on Quantum-class ships, and the concept has mellowed on Royal Caribbean's vast  new Harmony of the Seas, where it's a two-level trip through a rabbit hole.
Once inside, the cloud-like ceilings glitter with tiny lights and the tables are seemingly bathed in starlight. The menu's a blank until you use an artist's brush and water to make choices appear of dishes inspired by sun, ice, fire and earth. The waiters in red velvet frock coats deliver the courses that may be under a glass dome filled with smoke or wrapped like an un-birthday gift.
Best bites: The crowd-pleaser in our reader survey is the terroir beef "grounded in wisdom," which is slow cooked and served with potatoes. Among the sea options "inspired by the tide of imagination," the halibut cooked in clear paper scored a hit. But you don't have to stop at one, as a Mad Hatter would say. Most of the helpings are small, to give you the choice to sample more than one entrees or appetizer or order a range and share them around.
Sometimes the showmanship can make the food a bit of a trick to eat, such as a deconstructed salad that comes with its greens still rooted in soil. But the concept makes a meal here memorable and satisfying.
There's a $45 cover charge for dinner at Wonderland and reservations are essential.
Chartreuse and Pacific Rim–Regent  Seven Seas
There's a lot to like about dining on  the new Regent Seven Seas Explorer, from the Compass Rose main dining room with its art glass ceiling to the classic steakhouse Prime 7.
Chartreuse, the art nouveau inspred French-restaurant is a standout and the pan-Asian fusion Pacific Rim with its signature Tibetan prayer wheel are standouts for their design flair as well as their extensive menus.
Best bites: The grill meats at Chartreuse gets high marks, from the steaks to the roasted Cévennes rack of lamb with rosemary-mint persillade and sugar snap pea sauce. Or try the seared barbary duck breast with glazed turnips, candied Morello cherries and sour cherry mustard.
At Pacific Rim you can choose a menu items inspired by China, Japan, Malaysia and Cambodia. The tempura-battered deep fried lobster is a signature dish.  Meals on Regent ships all come with a list of complimentary wines.
You should reserve ahead for the specialty restaurants because seating is limited. 
Red Ginger–Oceania Cruises
Red Ginger is Oceania's pan-Asian restaurant, with a menu that spans Malaysian, Chinese, Thai and cross-cultural Asian options. It's just been added to the updated Sirena and like other restaurants, it has  an elegant, yet home-like feel with its kitchen visible through a window on one wall.
A bowl of warm edamame beans arrives to nibble while you peruse the menu. The chef can also prepare a sampler of sushi and tempura. Then it's decision time, as each of the entrees is spectacular.
Best bites: The signature starter that's difficult to resist is the watermelon and duck confit salad, with a satisfying sweetness to balance the richness of the duck. The curry prawns and lobster pad Thai are stellar seafood options and there are Thai vegetarian dishes. Then there's a whole separate menu of inventive Asian desserts.
This restaurant is immensely popular,  so reservations are a must. A booking for 7:30 or 8:30 may bring more choice in tables and a more leisurely dining experience
Le Champagne—Silversea Cruises
The candles, the bubbly, the six-course menu. This is Silversea Cruises' small, luxe room with plenty of personal attention for celebrating a special occasion or just feeling opulent.
The lobster and steaks and chops are prepared in ways that feature rich ingredients like a dollop of caviar on salmon or even gold leaf to top a risotto.
Best bites: There's an amusing way to check out what to order. The amuse bouche is a platter with a taste of many of the items on the menu, to give you a taste of things to come. You'll find the classics like Dover sole and lobster Thermidor and rack of New Zealand lamb but also exotica like breast of forest pigeon
There's a $40 a person cover charge at Le Champagne. You can either choose the complimentary house wines or pay an extra fee for the wine pairings for each course. Because space is limited, advance reservations are essential
Readers commented they're looking forward to the La Dame restaurant on the new Silver Muse,  due in April, 2017. It's part of Silversea's ongoing relationship with the international Relais & Chateaux association.
Manfredi's –Viking Ocean Cruises
All the walls are covered with photos of famous Italian celebrities tucking into large bowls of pasta and there's an open kitchen to give it an informality.
This Italian trattoria-style restaurant first introduced on Viking Star encored in 2016  on Viking Sea. It will also be on  two new Viking Ocean ships debuting in 2017. Readers who tried it raved about its atmosphere and the flavors on the plate–as well as the ample size of portions.
Best bites: The menu is extensive. While they pride themselves on making homemade pasta daily, the risotto and meat dishes got rave reviews from readers. One reader declared the bistecca fiorentina, a hearty rib eye marinated for 72 hours in aged balsamic the best she'd ever eaten.
 Even though guests are supposed to be limited to one evening in the restaurant on each segment of the cruise, on a recent cruise it was clear that some guests were repeaters. The advice is to make reservations before the sailing if you can because the restaurant books up fast.
Silk Road—Crystal Cruises
Crystal's got the longest running alternative restaurants at sea and they're a tough act to follow for their consistency and flavor. Their partnership deal with Japanese chef Nobu Matsuhisa required installing a lot of equipment to keep the fish sushi fresh and training in the award-winning style that 50 launched restaurants on land around the world.
Crystal's partnership with celebrity Japanese chef Nobu Matsuhisa, who's opened close to 50 popular restaurants ashore around the world, has made this one of the most in-demand restaurants at sea. Many of Crystal's guests are experienced with Japanese cuisine and this is the real deal, with choices that range from tuna to octopus to geoduck clams. The chefs are all personally trained by Chef Nobu.
Best bites: The waiters might suggest starting with an assorted plate of the restaurant's signature sushi and sashimi, including salmon tartar with Sevruga caviar, and a yellowtail sashimi with jalapeño, reflecting the experience Chef Nobu gathered working in restaurants in Peru.
The signature entrée is black cod marinated in Saikyo miso with lemon, but there are a host of options, including grilled wagyu beef with a choice of antichuco or wasabi pepper sauce.
Even though Crystal cruises are otherwise all-inclusive, to ensure that everyone gets the opportunity to dine at Silk Road, only one visit per cruise is complimentary.  A second visit, which you're likely to want to do on a two-week cruise, comes with a cover charge of $30 a person.
Here's to indulgence in 2017!