Encore! A Sneak Peek at Seabourn's Evolutionary New Ship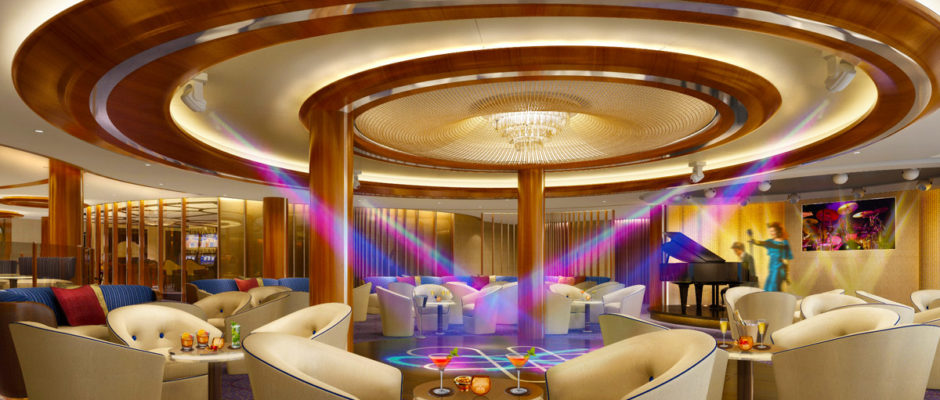 The curtain's about to rise on Seabourn Cruise Line's newest and it's clear the luxury brand isn't just expecting applause for what's come before.
Seabourn Encore is a ship that represents a new stage in the evolution of luxury small-ship cruising, the company says.
While at 600 passengers, Encore is in the same size range as the other ships in Seabourn's fleet, it's got more interior space and fresh features that will be added to fleet mates in the future. And it will have 450 crew—a ratio of crew to guests that's as good as it gets for personal service.
Here's a sneak preview before the debut in December:
A yacht-like design concept
Although the basic structure of Seabourn Encore is not radically different from Seabourn's other three ships, the spaces have been designed by Adam D. Tihany, a specialist in designing elegant restaurants, hotels and resorts. There was a huge budget for opulent materials including exotic woods, brass hardware, leather and marble throughout the ship.
In Tihany's own lofty words, "I have designed a ship that is imbued with a sense of spontaneity and exhilaration, to elicit surprise and delight that will complement the rest of the guests' travel experiences." That shows up even in sculptural details around the pool.
A preview of your personal space
Tihany says he aimed for a feel of a private yacht in the designs of suites. He promises many surprises and "subtle transformations that are not meant to be described, but rather to be discovered."
We'll see what that means, but the suites will be definitely spacious and luxurious, with roomy closets and separate seating and sleeping areas. The carpet designs, upholstery and furniture are all custom made for the ship. The all-marble bathrooms are designed to feel like spas.
New directions on the menus
Thomas Keller, the California celebrity chef behind the Michelin-starred restaurants French Laundry, Per Se and Bouchon, is bringing his cuisine selections. The Grill by Thomas Keller alternative restaurant gets a space specifically designed for the concept. Keller's dishes are already on Seabourn Odyssey in the restaurant formerly known as Restaurant 2 and will be added to the other Seabourn ships soon.
Seabourn Square is anything but common
The central gathering area on Seabourn ships is the Seabourn Square, a combination of reception area, library, internet café and lounge. On Encore, the concept gets tweaked with more curved lines and custom designed carpets and furniture.
Globe-spanning itineraries
Seabourn Encore will offer two pre-inaugural cruises to the Middle and Far East in December, 2016. A gala naming ceremony will be held in Singapore, followed by 10- to 16-day Pacific cruises.
Encore returns to Europe in April, 2017 after a pair of 16- and 18-day Arabia and India voyages. The ship will spend the summer in the waters of the eastern Mediterranean with a series of seven-day voyages.
Encore has been a long-awaited performance. Can't wait to experience it.