Europe River Cruising's on a Roll with a Flood of New Ships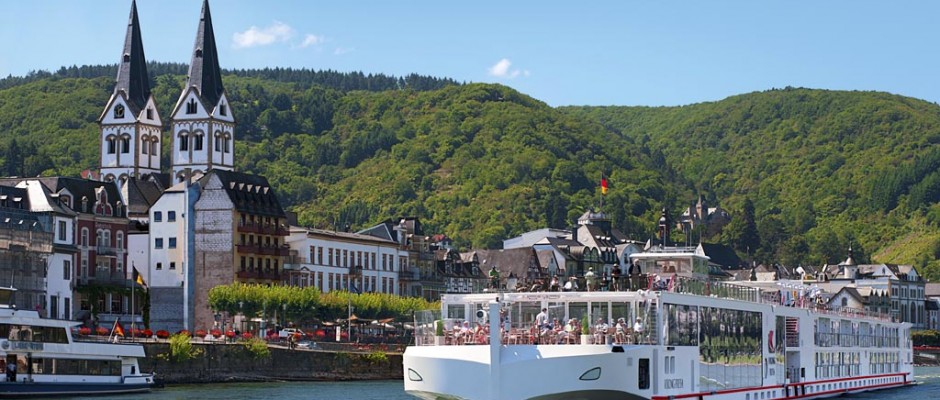 River cruising is  the fastest growing segment of the cruise industry now, and that's due in large part to rethinking the possibilities.
Only a few years ago, river cruises didn't appeal as much as land travel to North Americans. The ships that carried passengers on the Rhine and Danube tended to be built on the same hulls used for freight barges and passenger space was tight.
It was only when ships started being built with luxury and gourmet dining in mind, with full-length windows that opened and later walk-out balconies, that they grew the same appeal as ocean ships. And of course, they reach places in the heart of Europe that ocean cruises can't.
River cruising is easy and that makes it attractive: unpack once and see a new port each day. Guided tours are generally included and most cruises include wine or beer with dinner, so aside from drinks before dinner and gratuities for the crew, there are few other expenses.
New ships are christened in clusters these day—35 new ones in 2014 and almost that many more due in 2015.
The explosive growth has led to traffic jams at docks in the main cities along the Danube and Rhine. In high season, it's not uncommon to have to walk across a couple of other ships to get from your ship onto shore. That's led to an expansion of itineraries onto less travelled rivers.
Done the Danube? Experience the Elbe. Seen the Seine? Sample the Saone or the Loire. And there's a growing niche in Portugal's Douro and cruises that go all the way east on the Danube to the Black Sea or up the Adriatic.
Here's a look at new ships and new destinations on Europe's rivers for 2015:
AmaWaterways
AmaWaterways  has a signature "twin balcony" concept, consisting of a regular French balcony with a second full-sized step-out balcony. Two new vessels with the design– the 164-passenger AmaVista and AmaSerena–will join the AmaWaterways fleet in 2015 and sail on the Danube, Rhine and Main rivers. They're sister ships to the recent AmaPrima and AmaCerto.
Special features: Heated swimming pool with "swim up" bar, Chef's Table alternative restaurant and complimentary use of bikes during port visits.
Avalon Waterways
"Suite Ships" are Avalon's forte, with a claim that their two full decks of Panorama Suites with floor-to-ceiling windows and large bathrooms are among the most user-friendly on Europe's rivers. The line has launched eight new ships in the past four years and 2015 will see the addition of the 128-guest Avalon Tranquility II, whose itineraries will cover the Rhine from Amsterdam to Zurich.
Special features: Whirlpool and putting green on the sun deck,  alternative Panorama Bistro dinner featuring a small-plates tasting menu.
Emerald Waterways
A value-priced sister line to Scenic Cruises, Emerald Waterways debuted this year as the first new river cruise line in Europe in six years. It was awarded the "Best New River Ships" designation in Cruise Critic's 2014 Editors' Picks Awards for their Emerald Star and Emerald Sky "Star-Ships."
Emerald will launch two more ships, the Emerald Dawn and Emerald Sun, in 2015. They carry more passengers than those in their big brother's fleet and the suites are slightly smaller, with French balconies rather than walk outs.
Special features: A heated pool and bikes for independent trekking ashore.
Scenic Cruises
The Australia-based Scenic Cruises will launch Scenic Jasper and Scenic Opal in April, 2015. These 169-passenger vessels are the latest generation of what Scenic terms "Space Ships." The suites are nearly 25 per cent larger than equivalent accommodations on other lines' ships, according to Scenic. Most have a neat feature of having walk-out balconies that can be enclosed in glass on cool or rainy days. A redesigned lounge and a restaurant has windows that can be opened in good weather.
Special features: Butler service, a split pool with a swim- against-the-current feature, a fleet of motorized bikes, room service and an alternative Italian dining room in the evening.
Tauck River Cruising
Tauck's new ship Esprit in 2015 is part of its new 118-guest Jewel-class of ships, which the line boasts have the most space per passenger on Europe's rivers. Many of the suites include double French balconies and feature Molton Brown toiletries in the bathrooms. Esprit will help Tauck gain much-needed capacity—it and two new Inspiration-class vessels will mean a 70 percent capacity jump in just a year.
Special features: Gratuities included in the price. Some meals off the ship including lunches in local restaurants and dinners in historic palaces are included.
Uniworld Boutique River Cruise Collection
Uniworld describes its ships as the most sophisticated afloat and they even persuaded Catherine Deneuve to be the godmother of their S.S.Catherine. This year brings a sister ship, the S.S. Maria Theresa, with design touches including antique furnishing and original paintings and an indoor swimming pool with mosaic tiles walls. The lobby features a large Murano glass chandelier and waterfall, and a bar done up in leopard print.
Special features: Alternative dining bistro, indoor pool, guest laundry and an Epicurean Adventure Program that features visits to local farm markets.
Viking River Cruises
Everyone in North America has heard of Viking River Cruises,  thanks to its regular advertising campaigns and its mind-numbing expansion program that's launched ships as many as 18 at a time. In just eight years, the company has launched  54 new river ships, and it's got another dozen on the way for 2015.
They're all built to the same "Viking Longship" design standard but there are two unique vessels in a smaller size coming for the Elbe River. The Elbe vessels will operate the only river itinerary to sail through eastern Germany, with stops in Magdeburg, Wittenberg and Dresden
Special features: Indoor/outdoor alterative restaurant called Aquavit Terrace, putting green and shuffleboard on sun deck
CrosiEurope
This niche French company that made its reputation with small canal boats in Europe is expanding with ships purpose built to carry more passengers on exotic rivers. It's 2015 entrée is the 96-passenger Loire Princesse has a with a low draft designed specificlly to cruise France's longest river. Its paddle wheel propulsion is innovative and designed to give the ship a very shallow draft.
Special features: Princesse is labelled a "green ship" for its features that conserve water, reduce emissions and trim electricity use.