Exclusive Gene Simmons Interview: Why KISS Has Its Own Navy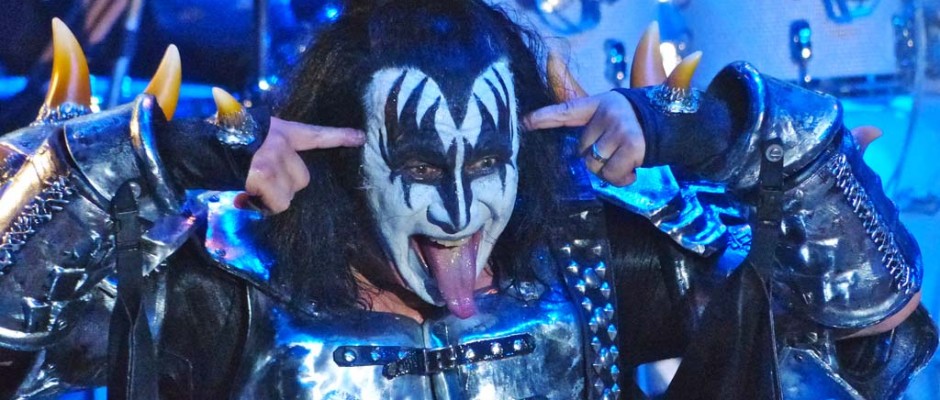 It's becoming an armada: the KISS Navy will be forming again for The KISS Kruise VII.  Fans from all corners of the globe will embark on KISS's seventh voyage, from New Orleans, November 5 – 10, 2017, to Costa Maya and Cozumel aboard Norwegian Pearl.
The cruise is already heavily booked.
It's part of a growing industry trend in music-based theme cruises. There are more than a dozen jazz, country, soul, rock and nostalgia cruises scheduled at sea this year. Carnival has an ongoing concert series that has featured Journey, Styx, Jennifer Hudson, Smokey Robinson and Rascal Flatts.
But Kiss is the monster cruise  success.
In an exclusive interview with The Cruisington Times,  Gene Simmons says that the cruise has become a  phenomenon  because the fans and the bands can unwind and just have fun at sea.
We've all got Great Expectations, Gene, what made you decide to take KISS to sea?
The KISS Kruise is a chance for all of us– the band and the fans– to have a ball. Just let your hair down and not worry about it at all. Kiss has always been about breaking the rules. We've never liked that moat–the stage– separating the band from the fans. So whenever we do a show, we try to take the action right to your face. A cruise will let the fans get up close. We try to take it inside you, we want you to smell it and taste it and feel it.
You've got a Kiss Navy now, do you have any previous experience with the real Navy?
For a TV show we went as guests of the United States Navy and we landed on the aircraft carrier USS Nimitz. We had a lot of security there. The Navy even had some nuclear powered missiles underneath us.
How much will the fans get to get to interact with you on the cruise?
We're going to have a deck up top to ourselves and we will certainly want to bring up fans. It may to a little difficult to get down to the lower levels and hang out a lot, because you've got 3,000 people on board, who are basically going to shred you to pieces. It's all appreciated of course, and I say all this with tongue in cheek–I don't mean my tongue in your cheek–but you know what I mean.
The real idea of this cruise is to have fun. Everything about Kiss is over the top. Everything about it is meant to really make every day we have above ground a fun day. We're going to have some fun shows that will be interactive with the fans, to make them feel like family. We'll be doing an Unplugged show for the fans to make requests and we'll also be doing a Kiss production show in full war paint.
There will be limits. We like a lot of pyrotechnic effects and with limited space, you can't blow lots of things up on the ship. But we'll do the best we can. We'll cram the act full of everything we can.
What's going to be new?
It's like we're invited to a party. I don't know anyone who brings a list of 10 things they're going to do at a party and what time they're going to be doing them, do you? That's not the kind of party I want to go to. We just let the party happen and just take requests from the fans. We'll just try to have a lot of fun and not plan it out too much. Of course, one show is a full production number and that we have to have pretty planned out. But the other will be Unplugged, which is forget about it all and have fun.
Are any new songs going to be inspired by the trip?
Maybe. We're going to be doing obscure stuff and we'll make some of it up as we go along. We tend to let the words and the riffs come naturally when we're inspired by something. And sometimes you just write songs because the words sound cool and you don't worry about the story. I have no idea what's going to come out of the experience and to me, that's exciting.
There will certainly be songs that we don't do on tour. In our catalog we've released nearly 50  albums– about 30 of them studio records. That's certainly enough material to make it a lot of fun.
Are you guaranteeing calm seas and sunny weather?
That's a good question. I am the God of Thunder after all. We certainly hope we'll have great weather. It's usually calm and comfortable sailing.
The uniform for the Kiss Navy is face paint, crazy costumes and sunscreen. And it's become a family festival, with events for the next generation who come to rock alongside their parents.
This year's Rock and Roll Party lineup includes two full concerts by KISS.  And of course there will  be Room Service and a Wall of Sound that promises to be Hotter Than Hell. There are almost continual performances by other trending  rock acts.
For their loyalty,  sailors are promised fast promotion. Those on their first KISS Kruise are sailors, on their second, their rank is lieutenant and those who have done three become commanders. Those who keep re-enlisting can reach captain and then admiral.
No saluting's required, although there's plenty of arm waving and chances to Shout It Out Loud.Everyone gets autographed commemorative souvenirs and there are lots of photo ops.
Details of the cruise are on the KISS Kruise ewebsite.