Fashion, Kumquats and Bangers on a Cruise Tour in Colorful Corfu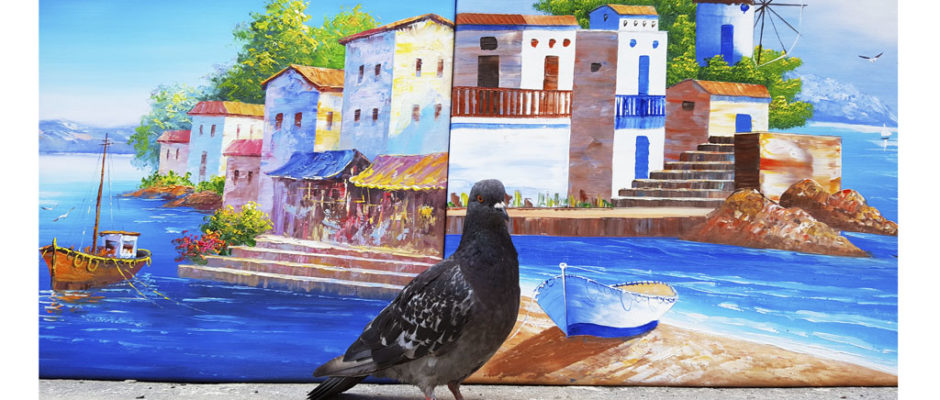 The toughest thing about taking a stroll around old Corfu Town is actually getting in to town.
The cruise terminal for the wonderfully historic Greek island is a fair distance from the city itself. It's so spread out  that we need to take a bus from where  Oceania Cruises' newly renovated Sirena is docked to get to a  second complimentary shuttle bus in to town.
Walking might be faster. Traffic moves at such a crawl that it can take the shuttle over half an hour to make it to town. The reason is that roads around this coast of  Corfu Island haven't been widened since the era of horse carts. Only one narrow lane is open for traffic and it's ridiculously stop and go as drivers idle waiting for scarce parking spots.
But once you finally arrive, Corfu Town is a fascinating Greek city with a storied past and a bustling present that's ideal for walking. There aren't any vehicles bigger than motorcycles on the stone streets. And it's compact enough that you can see a lot in a few blocks.
The Liston
No, not the boxer who challenged Muhammad Ali to be the champion of the boxing world. The Liston refers to "the list" of upper class and privileged people who were the only ones allowed to stroll this stylish covered arcade when it was built in the 1800s. Today it's a cool retreat of outdoor cafés that's open to everyone and recalls the elegance of St. Mark's Square in Venice, which inspired its arches and lamps.
Shopping that's refreshingly unique
Coming through the arches into the old town from the Liston, there's a fairly modern high street. Here you'll find such standbys as H & M and even Marks & Spencer. Ignore them.
Rambling through the maze of old streets and alleys is much more rewarding, with a lot of boutiques that offer excellent selections of unique art and clothing at reasonable prices. The handcrafts on Corfu seem better than most in the Greek Isles and even the knock- off fashions are of better quality that most other places in Greece.
The best fashion finds are in boutiques that sell dresses and tailored jackets. There are exquisite pieces in linen and silk at prices that seem unreasonably affordable and many shops can make alterations while you wait.
Greek treats: koum quat anyone?
Kumquats are a phenomenon here. The acidic orange fruits became the island's key export after trees that were imported here from China in the eighteenth century proliferated. You'll see entire stores filled with "koum quat" preserves, liqueurs and syrups. But you're unlikely to see them fresh in stores because frankly, they're an acquired taste to eat raw.
Other Corfu specialties are deep fried foods, including battered feta sticks, and a stew called bourtheto, made with scorpion fish. Ginger beer seems to be a local treat as well.
Of course, because the island has always been a favorite of British travellers where are plenty of places that serve the traditional foods like saganaki, calamari and, um, bangers and mashed potatoes.
Meander through the markets
Refrigeration seems to have never taken hold here so all the fruits and vegetables in the markets here are delightfully fresh from the fields and displayed on open tables. Shops specialize in spices, so you'll catch pleasant whiffs of nutmeg, basil, and garlic as you walk around. And there's great people watching because the fresh displays attract local residents shopping for snacks and the evening's meals.
Old and new fortresses
Before you leave, check out the massive stone fortifications that originally enclosed the city. It's hard to imagine that the entire ancient town of Corfu was once contained within these towering walls. What looks to be a separate island was actually created by digging a moat with a drawbridge that's permanently open today.
Tthe Old Fortress on a hill overlooking the harbor has parts that date back to the sixth century. It was strong enough to fend off sieges by the Ottomans in the 1500s. It all looks old to me, but the "New Fort"  expanded the walls and Corfu fended off another siege in 1716.
It's worth the three Euro admission charge to stroll around inside and get the view from the parapets and see the ever-changing art displays.
Home again
Fortunately, the shuttle back to the port and Oceania's Sirena goes much more quickly than getting into town. The drivers here don't need to find a parking spot. They've already done their shopping and are heading home after a good day's outing.