5 Off-the-Radar Things Not to Be Missed on Royal Princess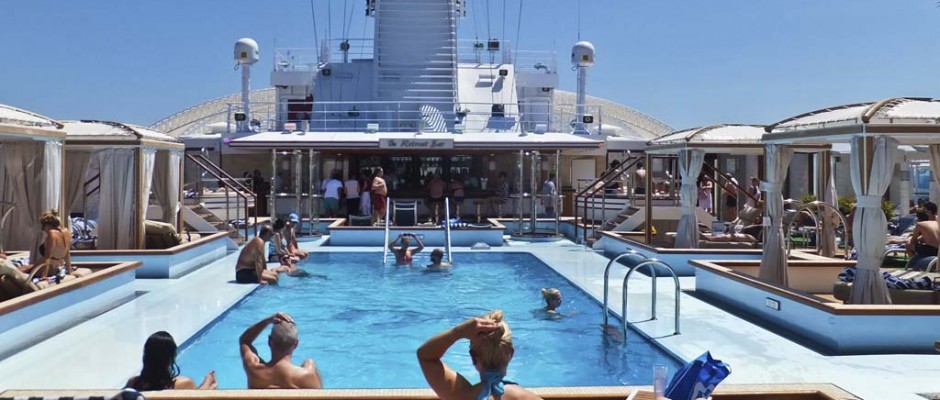 A lot's been written about the Royal Princess since it made its debut in Europe with a christening by Kate Middleton, the Duchess of Cambridge. It's certainly the largest and most impressive new cruise ship of the year.
I sailed a few weeks later on a scheduled cruise in Europe to see what life on board is like after the paparazzi have left and I came away in awe of the choices on board. That's thanks to the way Princess Cruises designed the public areas as a series of small spaces to create multiple choices for everything day and night. In fact there are so many restaurants, lounges and options for staying busy or chilling out, there are some you could miss out on unless you seek them out.
Here are five things—some of them not even written up in the daily programs or advertised on the maps of the ship—that you should make an effort to try while you're on board:
The Enclave
This is how I imagine the ancient Roman baths for the nobility were laid out. Entered through a discreet door in the middle of a corridor within the spa, it's an expansive relaxation complex. The focal point is a swimming pool-sized hot tub with a number of areas where you can sit or stretch out flat in soothing whirls of water.
In keeping with the Roman  bath theme there are three chambers of different temperatures. The caldarium is a Turkish style Hammam steam room lined with marble and nearby is the tepidarium, a dry warm room that encourages detoxification. Finally there is the  frigidarium, a cool room with herbal scented air whose seats and floors are heated for comfort.  The showers feature sensory experiences along with their adjustable water jets. The choice runs from tropical rain forest to Siberian summer, with lighting effects and aromas to match.
As The Enclave's name suggests, this is a very private area and first you have to know that this spa within a spa exists. It would be so popular you wouldn't be able to get in unless there was an entrance fee. At $39 a guest a day I found the price a little daunting at first, but when I was visiting during a day in port, I had the place to myself for the first hour I was in and that was well worth the admission price. You can also make a deal for daily use of The Enclave through the cruise.
The Lotus Spa itself is by far the most elaborate specialty spa complex on any ship. But you should plan to make reservations for treatments early in the cruise, because I find prime times book up early.
The Upper Deck Bars
The Sea Walk Bar gets discovered by those who need something bracing after walking along the glass-floored walkway that swoops off the side of the ship 16 decks above the water.
But there's another bar that's on the top deck that's part of the Sanctuary and Retreat area and in the evening becomes the Chill Lounge. It's a great space to have a sunset cocktail and there are specialty champagnes and liqueurs here that you won't find featured on other bars on the ship. One that intrigued me was a new Moet Ice Imperial champagne, made specifically to be served over ice.
Horizon Terrace and Outrigger Bar
Behind the Horizons and Bistro area is a rear deck space that most people might miss, because there's so much going on in the dining areas. But this is the place for a quiet cocktail or to just  scan the sea from the stern of the ship. The Outrigger Bar is one of those castaway places where you can always find a bar stool or settle in to a cushioned banquette.
The Crab Shack
This restaurant only appears on sea days, as a corner of the Horizons and Bistro food court is transformed into a seaport eatery. They do all the hokey things like using paper placemats and providing big boxes of crayons to decorate them with and tying on plastic bibs to keep crab juice from splattering your dress.
Then come the big bowls of chowder and then your choice of combos that can include crab legs, lobster, clams and scallops with lots of steamed potatoes and saladsYou need reservations to alert the kitchen how many to expect. It's likely to be an ongoing hit with Americans and Europeans who like something a little more informal. But it was sparsely attended when I was on the ship because it wasn't promoted on the daily program.
Same goes for another ephemeral dining spot, Fondues in the Bistro, that sets set up on some evenings and like the Crab Shack has a $20 a guest cover charge.
Winemakers' Tastings
A premium wine tasting scheduled during most cruises will let you sample premium wines that would cost over a hundred dollars a bottle at retail. The Super Tuscan tasting on my cruise around Italy in August was hosted by none other than the Marchese Lamberto Frescobaldi, whose family has been growing grapes and dabbling in finance and politics in Tuscany for 30 generations. One of the wines was a rich Ornellaia cabernet sauvignon that is so rare that prices in auctions get bid up well over $2,000 a case. The Marchese says the family is limited to only three bottles per year for personal consumption. Another wine in the tasting was La Vita Lucente was also a standout.
I found the tasting a deal at $40 a guest because it not only included four wines, but each came with an ample appetizer that the kitchen had whipped up to accompany it. I was sorry I had eaten lunch beforehand.