Harmonic Convergence: 6 Advances on the Biggest Cruise Ship Yet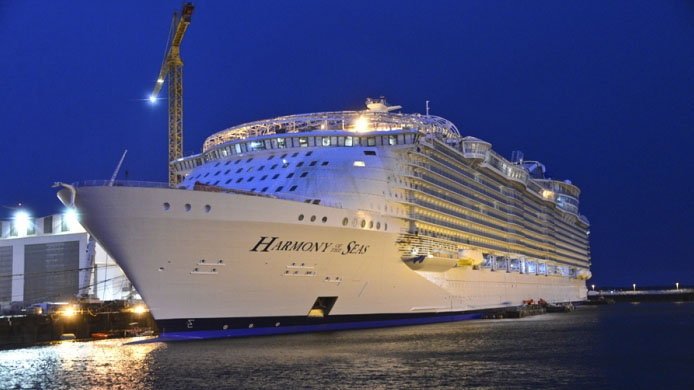 Watch out, because railings and glass balconies haven't all been installed. Wires dangle from ceilings and scaffolds and tarps are everywhere. Just three months away from her launch,  Harmony of the Seas still looks like a puzzling construction zone inside.
Hundreds of specialists are working around the clock painting and plastering acres of elegantly curving walls and ceilings, meticulously setting tons of ceramic tiles, installing miles of lush carpeting and thousands of lights. Still to come are landscapers with a forest of plants, art installations and the 2,400 crew members who will make the beds, fire up the kitchens and bring the many bars and stages to life for up to 6,400 guests.
It's taken more than two years for Harmony to be born in the shipyards of STX France, at the mouth of the Loire River. But that's actually quick, considering the hundreds of thousands of pieces that had to come together flawlessly to build what Royal Caribbean International boasts will be the biggest, most entertainment-packed ship ever conceived.
In an exclusive reveal for a handful of  journalists invited to do a hard-hat and safety goggles tour of the ship still under construction, The Cruisington Times' Wallace Immen got a first look at what until now have been classified secrets:
1) Bigger—Where It Counts.
Harmony of the Seas was conceived to grab the crown of world's biggest cruise ship from the reigning champs: Oasis of the Seas and Allure of the Seas. In reality, the ship is  only about a size 13 shoe length (33 centimeters)  longer than her sisters, but she's at least 16 feet wider from Deck 6 up.
That means there's notably more floor space in staterooms and even a bit of extra width in balconies, explained Mark Tamis, senior vice-president of hotel operations for Royal Caribbean. The designers also found ways to make furniture layouts more efficient, which means added storage space in closets and counters. Even the TVs are thinner than the ones installed on previous Oasis-class ships.
2) Could the Ship Possibly Be 20 Percent More Efficient?
Technology gets more eco-friendly every year, explains Harmony's Captain Gus Andersson. "We started with a goal of improving energy efficiency by 10 per cent from earlier Oasis-class ships. We looked everywhere, ergonomics, equipment, engines and power use. We reached 15 per cent and kept looking and now we've got 20 per cent."
The engines are a new design that are significantly more fuel efficient. Scrubbers reduce emissions by spraying water into the exhaust to wash out particulates and sulphur.
The propulsion units and propellers are shaped to create less drag. And then there's a new "bubbler system" that blows bubbles of air under the ship's hull to make the ship glide more smoothly through the water, increasing  speed while  at the same time significantly reducing fuel consumption.
Lighting everywhere is from energy-saving  LEDs. "We're recovering more waste heat and we made air conditioning more efficient. It's all co-ordinated by a "smart system" of controls that monitor the energy use and efficiency of every system in the ship. "These are all technologies that have come of age in the 10 years since Oasis of the Seas was designed," the Captain added.
3) The Ultimate Abyss and Dueling Slides Too
Ultimate Abyss was the idea of Royal Caribbean's CEO Michael Bayley, who challenged designers: "let's build the craziest slide that anyone ever built." That set off a quest. They decided that to make it unique, Abyss should be a dry slide rather than a water slide, and the perfect launch pad for it was from a platform at the stern of the ship 10 stories above the deck.
To make it scarier, there's a glass floor on the takeoff platform so you get a dizzying view of the cushioned landing zone far below before you make the terrifying plunge into the tube that features eerie sound and light effects. (Abyss slides will also likely be retrofitted onto the other two Oasis class ships in the future, but it's unique to Harmony now).
If water slides are your thing, there's an ultimate trio called The Perfect Storm. The brightly colored spirals called Typhoon, Cyclone, and Supercell give a five-story ride from Deck 15 to the pool deck. Teams can race to the bottom.
4) Amped Up Entertainment
Along with all the theaters and show lounges you expect on a big Royal Caribbean ship come the latest in sound, lighting and visual effects equipment. The  theater will have high-definition video walls that wrap around the stage to create a 3D  effect.  Each cruise will feature full-length performances of newly choreographed Grease and a new comedy: Columbus the Musical, about another explorer with the same name who had some whacky adventures at sea of his own.
On the ice skating rink of  Studio B , there will be open skating sessions by day between performances of the shows iSkate Showcase and  "1887." (Fun fact: Royal Caribbean employs more professional skaters than the Ice Capades). At night, the ice will be covered over and the studio becomes a theater that hosts Quest, an interactive team game.
The Aqua Theater at the end of the Boardwalk  sports newly designed vivid video screens and a unique acrobatic flying rig that lets performers soar above and around the performing stage on a three-dimensional system of cables.
In the Royal Promenade, On Air becomes the largest sports bar in the fleet, and it will host family karaoke nights. The "Stowaway Piano Player" –a roaming musician who goes around all day with a mobile piano specially built to even fit in elevators–is sneaking on board Harmony as well.
5) Dining and Drinking Refined
A big trend in cruise dining is more choices of restaurants and dining times. So the main dining room is divided into restaurants on three levels with different design themes: Grand, Silk and American Icon. Two of them are for "my time dining," because increasing numbers of guests want to decide when they want to dine rather than having a fixed seating.
There's also "my family time dining", a feature that lets kids dine first while parents enjoy a glass of wine or cocktail. When counselors for the Adventure Ocean program pick up the kids, the parents get time to themselves to enjoy dinner.
Changes in the specialty restaurants include adding celebrity chef Jamie Oliver's Italian restaurant to the Central Park restaurant row. Upscale restaurants 150 Park Avenue and Chops will boast new menus.
The Wonderland restaurant has become so popular on Anthem of the Seas that it's been doubled in size as a two-level restaurant on Harmony. It's a fantasy space that has to be seen to be believed, with swirling clouds in the ceiling dotted with thousands of fiber optic lights. Menus are presented in magic boxes and the selections of  special-effects inspired dishes change regularly. An added feature is a bar that will be open for late-night cocktail alchemy.
The Bionic Bar that's become a hit on Quantum-class ships is becoming a central feature of the area that's a Champagne bar on other Oasis class ships. The robotic bartenders coming on board are the most user-friendly yet, promises John Sulley, Royal Caribbean's vice-president of food and beverage operations. You just swipe your Sea Pass card and enter your birthday and then tap a cocktail order from an on-line menu to put the robot arms to work shaking and stirring.
An added restaurant that's an incentive to upgrade your cabin is Coastal Kitchen, a 146-seat restaurant that overlooks Central Park above the Windjammer restaurant. It's exclusive for guests in grand suites and higher as well as Pinnacle Members.
6) Techies' Delights
Technology evolves so quickly that the systems on Harmony are a generation ahead of even those installed on Anthem of the Seas just a year ago. A priority is to have state-of-the-art satellite communication–and Royal Caribbean says its wi-fi is way beyond the speed of any available on any other cruise line and equal to some of the best on land. But the tech revolution extends to the navigation equipment on the bridge, heating and air conditioning, security systems and an on-line check-in process that avoids waiting to get on board.
There's also a room that will be a delight for nerds and escape artists. Puzzle Break is a maze custom built by set designers that puts 14 people together who must solve a series of puzzles within half an hour to find their way out of the room.
The building of Harmony of the Seas is  a remarkable performance. And there's already a fourth Oasis-class ship taking shape in the STX yard for delivery in 2018.
Harmony of the Seas debuts May 29 with a sailing from Southampton and will spend the summer in the Mediterranean before heading to Ft. Lauderdale, which will be her home port starting in November, 2016.