How do Cruise Lines Shape Up as Dress Codes Go More Casual?
There were two formal evenings on my recent two-week cruise on Seabourn Sojourn along the coast of Norway. Even though dark suits were an option for men, many still opted for tuxedos or dinner jackets. And the women had brought cocktail dresses, sequined tops and their showiest jewelery.
Even evenings described as "elegant casual" were dressier—at least for men–than any dinner party I've seen ashore in a long time.
Dressing up for dinner is something I've always loved about cruising. Ships are their own floating worlds. Every night can be a cocktail party and no one has to worry about driving home. Where else—other than a charity ball where you have to listen to endless speeches between courses—do you find formal dinner parties anymore?
But there's a generation that's grown up in jeans coming on board. And with airlines charging for checked baggage and cracking down on luggage weight, there's more incentive than ever to leave gala outfits and dancing shoes off the packing lists.
That's led even the staunchest upholders of the formal tradition on cruises to loosen their ties a bit recently. Some cruise lines have now declared all their evenings casual, or to define their dressiest evenings as some version of "elegant casual" or "formal optional." Here's a guide to decoding cruise line dress codes:
THE FORMAL SET
Crystal Cruises
The line which in the past often featured three formal nights on two-week cruises recently relaxed its dress code: Most evenings are now Crystal Casual, which for women means a dress, or a blouse or sweater and skirt or dressy slacks. Men's Crystal Casual attire can include a sport coat, dress shirt, button-down shirt, open-collar or collared polo shirt and dress pants or trousers. The code adds: "No tie required; no jeans please." Suggested attire for "Black tie optional' evenings for men is a dark suit with tie or tuxedo; for women, this includes a formal cocktail dress, evening gown or dressy evening separates.
Cunard Line
The classic line is still the head of the fashion class. "The glamor of dressing to the nines is a hallmark of travelling with Cunard, and distinguishes us from the mass of cruise operators where dressing up has become a thing of the past," says Peter Shanks, president of Cunard Line. As many as three formal evenings a week require black tie or a formal dark suit and tie for men and evening dress for women. However, in response to growing travel trends, Cunard recently adjusted its advice on dress codes for other nights: On "informal" evenings, jackets are required but ties are optional.
Disney Cruise Line
Three- and four-night cruises feature one "dress-up" night. A seven-night cruise features one formal and one semi-formal night. "Dress-up" means jacket for men and dress or pantsuit for women. Formal means tuxedo or suit for men and gown or dress for women. Semi-formal recommends a jacket for men and dress or pant suit for women.
Fred. Olsen Cruise Line
The line recently simplified its dress code, eliminating informal nights. Now there are either formal evenings with tuxedos or dark suits suggested for men, and evening dresses for women or smart casual nights (meaning slacks and shirts with open-neck collars for men, casual dresses for women). There are also themed nights that suggest such things as tropical or rock and roll era costumes.
Holland America Line
Generally there are two formal nights a week with a suggested code of a suit and tie or tuxedo for men and cocktail dress or gown for women. The ships offer rentals of evening clothes for those who don't pack their own. The rest of the evenings are Smart Casual, defined as slacks and sports shirts or sweater for men and skirt or trousers and sweater or blouse for women.
P&O Cruises
Upholding the black-tie tradition, P&O schedules four gala evenings in a two week cruise in which ladies are encouraged to wear "glamorous evening wear including cocktail dresses, ball gowns or even smart trouser suits." Dinner jackets or tuxedos are the norm for men, but a dark business suit or "formal national dress" are also considered appropriate.
Seabourn Cruise Line
There's usually only one formal evening on cruises up to 13 nights and two for 14 nights or longer. However most evenings are described as elegantly casual, which means men wear a jacket, with or without tie and women wear skirt or slacks with a blouse. For my recent trip, I packed a blazer and sport jacket as well as my tuxedo.
Silversea Cruises
Another of the more dressy cruise lines, Silversea generally schedules two formal nights per cruise. Gowns or cocktail dresses are suggested for women and tuxedos or dark suits for men. Silversea also schedules informal evenings, specifying dresses or trouser suits for women and jackets with tie optional for men. On casual evenings, open-neck shirts, slacks and sports outfits are appropriate.
For Silversea Expeditions guests, casual resort wear is appropriate at all times when on board, but there are two informal evenings that require a jacket, with tie optional.
GET DRESSY IF YOU LIKE
Celebrity Cruises
There are  one or two formal evenings per cruise. Celebrity recommends. "On these occasions, women can choose their favourite cocktail dress to wear, or substitute it for a gown or dressy trouser suit. Gentleman's attire for formal dining should comprise a tuxedo or dinner suit." The rest of the cruise is smart casual, which encourages long sleeves and collared shirts for men and skirts or slacks with blouse or sweater for ladies.
Costa Cruises
Two formal nights are standard on seven-night cruises and ladies are advised to wear evening gowns or cocktail-length dresses and men are  encouraged to wear tuxedos or dark suits with ties. All other evenings are resort casual, with Costa saying  "gentlemen generally wear sport coats and slacks, while ladies wear resort attire."
MSC Cruises
There's one formal night on cruises up to six days and two on cruises up to 11 nights in which men are requested to wear a suit or jacket and tie and women a cocktail dress. "Casual resort wear" applies on other evenings.
Royal Caribbean International
There was a great deal of confusion in April 2017 when Royal Caribbean eased its dress restrictions and seemed to say shorts were acceptable for dinner on casual evenings. The line did a turnaround and here is the official policy:
The new rules are:
For formal nights, the cruise line recommends "suits and ties, tuxedos, cocktail dresses or evening gowns."
For smart casual nights, "think of this as a step up from your typical dinner wear and wear collared shirts, dresses, skirts and blouses, or pantsuits."
For casual nights, "jeans, polos, sundresses and blouses" are fine, but guests are asked  to "keep swimwear to the Pool Deck." Shorts and tanks will be accepted for breakfast and lunch, but not in the main dining rooms at dinner.
Princess Cruises
There's one formal evening per week on cruises and men have a choice of tuxedo or dark suit, ladies a cocktail dress or gown or elegant pant suit.
ALWAYS CASUAL
 Azamara Club Cruises
There are no formal nights set, but while the brochure says "Formal evening wear is not expected nor required" it adds: "If you prefer to dress more formally, you are welcome to do so." Most passengers do like to primp a bit for dinner.
Carnival Cruise Lines
It's "cruise casual" most nights, but two nights are described as "cruise elegant" which is defined as dress slacks and shirts with optional sport coat for men and cocktail dresses, pantsuits, elegant skirts and blouses for women. You'll find many couples who get very dressy, tuxedos are not unheard of, particularly on evenings when photographers set up for portraits. Shorts are permitted at dinner on casual nights.
Norwegian Cruise Line
The "freestyle" cruise line has no formal dress code other than suggesting collared shirts and slacks or "nice" jeans for men. Shorts are allowed in some restaurants, but others are are reserved for those who want to "dress up," which means a jacket for men.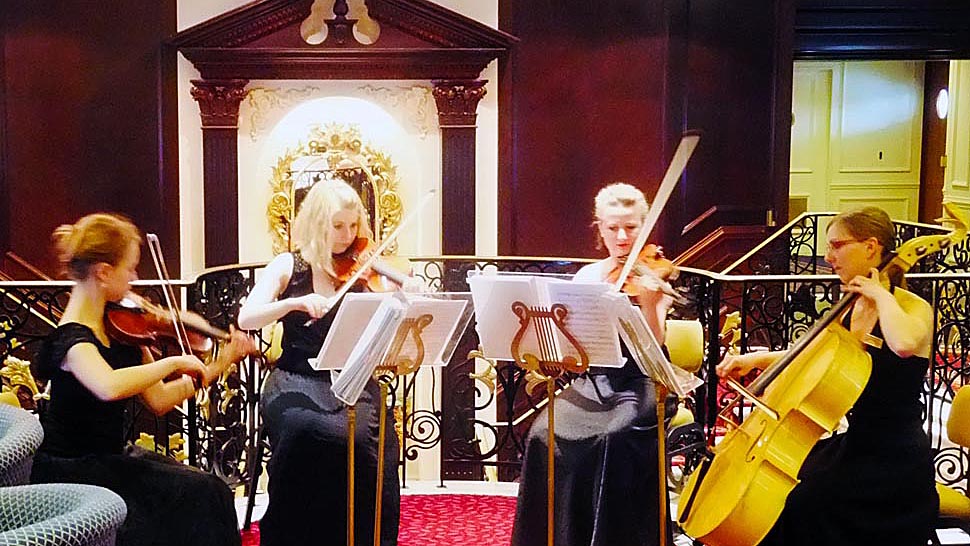 Creating classical harmony on Oceania's Regatta–Photo by Wallace Immen
Oceania Cruises
Recommended on-board clothing is resort or country club-casual day or night. For evening dining, "elegant casual resort wear is suggested, but  passengers tend to be dressy after 6 in the evening. No jacket is required although many men wear them, sans tie, for captain's receptions and in the alternative restaurants.
Regent Seven Seas Cruises
Similar to sister line Oceania, the evening dress codes suggest being elegantly casual, with sport jackets optional for men and dresses, skirts or slacks and blouses or sweaters recommended for women.
Star Clippers
It's all casual all the time, but the folks who book these sailing ships also like to clean up after a day of play ashore. No shorts or t-shirts is the evening dress code and it makes sense since the dining rooms are air conditioned. Evening wardrobes tend to be long pants and collared shirts for men and sweaters or blouses for women.
Windstar Cruises
"Casual elegance" is also the norm on Windstar's ships. That's described as slacks and collared shirts or polos for men, sundresses, slacks or informal cocktail dresses for women.