How Do They Make Meals as Grand as the Rocky Mountaineer's Vistas?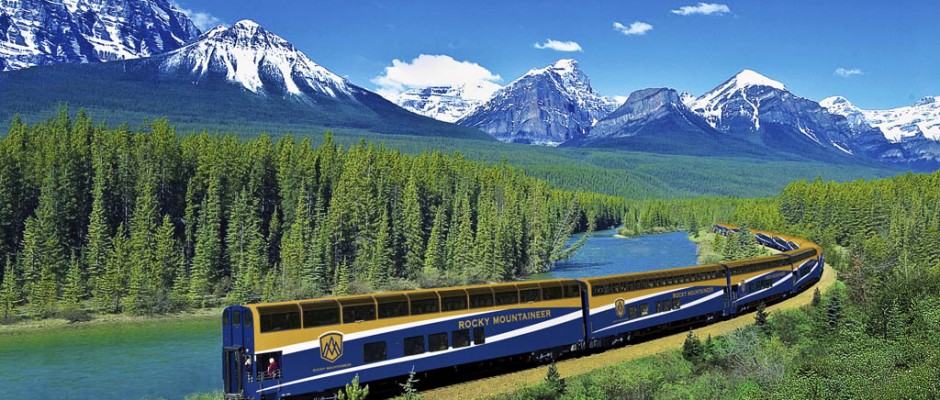 Your task today and every day is to create gourmet meals for more than 70 guests. And you have to do it in a kitchen space not much larger than a mini-van.
Here's your apron; make it consistently tasty and beautiful. That's the way it is being a chef on board the Rocky Mountaineer trains and Executive Chef Jean Pierre Guerin and his crew were on a cross-continent tour recently to give a preview of some of the special treats they're cooking up to celebrate the 25th anniversary of the trains that travel on the most scenic rail lines in North America.
It's a special calling, said the European-trained chef who honed his skills in Hong Kong and Argentina before taking command of the rolling kitchens of the iconic trains in Alberta and British Columbia, whose guests often pair up the train trip with a cruise to Alaska.
It's all in the timing, precision and the wrists, Chef Guerin says. The tight quarters and the occasional swaying of the train makes stirring a risotto or whipping up a crème brûlée a bigger challenge than it would be working in a restaurant. But the gorgeous scenery of the Rockies and the ability to cook with only the freshest and most premium of meats, fish and produce make it constantly fun.
At a special culinary event in Toronto, he invited guests to strap on aprons and try our hand at making some of the trains' repertoire of gourmet dishes made with fresh Pacific salmon, prime Alberta beef and heirloom tomatoes.
Here's a link to recipes for some of their most crowd-pleasing menu choices.
There are three levels of seating and service on the trains. RedLeaf are traditional rail cars and SilverLeaf are single-level dome cars. Both have dining service delivered to the seats. GoldLeaf are premium two-level dome observation cars with a separate dining car for sit-down meal service.
In 2015, there are more beverage choices than before, including B.C. wines, beer, spirits and non-alcoholic drinks that are complimentary for gold and silver service passengers.
An additional new option is portion choice, with entrée options at breakfast and lunch and customizable servings to suit the ravenous as well as those with a lighter appetite. Gourmet snacks such as earl grey scented trail mix are offered throughout the day.
Since its inception in 1990, Rocky Mountaineer has grown to be the largest privately owned luxury tourist train in the world and all its routes include the original trans-continental route from Calgary to Vancouver, which is no longer served by other passenger trains. All the train travel is done in daylight.
There are 45 vacation packages on five unique rail routes, including service from Seattle.
The rail journeys can be combined with an Alaskan cruise from Vancouver aboard Holland America Line's Westerdam, Nieuw Amsterdam, Noordam or Westerdam.