Inside Scoop on Oceania's Refit and a Look Ahead to Regent's New Ship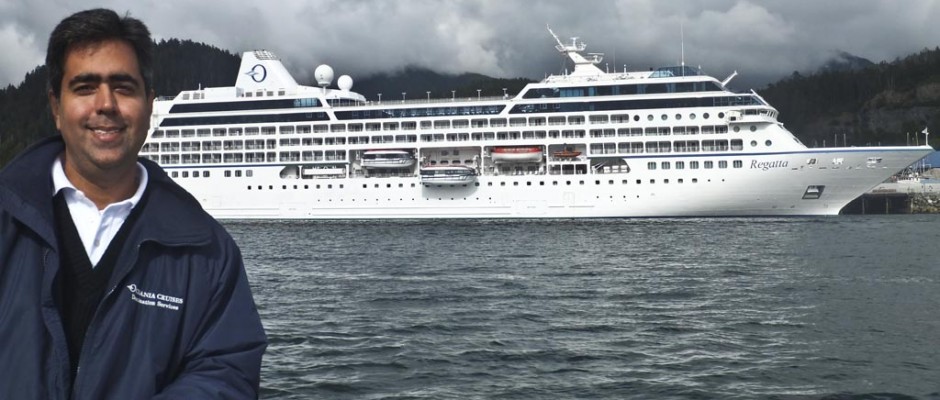 Why should a company invest $50-million to increase the appeal of three ships that were already sailing full on every cruise?
It was a challenge Prestige Cruise Holdings Inc. President and Chief Operating Officer Kunal S. Kamlani , who has a background in the financial industry, had to answer as he sold the plan to Oceania Cruises' owners. But he ultimately expects to see a handsome payoff in new guests and long-term loyalty to the ships for the investment to upgrade the company's three 650-passenger R-Class ships, the Regatta, Insignia and Nautica.
In an interview with Wallace Immen during Regatta's first cruise after its refit, he explains Oceania's future plans and the prospects for a new ship in the Regent Seven Seas fleet coming in 2016:
What was the driving force behind renovating the three ships?
We started with the question 'what is the right move to serve our guests?' These ships were full even after we came out with the first of our two mid-sized ships in 2011. Marina and Riviera with 1,250 passengers each immediately attracted their own loyal followings. Guests had a choice of the extra amenities and functionality of bigger ships or the intimacy of the smaller ships, with 684 passengers.
We decided we wanted to offer a seamless experience no matter which ship you choose. With an investment of $50-million and month and a half of renovations, we have the design elements and amenities that have become so popular on the bigger ship on the smaller ships as well.
Now that all three ships are redone, I think it will accelerate new guests coming to Oceania from other premium lines. They are figuring out they can have the same experience that they expect at a better price when you consider what you get. We don't charge extra fees for reservations at the specialty restaurants and don't expect guests to sign for a cup of coffee or a bottle of water.
How has the response been to your plans for 180-day world cruises?
The first one we announced was nearly sold out  on the first day we opened the books. It's a matter of value. If you look the other world cruises out there, you'll find that their per day costs are all more expensive than on Insignia. And that doesn't even include the fact that gratuities, laundry, internet, business class air and luggage delivery are all included. That's several thousands of dollars of extra value.
Response to the second world cruise in 2015 has been strong; when do you open the bookings for the third?
The next booking opportunity will be a round the world in January of 2016 and it will be a 180-day circumnavigation like the others. We will start taking bookings in late July this year (2014). We're selling only the full cruise rather than segments because we want to give priority to people who want that full experience. We've had such good response to the two previous world cruises, we're confident we can sell out this one as well.  
 Why are you specializing in longer itineraries, while many of the other lines are shortening theirs?
When you have a fleet of 10 to 15 ships with a capacity over 2,000 passengers each you have to cater to everybody. We make it clear that everybody is not our market. So we come at it in a targeted way. We cater to those who are looking for a refined atmosphere and enjoy the finer things in life and itineraries that we believe the seasoned traveller will be very excited about.
The 35-year old in mid-career might not have time to do that and will look at a 12-day cruise, which we offer. But the 55- plus traveller with more time and money will get very excited by a 24-day exotic, from Valparaiso to Tahiti or an Amazon cruise and do it enjoying the Oceania life onboard.
What are you most proud of in the redo of the ships?
I've just seen the tables in Baristas full when we walked in at 11 in the morning. If it was empty that would have been disappointing– but it was buzzing. That tells me that we hit it off. It was underutilized and we enhanced it.
When I sat down with the general manager and asked him how we did with covers in the Terrace Cafe last night, he said we set a new record. That says the new grill we installed gives people a causal dining experience that will have them coming back for chops and steaks and fish grilled to order.
What can you tell me about the new ship coming for Regent Seven Seas?
We're not at liberty yet to disclose details yet, but the Regent Explorer will be 750 passengers and about 54,000 tons. We want it to be both quantitatively and qualitatively the most luxurious ship ever built when it arrives in 2016. Some of the materials– including stone– we will be using will have never been seen on ships before. But we managed to figure out how to bring elements onto a ship that will bring a new luxury to the cruising experience.
There's just one we're building and we are very cautious about the growth. With our current three ships there is a total of 1,890 berths and this will add 750. So that's a 40 per cent increase in capacity. We know that level of demand is there and we are watching customer satisfaction scores very carefully to make sure that we are exceeding our goals and we feel comfortable that this is the right time to bring out a new ship.
Why only 750 passengers in an era of ever- larger ships?
It think there is point at which luxury is no longer luxury. There's an age-long debate as to how you define luxury. Clearly a major factor is exclusivity. I couldn't tell you whether the number is 750 or 800, but I simply know that when you cross 999, that's no longer luxury. We feel at 750 we can deliver the most luxurious experience ever. It is not only the ship, the staff ratio and space ratio we will have will surpass anything out there.
How about the next move for Oceania?
We have just done  a massive undertaking by spending $50-million and we'll more forward in a very disciplined way.  I don't think we'll be ordering sets of new ships as we move forward.  We didn't order Marina and Riviera until we know that the R ships were full.
New itineraries we are things we think about every day. Often we'll  talk with guests who say they've seen everything, and we ask them to send their dream itineraries. And we'll use them.