It's a Wet, Wild Week in Myanmar for Burma's Fabulous Water Festival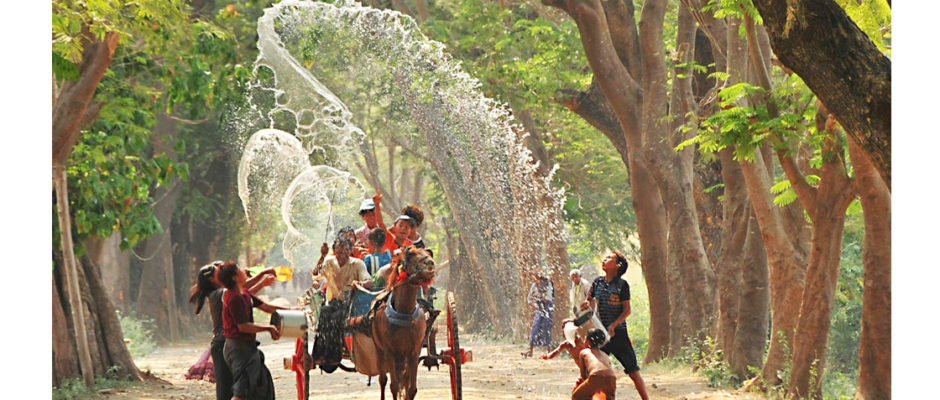 It starts with a small drop of water on your shoulder for good luck, but stick around and it will turn into a tidal wave you can't escape.
There's nothing anywhere quite like Water Festival in Myanmar. And for our tours from an Irrawaddy River cruise on AmaWaterways' ship AmaPura, it  made for some of the most amazing experiences we'd ever had.
The water festival celebration marking Burmese New Year is the most important public holiday throughout Myanmar. It also marks the end of the school year, so not surprisingly it's a time for kids to let off steam.
As we discovered, the steam builds to unbelievable excesses in the four-day splashathon. Fortunately, a little water feels good in the baking heat of Burmese springtime, when the daytime highs typically top 100 degrees Fahrenheit.
The crazy festivities started out innocently enough on our first day. We'd left the new 56-passenger AmaPura by bus to visit an orphanage near Mandalay and along the road little kids with water pistols in their hands were squirting passing pedestrians.
Cute.
At the orphanage, a delightful group of tots was waiting to escort us individually into the school yard where they started singing songs. Who would have thought that Old MacDonald Had a Farm is a traditional ballad in Burma? We responded with a rendition of I'm a Little Teapot and then we all joined in for Head, Shoulders, Knees, Toes.
Then, some of the girls brought out small dishes of water to show us how the traditional water blessing for New Year is done. It's a ritual of the Buddhist Maha Thingyan celebration to use a damp leaf to splash a few drops of water on the shoulders of those around you to wish them good luck for the coming year.
Very cute.
Water splashing is also a part of the lunar new year festivals in other countries in Southeast Asia, but it seldom gets as enthusiastically practiced as in Burma. As we were leaving the orphanage yard, some kids outside had broken out buckets and ladles and were flinging water at anyone within range.  We were mostly able to avoid the splatters as we passed by–if we wanted to– but some of the cruise guests stopped to be properly anointed.
Still cute.
The next morning the festivities had kicked up a notch as we headed out from AmaPura on another shore excursion.  Again, kids were lining the streets, but this time with their teen-aged brothers and sisters. Instead of squirt guns and dishes of water, they'd hauled out garden hoses and big buckets to drench motorcyclists as they passed. They tried to spray our bus as we passed, with considerable success.
Our destination was the village of Mingun, with its enormous Pathodawgyi pagoda that was intended to be the biggest brick structure in the world–literally a stairway to Heaven. Unfortunately, or maybe fortunately, it was only half built. The massive brick pile is on soft ground and its walls started to crack during construction.
To do the tour, we got into open trucks with benches in the rear, that serve as the local transit. But that made us sitting ducks for the bucket brigade. It was tough avoiding getting doused, but our savvy AmaWaterways guides had advised us to dress in linen that dries fast and keep cameras and other valuables in plastic pouches they provided.
It was all in good fun and everyone was having a great time, so some of us even bought squirt guns and got into the action with the locals.
Then came the deluge.
On the festival's third day, the flood gates open. From AmaPura, we drove by bus to Mandalay for a city tour that was an education in how the Burmese let down their—increasingly wet– hair.
On the road, there were motorcycles carrying as many as four passengers each clinging to stay aboard. Every teen whose dad had a pick-up truck had loaded it with friends, some even clinging to the roof. Everyone was driving around town looking to get as wet as possible. And plenty of folks were prepared to do the honors.
The scene is kind of Mardi Gras in reverse, with the parade of people getting showered by those lining the streets. Reviewing stands sponsored by local stores or beers had water hoses hooked up, so that roads  became car washes. Fire hoses attached to hydrants and wielded by teams of boys sprayed hundreds of gallons a minute into the air. Water trucks became mobile water assault vehicles.
Amazingly, everyone was cheering and laughing even as they got soaked to the skin. They'd waited all year for this blow-out party and even though they were all dripping wet, they were having the best day ever.
Most stores weren't open because Thingyan is a four-day national public holiday, but we didn't care. In the bus and on the tours we could stay reasonably dry, and at lunch time when we were treated to a fabulous buffet at a five-star hotel in Mandalay. Still the brave that ventured forth into the streets that were running inches deep in water needed rain ponchos to avoid being waterlogged.
Things got even crazier after flying back from Mandalay to Yangon, the capital, for the fourth and final day of the celebration. Everywhere even on a sunny day, it seemed there was a monsoon rain falling.
Young old rich poor local or tourist, it didn't matter, we'd been wished a wet and wild New Year.
Crazy, yes. But it's still cute, and unforgettable.
Planning to get wet:
Thingyan, the New Year water festival celebration in Myanmar, used to be celebrated at dates that differed each year depending on the phase of the moon. The dates are now fixed by the Gregorian calendar as April 13 to 16, although many shops close for an entire week.