Kai Tak is the Cruise Port of the Future: Why is It So Empty Today?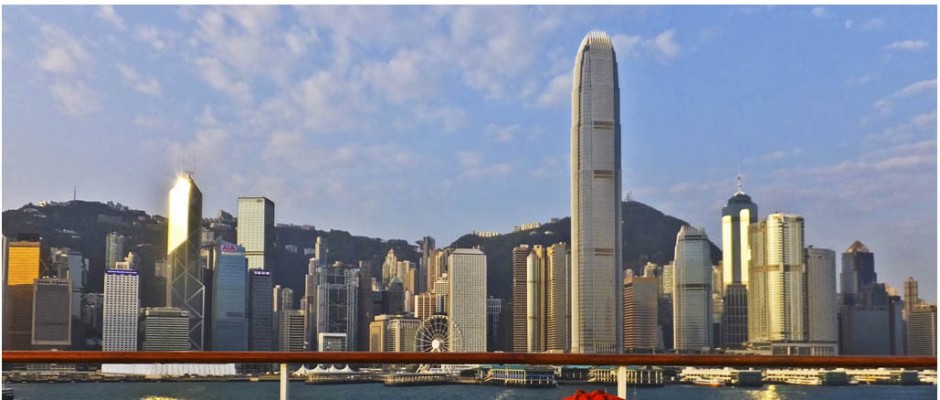 Hong Kong now boasts the world's newest and largest cruise terminal.
With security and baggage facilities to handle well over 10,000 people a day, Kai Tak Cruise Terminal is ready to smoothly handle arrivals and departures of multiple cruise mega-ships.
But when I visited the terminal a few weeks ago, it was eerily quiet. There were no ships tied up at the dock despite the fact that four cruises including mine on Silver Wind were ending in Hong Kong that day. The vast customs halls, baggage facilities, taxi queues and bus bays were empty.
I'd assumed that after investing $7-billion Hong Kong dollars (over $1-billion U.S). to build a state-of-the-art terminal on the site of the former Kai Tak airport, that it would have become the buzzing hub for all the city's cruise traffic.
Not so, it seems. Most cruise ships still use the docks at Ocean Terminal, near the Star Ferry port in downtown Kowloon.
It's not the conundrum it might seem to be, said Jeff Bent, managing director of Worldwide Cruise Terminals, who guided me through the Kai Tak complex. It's Hong Kong's way to prep for an Asian cruise boom that everyone is sure is its way.
The dock and three-story building designed by Foster + Partners that's more than a mile long was deliberately planned for big ships and a future that's expected to see two mega Oasis- or Quantum-class ships regularly tie up at the port the same time, he said. Ships carrying fewer than 1,000 guests are still using the smaller and often cramped Ocean Terminal facilities while larger ships of lines including Royal Caribbean, Celebrity Cruises and Princess Cruises are using Kai Tak.
The transformation of the city's former airport has certainly been remarkable. Kai Tak was the first view of Asia for millions of tourists over the years—and it boasted one of the most stunning airplane landings anyone ever encountered.
Descending quickly over Kowloon, planes threaded between the sea and cliffs of high rise apartment blocks to a landing that was actually much safer than it looked out the window of a speeding jet. Still, there was always relief when the wheels finally touched down.
That's history now, of course, as Hong Kong's sprawling new international airport at Chek Lap Kok replaced Kai Tak a decade ago and let developers start building skyscrapers along the Kowloon shore that used to be the airport's glide path.
Years of construction and ambitious planning later, Kai Tak now boasts some of the largest and quietest open spaces in the city. On a day like today, none of the port facilities are needed, so its security scanners are shrouded with canvas covers and its shiny marble floors are scuff-free.
There's still activity, though. And a walk through the huge building is an experience on its own.
It's got 540,000 square feet of office, retail and restaurant facilities and such huge open floor areas that it's become popular for conventions and trade shows, Mr. Bent said. There are multiple banquet halls that on weekends are booked solid for wedding receptions.
And there's one of Hong Kong's biggest parks on the roof: a 240,000 square foot garden with vast lawns, a water garden and fountain that's a favorite place to take wedding photos.
A viewing platform gives a view of Hong Kong and the Kowloon Peninsula and a stretch of the former runway that has its checkerboard marking the end of the strip still in place.
A drawback the terminal faces today is that it's under-served area for transit. Plans call for Hong Kong's excellent MTR subway network to connect with the terminal, but not until 2019. Even further out, there's a vision of a dedicated monorail to the core of Kowloon. For the moment, though, shuttle buses run to the nearest subway station, about a 15 minute ride away.
And because ships aren't using the cruise terminal daily, local bus lines haven't committed to regular service to the cruise port. That's meant Kai Tak has had to charter its own fleet of buses when big ships are at the port.
But now that they've built it, the port's managers are confident that the boom will happen. The 4,180-passenger Quantum of the Seas made its first Hong Kong call in June and it will become a turnaround home port for the mega-ship's cruises from Shanghai starting in December, 2015.
The 3,100-passenger Voyager of the Seas will make Kai Tak its home port and offer Korea, Taiwan and Vietnam cruises.
Ovation of the Seas will join Quantum as well as Mariner of the Seas, Legend of the Seas in regular service on Asian itineraries that include Hong Kong. The five Royal Caribbean ships will comprise the largest fleet deployment for any cruise brand in China.
Many of the guests will come from China and Japan, but according to a Royal Caribbean release, the expectation is that thousands of North American vacationers will want to sail on board the ships to experience China.