A Second Look Reveals Kai Tak Cruise Port is Finally Finding its Groove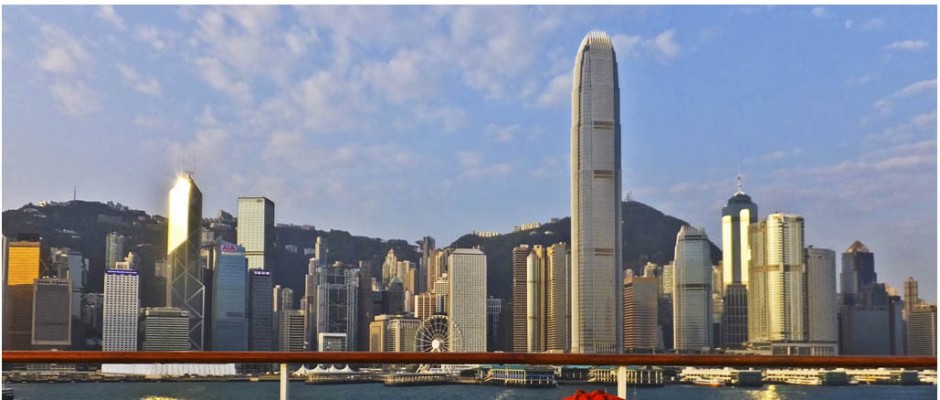 They've built it and now the ships are coming.
With security and baggage facilities to handle well over 10,000 people, Hong Kong's Kai Tak Cruise Terminal has been able to handle arrivals and departures of up to four mega-sized cruise ships in a single day in recent months.
It's a contrast to just two years ago, when The Cruisington Times visited the terminal and found it eerily quiet.  The vast customs halls, baggage facilities, taxi queues and bus bays were empty.
Criticism had been mounting about the decision to invest $7-billion Hong Kong dollars (over $1-billion U.S). to build a state-of-the-art terminal on the site of the former Kai Tak airport. When it opened, most cruise ships continued to prefer the docks at Ocean Terminal, near the Star Ferry port in downtown Kowloon.
Kai Tak's slow start was a case of wait and see, said Patricia Yuen, manager of cruise promotion for Hong Kong. Because ships have to book a year or more in advance for a berth, the cruise lines were hesitant to be the first in when the new facility opened in 2013. "By 2016 they could see that it was working. Now they're booking more visits for 2018."
A recent day saw four  cruise ships in and out of Kai Tak  and three at Ocean Terminal. It's the first day more than six ships had ever visited Hong Kong in 24 hours.
The new arrivals include the new 5,400-guest Norwegian Joy and 3,560-guest Majestic Princess, both purpose built for the Asian market. Royal Caribbean's new 4,180 guest Ovation of the Seas calls regularly along with several other Royal Caribbean ships and ships of Celebrity Cruises.
Meanwhile,  cruise ships carrying fewer than 1,000 guests are continuing to use Ocean Terminal, which is getting an extension to improve baggage handling on the narrow piers.  It's also designed to give more area for  improved connectivity to the terminal shops  and the street, Yuen said.
The dock and three-story building at Kai Tak designed by Foster + Partners is more than a mile long. It was  deliberately planned to see as many as three ships of up to 6,000 guests tie up at the port the same time.
The transformation of what had been the site of the city's former airport has certainly been remarkable.
Kai Tak was the first view of Asia for millions of tourists over the years—and it boasted one of the most stunning airplane landings anyone ever encountered. Descending quickly over Kowloon, planes threaded between the sea and cliffs of high rise apartment blocks to a landing that was actually much safer than it looked out the window of a speeding jet. Still, there was always relief when the wheels finally touched down.
That's history now, of course, as Hong Kong's sprawling new international airport at Chek Lap Kok replaced Kai Tak a decade ago and let developers start building skyscrapers along the Kowloon shore that used to be the airport's glide path.
Years of construction and ambitious planning later, Kai Tak now boasts some of the largest open spaces in the city.
It's got 540,000 square feet of office, retail and restaurant facilities and such huge open floor areas that it's become popular for conventions and trade shows. There are multiple banquet halls that on weekends are booked solid for wedding receptions.
And there's one of Hong Kong's biggest parks on the roof: a 240,000 square foot garden with vast lawns, a water garden and fountain that's a favorite place to take wedding photos.
A viewing platform gives a view of Hong Kong and the Kowloon Peninsula and a stretch of the former runway that has its checkerboard marking the end of the strip still in place. There is a coming museum that looks at the history of Kai Tak as an airport and its relationship to Kowloon.
A drawback the terminal continues to face is that it's under-served area for transit. Plans call for Hong Kong's excellent MTR subway network to connect with the terminal, but the plans keep getting delayed. The good news is that taxis and buses now have discovered that there is a reason to queue up at the port and shopping malls are offering free shuttles to locations that are accessible to the MTR, Yuen said.
There is also a ferry from the cruise terminal to North Point Bay just across the harbor.
Many of the new cruise arrivals are coming from mainland China and Japan, but Hong Kong is working hard to attract North American vacationers as well. Yuen said.
"We are working with  cruise lines to promote package cruise and stays in Hong Kong, with deals  that include foodie, history and walking tours of Kowloon and Central.  "We see potential for continued growth ahead."