Libya: What Could – And Should Be, Recollections Of A Visit Not So Long Ago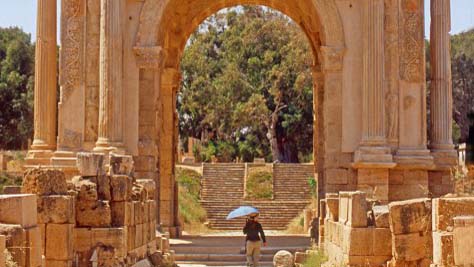 There are two indelible impressions of Libya in most people's minds. One is the  defiant face of dictator Moammar Gadhafi. The other the mass destruction in cities after months of  Libya's horrific civil war.
But those images are not the real Libya, the one I was fortunate enough to see.
In the spring of 2006, Silversea's Silver Cloud paid its first, and what turned out to be last, call to ports on Libya's ancient North African coast. Soon after, a diplomatic flare up between Libya and the United States put the country off the cruise map again and cruise lines abruptly changed itineraries. In the years since, only a handful of  British and Italian ships continued to call in Libya.
Seeing the country on tours from Silver Cloud, I experienced perpetual smiles, shining eyes and waves of greeting from welcoming and curious Libyans everywhere I went in a hauntingly beautiful landscape filled with little known and arguably the world's best preserved ancient cities, sites such as Leptis Magna and Cyrenia, along with its exotic modern cities,  Tripoli and Benghazi.
It seemed Libya was once again on the cruise compass with Crystal Cruises planning stops in the fall of  2011 and Azamara Club Cruises planning a series of port calls including Tripoli in 2012. But it was not to be .
With the upheaval and the horrific devastation that has happened in recent months, it may be a long time before it will be feasible for any visitors by land or sea to tour there. We can only hope that the fighting will end soon, sanity will prevail and Libya will once again join the world.
In the meantime, these photos will give you a taste of what the world is missing.