Life's a Beach, but First Azamara Passengers Visit a Monastery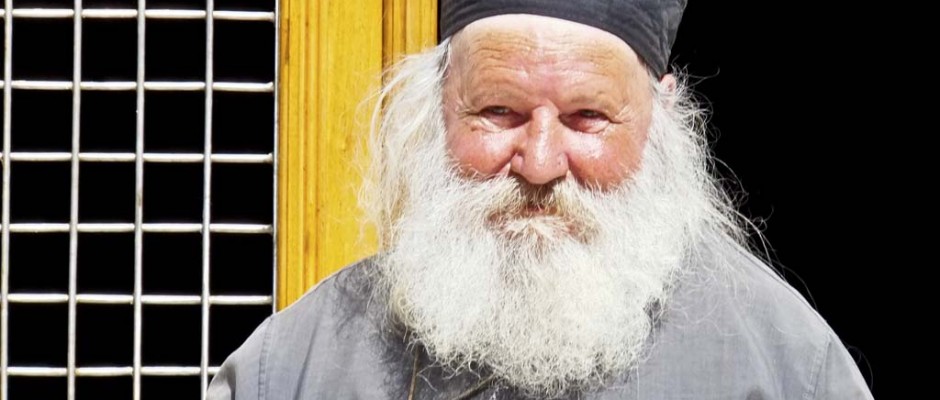 Boy am I glad I didn't suggest to someone at I'd meet them beside the white building with the flat roof on Mykonos.
As the tender from the Azamara Journey tied up at the main town's harbour, it was obvious that aside from churches and windmills, every building on the island has the same basic shape and a gleaming coat of whitewash. It's written right into the building code here, I'm told.
But there are no rules about what color you can paint doors and shutters and that's where home owners display their originality. The steps of stairways are often painted in several colors for effect. Those dramatic accents along narrow, twisting laneways make the island a magnet for photographers.
The island's other claims to fame are its hedonistic beaches which in summer months turn into non-stop parties that are sometimes clothing optional.
But today Azamara Club Cruises has something completely different in mind. Our tour is to an attraction I hadn't expected even existed on touristy Mykonos. We're heading inland as far away from the beaches as you can go to visit a place where people are always fully clothed in flowing robes.
That's fine, but what about the beaches? Some of us wanted to at least dip some bare skin into the inky blue Mediterranean. So the tour leader agreed to head back to the ship via the coast for a beach stop.
We tender ashore as most passengers have to in Mykonos. There's a new dock that only one passenger ship a day can berth at, but today it's already occupied by a local ferry and cargo vessels. It was deliberately built far outside of the town of Chora so that trucks don't have to go through the city to load or unload cargo. That keeps the main square with its tiny chapel free for pedestrian traffic and the harbor free for a fleet of aging, but quaint fishing boats.
One fisherman proudly showed off half a dozen sea bream he'd caught in just an hour of casting. Most fishing these days is purely for sport, but you can still find the catch of the day laid out on antique stone tables along the coast.
Bream on the local menus is called tispoura and it's typically simply grilled with lemon and olive oil. I hoped Azamara's chefs would be able to find a supply to be able to offer it as the local delicacy.
Boarding our tour bus we headed to Ano Mera. It's  a town that's almost dead center in the middle of the island and it's so far off the usual tourist routes that it still has a very traditional feel. Some of the local residents still use donkeys for transportation.
The monastery of Panagia Tourliani definitely stands out with its tall bell tower made of carved marble and its eighteenth century chapel dedicated to Panagia, the traditional protectress of Mykonos.
Waiting at the door was the oldest of the three resident monks, whose beaming face and frosty white beard would do Santa Claus proud. He's 63 years old and has been living here since he entered the monastery's orphanage at the age of 11, we're told.
While the chapel is compact it certainly makes up for its size in an impressive display of religious art. The massive altar screen known as an iconostasis, was carved and gilded in the 1770 by Florentine artists. It features carvings of the apostles and icons illustrating biblical scenes.
All around the room are portraits of saints all overseen by a mural of a benevolent Christ decorating the ceiling of the church's dome. The church has great vibrance with shafts of sunlight entering from small windows to make the gilding gleam. Generations have claimed that a visit here has cured their ills and there are impressive displays of gold rings and artworks left by devotees as offerings for blessings given and prayers answered.
Although the priest didn't have enough English to describe life within the monastery's walls, it is obviously laid back. He and his fellow monks spend long hours in prayer and contemplation in the monastery's flower filled courtyard by day, accompanied by a family of cats who stretch out anywhere to do their contemplations. The monastery has services on weekends and the chapel is in continual demand for weddings on the island.
We thanked the monks and headed across the small town's square to a local taverna to try a sample of a Greek specialty: ouzo. The liquorice flavored aperitif has quite a kick and we're advised to add plenty of water to smooth it out. The water turns the clear liquid cloudy, a reaction that is known in chemistry as the ouzo effect.
This is lesbian ouzo, we're told. Monks on the island of Lesbos are traditionally said to be the originators of the anise liqueur and Lesbos is still the center of its production.
Whatever else you say about it, ouzo is an effective pain killer with its high alcohol content. We weaved our way back to the bus and headed off to the beach.
Unlike my preconceptions of idyllic paradise, the beach was lined with umbrellas and lounge chairs. In this part of the world you don't just pick a sandy spot, you often have to rent it. And the coarse sand makes it wise to find a chair while the brutal sun makes a rental umbrella a good idea.
Even though the air was hot, the water was what the British describe as "braceing" The wind and strong currents bring cooler water to the surface along the coast.
Bobbing in the waves for a few minutes helped soften the effects of the ouzo. And it was peacefully quiet. I was glad this was June because the guide said the same beach in high season of July and August would see every beach chair occupied by mid-morning.
Before we head back to Azamara Journey we stop for a sunset drink on a terrace of an area of Mykonos town known as Little Venice. The sky was filled with clouds that to me resembled dancing angels.
Maybe it wasn't hedonism, but in hindsight, I felt I'd received a blessing in my day on Mykonos.