New Look Holland America Ships Offer More Routes to Exploration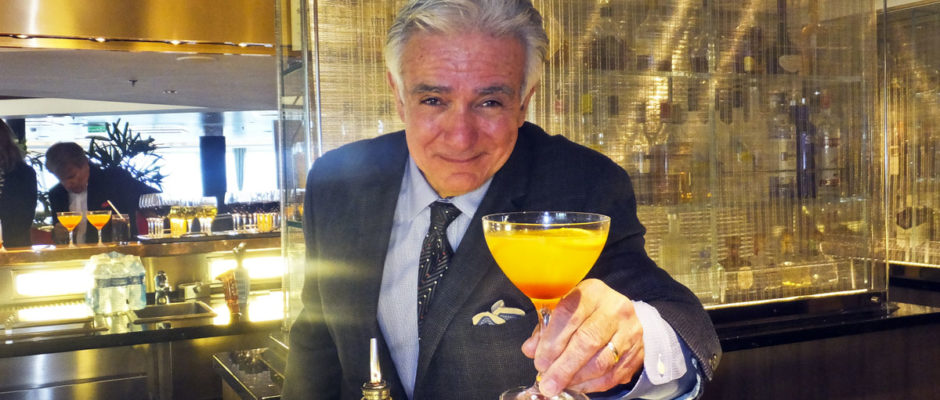 The ancient glacial ice suddenly begins to churn.  Vast fissures burst open and house-sized chunks slide into the sea. Yet nearby, playful penguins live remarkably placid lives.
It's Antarctica as intriguingly captured on film over months of hardship by teams of explorers from BBC Earth for a dramatic show called Frozen Planet that comes vividly alive on wraparound screens aboard Holland America Line's Koningsdam.
Being that up close with nature may not be your cup of tea, but it's a powerful introduction to the kind of unique explorations still possible on our planet.
An upgrade of HAL's ships will offer guests unprecedented opportunities to personalize their experiences in history, culture and cuisine no matter where they are on the world.
The fleet-wide rethink is the opening of a new chapter of the story of Holland America, says the line's president Orlando Ashford.
Here's a look at what's coming:
Explorations Central (at the Crow's Nest)
Most of Holland America's ships will be getting remakes in coming months to add EXC: Explorations Central to their Crow's Nest observation lounges. "The goal is to provide guests with the most amazing set of travel guides in the industry," Ashford explains.
What will be known as the Hub is a series of tables topped with interactive touch screens that will help guests personalize their activities in each port on the cruise. These won't be just the usual guidebook suggestions. Themes including Exploring the Lost City, Eat Your Heart Out and Hidden in Plain Sight are designed to take guests off the beaten paths. Experts will be on call to help pick the best shore expeditions or plan individual explorations.
The extensive libraries on the ships will be refreshed with new books and the Explorations Café coffee shops will continue their current affairs tie-in with the New York Times. The new décor includes iPads available for browsing, replacing desktop computers. The coffee shops can then become bars in the evening.
The refurbishments will start with the Westerdam, but will roll out through 2017 on most of the other HAL ships, including Koningsdam, which made her debut just last year. The Westerdam will also get the addition of the first Rijksmuseum exhibit at sea.
A view from the virtual bridge
A virtual ship's bridge presenting a video representation of the instruments and the view the captain is seeing on the bridge will be another feature of the EXC on all the ships. It will recreate not only the look but the panoramic feel of being at the helm.
Popular features multiply
The Music Walk featuring Lincoln Center Stage concerts at sea and BB King's Blues Clubs, that have been hits on the Eurodam and Koningsdam, will be added to four more ships in the fleet during 2017.
A hands-on gourmet feature, America's Test Kitchen will also be rolled out on many HAL ships by the end of the year.
There will also be celebrations on board ships to mark Holland America's 75th year of cruising to Alaska. BBC Earth will premiere a new Alaska show for the summer season.
And in the Caribbean, the line's private island Half Moon Cay will celebrate its 25th anniversary with launch of Lobster Shack on the Beach.
Rudi's popping up everywhere
Rudi's Sel de Mer restaurants will be featured on other ships as pop up restaurants to emulate the menus and preparation on Koningsdam's iconic new restaurant. HAL's executive chef Rudi Sodamin promises simple fresh ingredients brought on board in ports and prepared in ways inspired by the cuisine of the Cote d'Azur.
"The theme is food is life and life is food–but to me food is love," Sodamin says. "The tastes and presentations are designed to please your eyes and palate and stimulate your senses and imagination."
Another new feature in the bars are unique cocktails conjured up by chief mixologist Dale DeGroff. The signature is the Midnight Sun cocktail created to honor Alaska–a refreshing concoction that includes lemon juice, Cointreau and Galliano, topped with an orange slice.
And even more Oprah
Starting in August, 2017, Holland America and O, The Oprah Magazine will offer enrichment programming on North America cruises throughout the fleet. Activities will include on-board Oprah Book Club discussions, meditation classes, tai chi and healthy-cooking demonstrations.
For a more in-depth experience, Holland America is sailing "Adventure of Your Life" sailings, bringing O Magazine-inspired activities aboard—and offering a chance to interact with the magazine's key people and members of its SuperSoul 100 list of leaders, entrepreneurs and influencers "who are using their voices and talent to elevate humanity." The first sailing in March in Alaska had Oprah Winfrey herself on board.
Nieuw ships on the horizon
The next Pinnacle Class ship, set for delivery in early 2019, will be named Nieuw Statendam. It's the sixth HAL ship to carry that name. Carrying 2,650 guests, the ship will have most of the innovative venues that were introduced on Koningsdam, but Ashford promises the launch will debut many new concepts as well.
Designer Adam D. Tihany, who created the look of Koningsdam, has been tapped to bring his signature decor to Nieuw Statendam. Also doing an encore will be Bjorn Storbraaten, who designed several public rooms on Koningsdam.
A sister ship, as yet unnamed, is due in 2021.