Nine Stylish New Expedition Ships are Joining the Race to the Polar Regions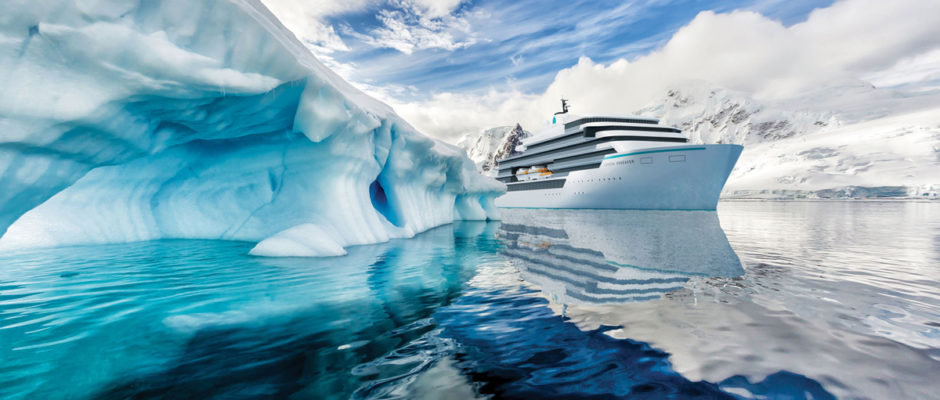 Nine–count 'em nine. With a new order for a rugged icebreaking cruise ship capable of navigating all the way to the North Pole, there are now nine expedition  ships designed to cruise in  the ice of the Arctic and Antarctic oceans due to start service between now and 2021. And there's a tenth, if you add the completely refurbished Silver Cloud of Silversea Cruises.
A sturdy newcomer  from Ponant, bringing its order book to five polar-class ships, joins two polar ships being built for Hapag-Lloyd Cruises and ships under construction for Scenic and Crystal Cruises as well.
It's a trend away from the competition to build ever larger cruise ships for warm weather cruising that's dominated the cruise industry in recent years. These coming expedition ships will accommodate only about 200 guests at a time and do it in a style that's in marked contrast to the rough and ready ice-strengthened ships that specialize in polar cruising today.
1) A hybrid icebreaker for Ponant
The newly announced order from French line Compagnie du Ponant is an innovative hybrid-electric engined ship fuelled by Liquid Natural Gas that will be built at the Vard subsidiary of shipbuilder Fincantieri.
Currently named Ponant Icebreaker, the 459-foot long ship will accommodate 270 passengers in 135 staterooms, in addition to a crew of 180. The ship will be equipped with two helicopters in on-board hangars.
Designated as Polar Class 2, the design has been developed in co-operation with Aker Arctic and it's designed to be able to break through heavy ice without the need of an icebreaking escort. The company foresees being able to take passengers all the way to the geographic North Pole (90 degrees North), as well as islands in the Antarctic Peninsula.
Polar Classes are defined in international naval rules, ranging from PC 1 for icebreakers which can operate year-round breaking through  multi-year polar ice, to PC 7 for ships that can operate only after the summer thaw in first-year ice with an escort ship. All the other expedition cruise ships on order are classed PC6, whose ice-strengthened hulls capable of operating in first year ice and broken old ice during warm seasons in the Polar regions.
2-5) A Ponant quartet of  expedition cruise ships
Also being built by the Vard shipyard, the ships with a capacity of 185 guests each are due to start service between 2018 and 2021. The first of the ships , named La Laperouse, is coming in June and will start with cruises in Iceland and Norway. Next to appear will be Le Champlain, (named to honor explorer and founder of Quebec City Samuel de Champlain), due in September and  whose initial itineraries will stick to warmer climes in the Mediterranean and Amazon. The other two  ships  will be called  Le Bouganville and Le Dumont d'Urville.
The ships have PC6 ratings and can do polar cruises, but are also designed to sail to small ports in anywhere in the world.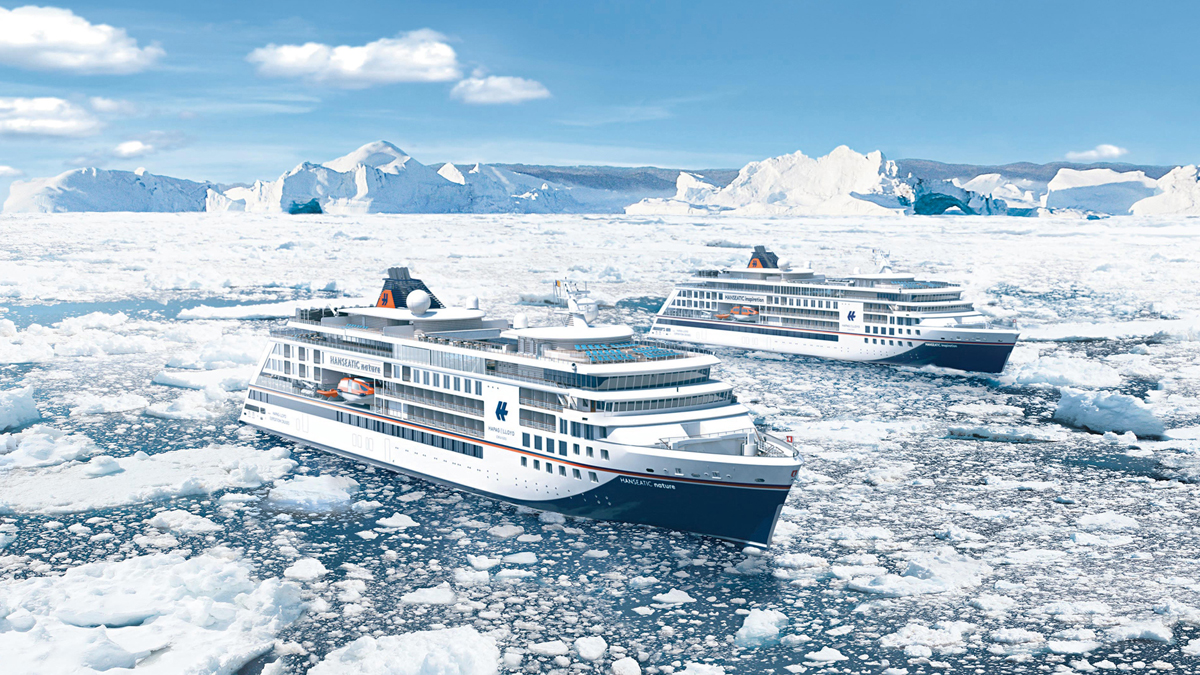 Hanseatic Inspiration and Nature–courtesy Hapag-Lloyd
6-7) Two Hapag-Lloyd expedition ships
Hanseatic Inspiration due in October, 2019 is aiming at the English-speaking market, while sister ship Hanseatic Nature, coming in April, 2019, will use German as the working language on board. Both will be fitted with cutting-edge navigation equipment and environmental technology and will be able to accommodate up to 230 guests – limited to 199 guests on Antarctic cruises.
After almost a decade, the German-based cruise operator also plans to return to the Great Lakes during the spring and early summer months, with Hanseatic Inspiration planning to do cruises in 2020 as far inland as Thunder Bay and Lake Michigan. The ship's retractable bridge wing makes it possible for the ship to pass through narrow locks.
8) Scenic Eclipse
Scenic Eclipse, which the company calls "the World's First Discovery Yacht"  will make its first appearance in August, 2018. It has a Polar Class 6 rating, and also is rated as Ice Class 1A Super, which means its hull is strengthened so it can operate without aid of an accompanying icebreaker.
After completion at a shipyard in Croatia, the ship will sail trans-Atlantic to do cruises from Miami to Cuba and Central America in October before a winter of cruises in South America and Antarctica. The 228-guest capacity will be limited to 200 during polar cruise expeditions in order to operate several landings per day. Eclipse will carry a mini-submarine and two helicopters that can carry seven passengers each, which can be booked at extra charge.
9) Crystal Endeavor
A competitor in the luxury expedition cruise market is Crystal Endeavor, being built by Lloyd Werft Group in Germany. It was scheduled for launch in 2018, but its arrival has been put  back to 2020.
Measuring 600 feet long, with 100 guest suites Crystal claims its expedition ship with a PC6 designation will be "the largest and most spacious mega-yacht afloat." The itineraries  could include the Northwest Passage, which the 1,000 guest Crystal Serenity did in 2016 and 2017.
At 32 days, the Serenity's Northwest Passage cruise was one of the longest ever offered by Crystal. It was also one of the most expensive, with fares ranging from around $20,000 to over $120,000 per person.
Both the Scenic and Crystal ships are planning to offer expedition cruises in warmer climes between polar seasons.
10) Silversea's Silver Cloud
There's also another entrant to the polar expedition roster this year, with  the extensive renovation of  Silversea's classic Silver Cloud into an ice-rated expedition ship.
Limited to just 200 guests in polar waters, the ship currently boasts the highest space to guest and crew to guest ratios in expedition cruising. With 16 zodiacs, 10 kayaks, and a team of up to 22  dedicated expedition experts, the ship is planning an adventurous 2018  with a winter season in Antarctica, spring in West Africa and an extensive summer itinerary in Scandinavia, Iceland and the Canadian Arctic.