Norwegian's New Harvest Caye: An Island You Can Call Your Own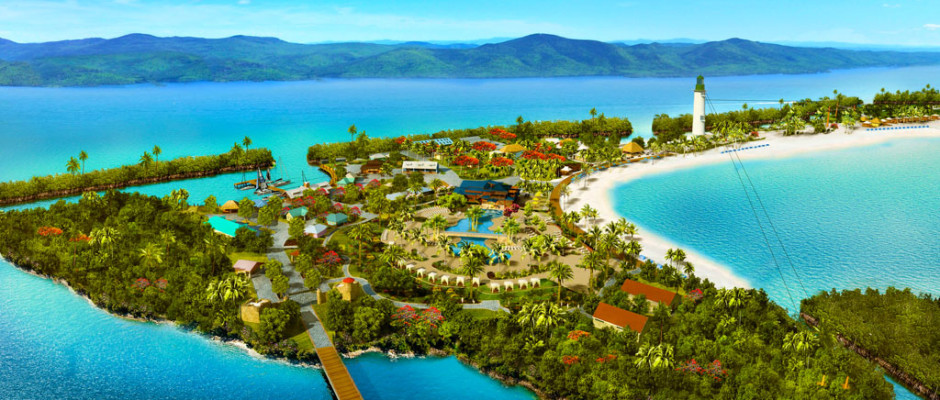 Think you've got a problem finding a parking space?
Try figuring out where to tie up a cruise ship as long as a football field at a popular Caribbean island and then finding beach space and fun things to do for as many as 4,200 passengers at a time. Even more of a trick, try to find a way to get all those folks ashore when there's no dock at all.
A solution is to build your own exclusive island. And that's what Norwegian Cruise Line has spent the last three years doing. It's transformed what was formerly two dots of  scrub land off the coast of Belize into a 75-acre island they've named Harvest Caye (pronounced "key"). Now open, it will be an exclusive cruise stop for four of Norwegian's ships as well as its cruise family members Oceania Cruises and Regent Seven Seas.
Norwegian Cruise Line President and COO Andy Stuart told The Cruisington Times the private island will make the line's Western Caribbean itineraries unique. All other lines visiting Belize have to anchor near Belize City, outside of  the world's second longest barrier reef, and send guests ashore on tenders.
At Harvest Caye, passengers can walk directly onto the dock of an island that has a sweeping seven-acre beach and a full day's worth of activities. There's also be easy embarkation for scuba diving, snorkelling and tours of the archaeology and tropical natural attractions of the Belize mainland.
Norwegian has restored a place that had been torn up by a previous developer for a hotel that was never built. White sand dredged to deepen a channel for ships to tie up at a floating dock was used to create the expansive stretch of sandy beach and a central lagoon that's surrounded by palms and flowering trees.
Norwegian hired a team of local naturalists not only to protect but bring back the natural ecology. Over 10,000 new mangrove shoots have been planted around the outer edge of the Caye to restore a healthy breeding habitat for fish and birds including scarlet macaws. Protective guards have been  installed on all ships visiting the island to prevent propellers harming the local population of Manatees and other sea life.
The port, 60 miles south of Belize City, features a 15,000-square-foot seaside pool with a swim-up bar with chairs and tables in the water and a waterfall.
A 130-foot-tall "Flighthouse" is the central hub for a 3,000-foot-long tandem zip line featuring three platforms, free-fall jumps and an observation deck. To top off the adventure, the Flighthouse will be the starting point for a challenging but thrilling ropes course above the saltwater lagoon.
For a lower-adrenaline adventure, the shallow lagoon will have equipment for kayaking, paddle boarding, electric boats, and canoeing. All the adventure activities come with extra fees.
Guests who wish to enjoy the day in more privacy can opt to rent one of the island's 11 luxurious beach villas featuring upscale lounge furniture, privacy drapes and beverage service. The villas can each accommodate up to 10 guests and are the ultimate beach escape, Stuart says. They're equipped like a private resort, with every comfort including air conditioning, separate lounge and dining areas, private restrooms, indoor and outdoor showers, hammocks, and exclusive dining and beverage options served by a dedicated concierge service, so guests never have to leave the beach.
Harvest Caye's conservation programs and education efforts were developed by award winning author and wildlife expert Tony Garel, the destination's chief naturalist. He will lead many educational tours on the island and be available to chat with guests about the incredible array of wildlife in Belize.
The island's aviary will also house a breed and release program for scarlet macaws, in an effort to increase the population of the native birds. Harvest Caye features a cornucopia of native plants and trees that all play a part in the destination's eco-system.
Guests on the island can eat a la carte at the two-story indoor/outdoor Landshark Bar and Grill, which is an expansion of Norwegian's partnership with Jimmy Buffett's Margaritaville, as well as a number of other eateries. Additional dining options will include the Laughing Bird Bar & Grill serving the beach, the Manatee Marina Bar & Grill in the marina, the Horse-Eye Jack Bar & Grill.
Local Belizean cuisine also is on offer at street-vendor kiosks around the shopping village which has name brand shops as well as a local craft market.
Shopping on the island has been designed to "reflect a Belizean experience," with shops restaurants and bars staffed by many of the 500 local residents employed on the island, Stuart said.