Oceania's Lesson Takes Shoppers to the Kasbah—Snakes Included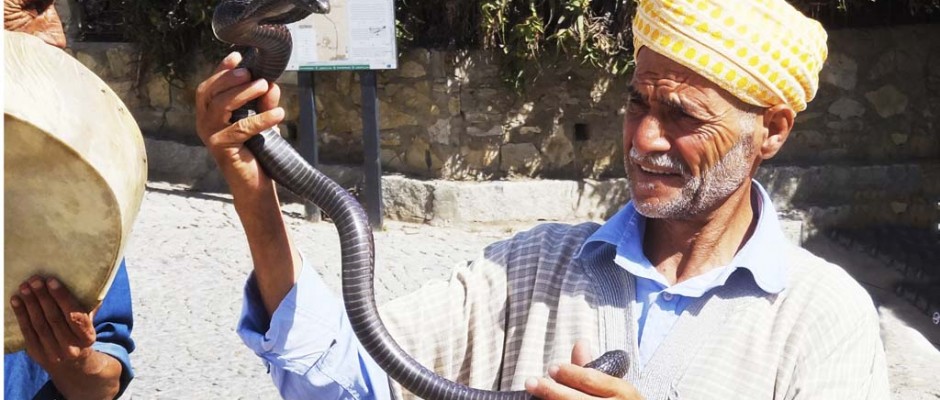 A snake charmer was doing head fakes with a five-foot-long viper he'd wrapped around his neck like a scarf. A couple of times he seemed to actually kiss it while a duo of horn players and a drummer played a hypnotic melody.
"Want to try?" he asked good naturedly.
Er, no thanks guys. I was on a mission with a deadline in Tangier's ancient Kasbah. Who knew it could be such an adventure to cook up a Moroccan meal?
My assignment in what became a Great Race through the Kasbah's narrow, zag-zagging laneways was to scout out the makings of a traditional chicken tagine. There are no street signs, just landmarks– like a drum hung over the doorway of one shop, fading advertisements painted on peeling stucco walls and changes in the merchandise being sold.
Getting to the spice market meant running a gauntlet of vendors tempting me with colorful displays of dried fruits and olives in a rainbow of hues or stacks of breads fresh from the oven. The shops in a lane of robe tailors and sword makers would have been familiar to Roman legionnaires who shopped in this market in biblical days.
I was out to find fresh spices for a lesson that afternoon in an innovative hands-on cooking school at sea: the Oceania Cruises Culinary Center, which is collaboration with Bon Appétit magazine. The dozen passengers who had joined me on the shopping trek from Riviera, Oceania's newest ship, have the help of two guides we can ask for directions as well as our mentor, Noelle Barille the school's chef instructor.
She told us the best shortcut to the spice bazaar was through a vast fish market. Everything from shrimps to giant tunas to bizarre prehistoric-looking fish were stacked in abundance, fresh off the boat. One vendor in the nearby meat district was carrying three unplucked chickens by the legs in each of his hands. I was glad the ship was going to be supplying the chicken; Oceania imports all its meat from certified suppliers in the United States.
Finally I found myself in the spice market, where if I wanted I could buy entire bushels of colorful grinds. I needed ginger, cinnamon, and the typically Moroccan Ras el Hanout, an aromatic spice blend of cardamom, nutmeg, anise, mace, turmeric, and various peppers and dried roots.
It's not a matter of just making a selection, though. At a shop blending the spices, the proprietor went into a presentation worthy of a medicine show, describing how each spice has healing properties, from curing headaches to clearing sinuses. In Morocco, eating is good for you. He illustrated the point by passing around handkerchiefs filled with pinches of spice we were supposed to put in our noses or on our foreheads to cure our ills. Er, thanks again, I'll use my own hankie.
Reassuringly, the ancient Kasbah seemed cleaner and less congested than I remembered it from a previous visit to Morocco 10 years ago. It's intriguing to see that outside the old quarter, Tangier has grown prosperous, with a forest of modern apartment high-rises.
After collecting my spices there was still one more shopping item on my list. I had to scout out the pottery district and bargain for one of the teepee-shaped cooking vessels called tagines. There were thousands of them stacked high on a long street and I didn't need to barter much (the shopkeepers seem fluent in Arabic, French, Spanish and English) to get a nicely decorated one for the equivalent of about $10 Canadian.
Heading back to the port, navigation was easier, the only thing to remember is that going uphill you're getting deeper into the Kasbah and downhill you'll eventually reach the port.
In the kitchen lab on board Riviera after the morning-long outing, we were each issued aprons and assigned a station equipped with a cook top and utensils to start blending the spices to coat the chicken thighs, along with a marinade of yogurt and a pinch of saffron. They're fried in clarified butter with chopped onions for about 12 minutes and then transferred to the tagine. Slow cooking is the secret and the seared chicken simmers over low heat in the clay vessel for 45 minutes.
After adding a sauce of orange juice, apricots and cinnamon, we set the tagines back on low heat for another 15 minutes until the chicken is so tender it literally falls off the bone. Served garnished with walnuts, it was an incredible treat from an incredible day.
Other days in the Culinary Center on this Mediterranean cruise, I could learn how to shop for the makings of a bouillabaisse in Marseille and whomp up pizza dough and toppings in Naples.
Fortunately, snake is nowhere on the menu.