On Crystal Cruises, There's More to Entertainment than Meets the Eye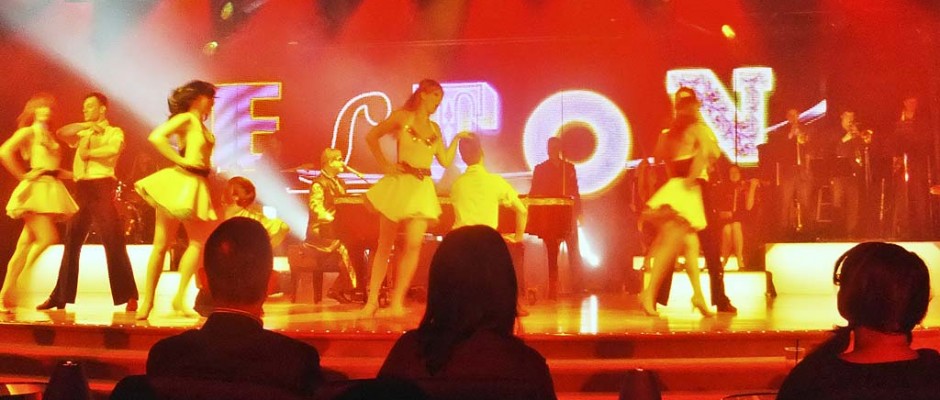 The audience for the Magic Castle at Sea show on Crystal Serenity is deliberately small. The dozen or so guests who get in for each show all get a front row seat for a demonstration of extraordinary tabletop magic.
There's nothing up their sleeves, in fact the magicians roll their cuffs to their elbows and everything that happens is literally only inches from two dozen eyes in the skeptical audience. Yet coins incredibly vanish, decks of cards rearrange themselves and even passengers who have been everywhere and seen everything can only shake their heads and murmur: how'd he do that?
It's one of many specialty shows that Crystal Cruises has added to a growing roster of entertainment on its ships this year.
It's a big job, as Gary Hunter, the Cruise Director can attest to. He started out as a ventriloquist doing occasional shows on Crystal Cruises and was so popular he was invited 10 years ago to be a full-time organizer of the cruise entertainment on Crystal Serenity. He's been at it ever since and has met many celebrities both as entertainers and guests on cruises.
The job keeps getting bigger, he says.
"People think of production shows as the only entertainment in the evening. The reality is there are so many things going on. We have to provide a broad spectrum of entertainment, like you do a range of food on a restaurant menu."
Crystal has been innovating a lot to stay ahead of trends. The kinds of entertainment guests enjoy keep changing and the average age of cruisers is dropping. And they're inspired by trends in the media.
A unique new show is iLuminate–in which the actors wear fiber optic costumes that glow on an unlighted stage. It became a sensation when it appeared on the TV show America's Got Talent.
"It's like nothing anyone has ever done before on a cruise ship," Gary explains. The audience has to get there before the start because the doors are closed and no one can come or go for 30 minutes of the show that has to be done in pitch darkness. So far the response has been extremely positive, he says.
I can vouch for that, the experience really has to be experienced to be believed.
Then you have Rocket Man, an authorized Elton John show by impersonator Jonathan Kane, who recreates the look and the musical style flawlessly. Crystal built an entire set to stage that's based on what Elton uses when he tours and the energy and flash will make you think you're actually watching a full Elton show.

On future cruises, there will be finalists from The Voice that are getting millions of hits on You Tube.
"We're doing our best to bring in on the top trend makers. We have entertainment agencies working with us, and they will share people who are up and coming."
It can be s a bit of a risk, Gary admits. "When we are giving something for the first time there is a lot of thought and we don't just say let's do it, there's a lot of consulting, outside and within the management and staff, so we have to get a good idea whether it's going to work or not before we invest in the production on the ship."
The classics aren't forgotten. The production show called Across the Pond celebrates the British invasion of pop music in the 1960s and another show, Curtain Call, features highlights of Broadway musicals with a full cast of singers and dancers and orchestra.
In addition, Crystal has an on-going emerging artists program which is a collaboration from the Los Angeles Music Center spotlight award, which showcases top talent. "There can be ballerinas, jazz musicians, opera singers and amazing talents under 30. Some of these are so unbelievable that we book them for repeat appearances," Gary says.
Crystal also brings on local talent from ports the ships visit.
On my cruise on Serenity, a large group had brought aboard its own DJ with sound system that was set up in one of the lounges for the group's private parties. But the group loves to have lots of company and they invited everyone they met to come join the action.
If you've never done the Cupid's Shuffle, here's your chance. There were dance classes during the day to teach folks to be able to move to the left, to the left and to the right, to the right and then shuffle.
A cruise ends up being a fun way to stay current with the trends in entertainment.