On Europe's Rivers: What Do You Do When They Can't Float Your Boat?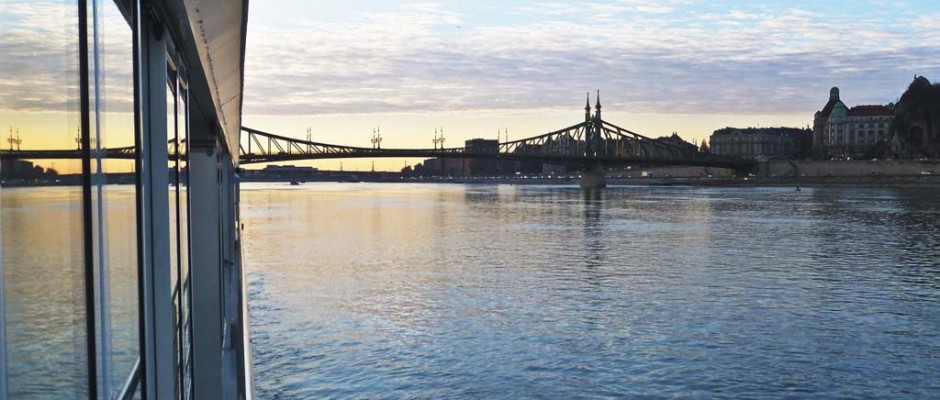 We all wish for sunny skies on our vacation, but for many river cruise vacationers in Europe this year, too much of a good thing has left their ships stranded.
As an example, the Viking Astrid scheduled for a cruise on the Elbe was recently stuck in the river bed at a dock in Dresden due to falling water levels. Instead of cruising, passengers booked on the ship were given a sight-seeing cruise on a local ferry and did a bus tour to Meissen to visit a porcelain factory on another day.
Then they had to pack up and check in on a sister ship, Viking Beyla that was at another Elbe port and able to navigate to other ports that had higher water levels.
This year has been a mirror opposite of 2013, when the problem was too much water. Then, torrential Spring rains in central Europe created flooding and record high water levels that meant river cruise ships that couldn't fit under bridges. Areas around Budapest and Passau and cities along the Elbe were turned into lakes. By the fall of 2013, river levels had recovered to normal
Flash forward two years and these formerly soggy river cities would love to have some of that water back. Stingy rainfall during the spring and summer has significantly lowered water levels nearly all the rivers on the continent and in many places, it's becoming too shallow for navigation, especially along the Danube and Elbe.
Most cruise lines are scrambling to keep their fleets operating and meet their obligations to passengers, who expect a leisurely cruise vacations. In many cases, passengers have had to be put on buses to visit cities where their ship couldn't dock. Some cruises on the Elbe have even been cancelled on short notice.
But you might not know that, judging from the scanty information available from websites and few news stories that have been written about the situation.
AmaWaterways, Avalon Waterways, Scenic and Viking River have been the most upfront in keeping passengers informed about adjustments in their itineraries–that in some cases required swapping out ships or changing ships in mid-cruise.
What should guests with cruises facing water issues do?
The best advice is not to cancel –which would forfeit the cruise fare. Rather, wait for the cruise line to either cancel and offer another sailing or rebate for the inconvenience. It's always up to the cruise lines, of course, but they do want to build guest loyalty.
And the cruise companies have been doing  their best to continue  to sail, with adjustments.
The water around docks in several Danube cities has become too shallow for ships to tie up. Ships scheduled to arrive or leave from Budapest haven't been able to sail into the city, as my brother found on a Danube cruise in September.
Viking–which prides itself on having the most centrally located docks in Budapest– has instead been using Komaron, Hungary, 60 miles out of town for boarding. At the other end, cruises are starting or ending in Regensburg rather than Nuremberg in Germany.
"At least we got to cruise the majority of the route. I've found out that quite a few current cruises on the Danube and Elba are listed as sitting in a port, busing to various attractions and then transferring by bus to a different ship further down the river (once or  twice, depending on the route)," my brother said.
"Viking boats are all the same (longships) so rooms could just be substituted on the new ship, without any sailing. Doesn't sound very interesting," he noted. "But I was also sympathetic of the crew that were very good at handling the adjustments and whining from passengers along the route."
Viking has been monitoring the rivers on a daily basis to make contingency plans and notifying guests whose cruises have been adjusted directly via e-mail, a spokesman said.
Nobody loves the situation, but "Viking's operational and nautical teams have extensive experience in delivering contingency plans that remain focused on exploring the destinations guests have traveled to see," the Viking source said.
Low water is a key concern for AmaWaterways, which is why the company designs its ships with very low drafts, said the company's owner and president  Rudi Schreiner. "High water levels may occur several times per season, but these are mostly brief events and they are not a major concern to us. On the other side, long-term drought periods combined with blistering hot summer months are much more critical to the proper operation of river cruises." The company deploys its ships keeping in mind seasonal rainfall and temperature patterns, he added.
On some rivers, the situation seems to be improving thanks to intermittent rain this fall, but much more is needed, said a spokesman for Scenic. The French Riviera is dealing with flooding from torrential rains.
The Danube continues to be a headache, Fortunately, on most stops along the way, it's still possible to dock and run tours.
"There is no way to know what is going to happen to the water levels this fall or Christmas any more than we can predict how it will be two days from now," the source said.
"If it rains enough, all is good!" Keep your fingers crossed.