Party Hopping on Happy Wednesday Night at the Races in Hong Kong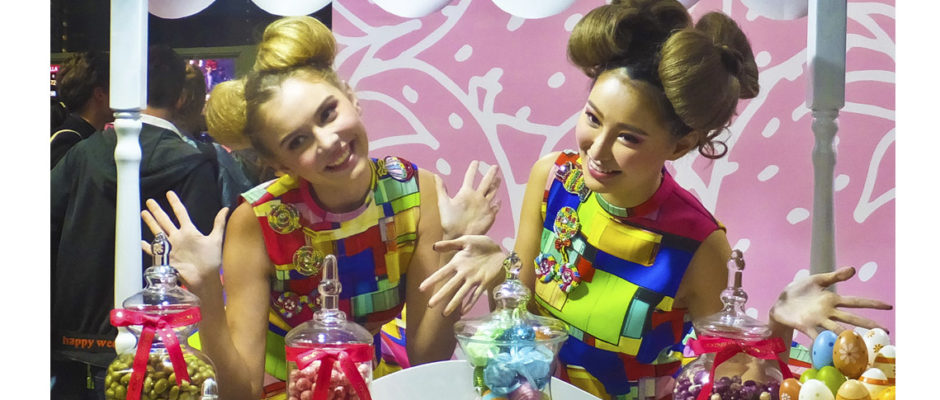 A pop music combo is rocking a stage that's surrounded by giant screens streaming videos of galloping horses. Gaggles of guys and gals are mingling and knocking back exotic cocktails, while models dressed like confections are handing out sample chocolates.
And, oh yes, better place your bets, because the next race is about to start.
It's horse racing like you won't find anywhere else, and it's a tradition that draws throngs to Hong Kong's Happy Valley racecourse for a weekly party that goes on well after the horses are back in their stables.
A visit on race day, Happy Wednesday, to eat and drink copiously and lay down a few bets reveals a lot about how folks who live in this crowded, business-focused city can let down their hair.
A night at the races
The track is Hong Kong's original landmark and it's still a stand-out, even though over the years the oval in the lowlands has been hemmed in by walls of cliff-like high rise towers. The British started running races around what was then a swamp in 1845 and the Hong Kong Jockey Club was officially founded in 1884. The quality of the thoroughbreds has soared and the level of partying has become wilder in recent years thanks to the booming economy and the Chinese love of gambling.
All the pretty horses
Yes, this is serious horse racing and there's a huge amount of prestige and money at stake in every race. This is one of Asia's premier horse tracks and the stables have long pedigrees and the money to hire the best trainers and jockeys.
You'll find a hard core of handicappers and Exacta players along the rail studying the programs and making calculations for their next bets. These days, though, the races also serve as a fun backdrop for a much bigger crowd that's into serious partying.
Join the crowd
Comfortable shoes are a good idea because you'll have to hoof it a bit just to get to the entrance. If arriving from the MTR subway at Causeway Bay, look for Exit A. Even if you're arriving by taxi you might find it easier to hop off a few blocks from the racecourse and  join the pedestrian crowds because of the perpetual traffic jam near the entrance.
Once there, it's easy and cheap to get in. You can swipe the same Octopus card you use for transit at the turnstiles or pay a HK$10 (about $1.50 U.S.) cash admission fee at Entrance G to enter the vast public enclosure area including the grandstand, betting hall and public restaurants.
The Beer Garden
The best place for people- and horse-watching is at the track level general stand, known locally as the Beer Garden, where the live band Carnivale plays sets between races and the turf becomes a dance floor for those who aren't otherwise queueing up for the beer tents and food stands.
This is where people go to strut their stuff and show off their latest designer duds. It's noisy– oh yes, it's noisy–but that makes it all the more a surreal party. At ground level, you can easily run to the rails and take in the race action every half hour as the horses nose over the finish line, or you can watch it from every angle on big video displays overhead. There are a huge variety of beers on draft and fast food for every taste from dim sum to McDonald's burgers.
But there's more to explore. If you're not into standing or dancing all night, you can step up for a bit of clubbing.
Take it to the Terrace
This recently renovated area above the Beer Garden has tables and seats more than 500 seats. Admission is 20 Hong Kong dollars (about $2.50 U.S.) in addition to the general admission. You're higher up with a great view over the party crowd and a good view of the finish line. There are also betting stations and attendants who can advise newbies on how to bet.
Get your Adrenaline flowing
The VIP race experience is Adrenaline, a stylish bar and lounge that adds another dimension to the Happy Wednesday experience. It combines interactive technology with live music, attentive customer service, themed food buffet lines and serving stations and a balcony offering a panoramic view of the track and finish line.
A reservation for the HK$375 (about $48 U.S.) package will get you a free signature drink, a table at the picture window and an all-you-can-eat buffet, along with between race live music, a program and racing information from ever-changing video screens. Racing specialists are on hand to give advice on betting.
Admission is free after 10:00 pm and the live bands keep playing until midnight.
Another step up is The Gallery, with a view right above of the finishing line, a horse racing-themed decor and an immersive digital experience.
The HK$450 (about $58 U.S.) a person admission brings complimentary i-Pads to use for betting and lessons on betting strategies. The bistro-style Mediterranean buffet has serving stations and there's a full service bar. Private rooms (for up to 16 people) are available for an exclusive venue to entertain guests.
It's time for the next race. And they're off.
My bet's on Happy Wednesday. It's a sure thing.
When to go:
Horse racing season at Happy Valley is from September to July and races are normally on Wednesday nights. There's a minimum age requirement of 18 to enter the race course during races.
The gates open at 5:15 p.m. and racing runs from 7:15 to 11. There are generally eight races at each meeting, with about 30 minutes between races.