Rating 5 New Features and Tastes on Crystal Serenity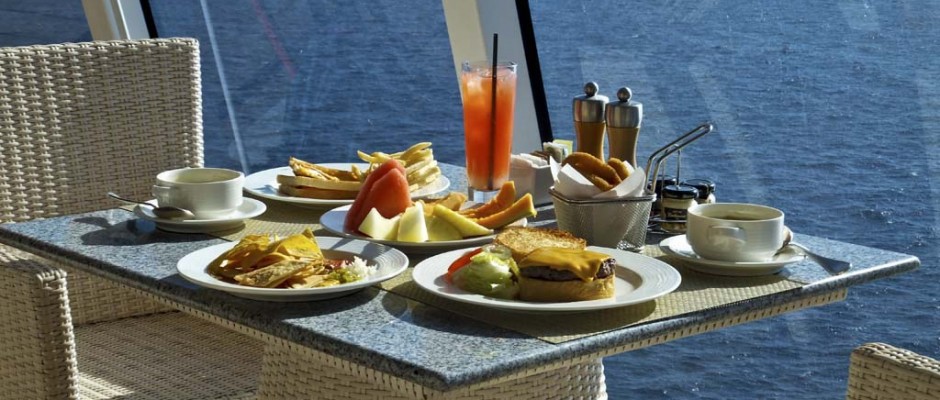 Crystal Cruises has been a phenomenon in the cruise world. As newer ships in the luxury market proliferate and the whole definition of what people expect on a cruise keeps evolving, Crystal's two ships have remained consistently at the top of best cruise ship lists year after year.
You don't hold the lead in this crowded race by coasting and Crystal has kept its edge by constantly upgrading both its ships and its levels of service.
Just two years ago, I was on Crystal Serenity as it emerged from an extensive and expensive completely rebuilding of  many of its suites and penthouses that also created new interior spaces.
I've just sailed on Serenity again after another massive overhaul. This one rebuilt the  Lido deck, added new restaurants and created some of the most incredible penthouses at sea.
Here's what's new that's destined to propel the ship to the top of the charts again this year:
1)  It's all included
A big change on both Crystal ships this year is the fact that beverages and gratuities are now included in the fare. That's led to a major change in the social activity in the evenings. In the past, many guests would tend to start the evening in their penthouses, having a pre-dinner drink of wines or liquors that came complimentary with penthouses. And it could become awkward to invite someone to sit down for a conversation in the lounges because it wasn't clear who would pick up the tab.
Now, there's no charge even for premium liquors like Grey Goose vodka or Hendrick's gin and there's no worry about signing tabs. (Of course, there are still charges for ultra-premium vintage wines and rare liquors). The change has the Crystal Cove and Avenue Saloon buzzing all the time and sees more people staying out for entertainment and dancing after dinner.
One caveat to this is that it's made it more necessary to plan in advance if you want to get together with friends at the alternative restaurants.
Prego and Silk Road have become so popular that reservations are essential in advance and there is now a firm limit of one complimentary reservation per stateroom per voyage, up to 14 nights. There is a $30 cover charge for dining in the alternative restaurants a second time. So there are limits to all-inclusive.
2) Tastes
You've had Caesar salad before but never one like the one at Crystal Serenity's new Tastes restaurant. And you can follow that up with warka–a kind of Moroccan spring roll, an Argentinian lamb skewer or a tacoshima–a cross between taco and sushi.
Inventive small portions inspired by street food around the world are the forte of the new restaurant on the Lido Deck now that Crystal Serenity's latest renovation is finally complete. Guests are getting a look here at the fresh and innovative international cuisine that will be an increasing emphasis of the luxury line in the future.
After an extensive refit that included replacing much of the upper Lido deck of the ship, Tastes restaurant has been unveiled, with an innovative  menu created by Chef Azmin Ghahreman from the Sapphire Restaurant in Laguna Beach, California.
He says he's always had the concept in the back of his mind of a restaurant that can really be global in its scope. With Crystal Cruises visiting a total of 240 ports each year, he sees presenting different local dishes in tasting-sized portions wherever the ship is docked. He had a lot of fun creating intriguing dishes you can order in Tapas style tasting size or platters to share around the table.
I give lots of praise to the space and the lighting in the evening. While the wicker chairs and tables with marble tops are right for this atmosphere, unfortunately the tables for two have woven baskets for legs that are so wide I had trouble figuring out where to put my legs when I was pulled up to the table. Legs would work better and I'm told there's a adjustment in the works.
The waiters were California cheer,y but the order taking and service ended up being a little slow, because the staff seemed unfamiliar with the iPads they use to relay orders to the kitchen. I hope that's destined to sort itself out with time.
And I'm sure the menu will evolve as well. I found the deconstructed Caesar salad a little too do-it-yourself for my taste. It came as a big spear of Romaine lettuce and a rusk of garlic bread in a glass, along with some grated cheese and a cup of a dip. It was difficult to figure out what to do with it from there.
Isn't the blending of ingredients and presentation the reason we have chefs?
You definitely have to make reservations for Tastes, because seating is limited.
3)  A Reinvented Lido Cafe
Long buffets are a thing of the past and Crystal has replaced them in the completely rebuilt Lido Cafe area. The new look has a variety of food, including a fresh baked goods kitchen. Many more tables are for two with sea views through the wraparound picture windows and there's now a cocktail bar. The style is called California Riviera, using natural stone, wrought iron and plants and backlit dividers.
4)   The New Trident Grill and Ben and Jerry's
Welcome additions to the casual grill area are living walls, dividers covered with a variety of tropical plants making intriguing patterns. One room divider is actually a lush herb garden prolific enough that it can be harvested by the chefs for cooking.
There was always an ice cream bar on the Lido, but the new one is more festive and stocked with all the crazy flavors of Ben and Jerry's ice cream. It's way too tempting.
5) Hypo-allergenic staterooms
There's an upgrade aimed at helping allergy sufferers in accommodations that were redone in the refit. In a partnership with PURE Marine Solutions 70 deluxe verandah staterooms on Deck 10 were equipped with medical-grade air purifiers that filter out nearly 100 per cent of all impurities and dust. Bacteria resistant coatings are also applied to light switches, artworks and counter tops to repel microorganisms and allergy friendly mattresses and linens are on the beds.
Four brand new ultra penthouses were also created, done in an ultra contemporary style that's the work of a Toronto design firm. Some of the more dramatic features include a Jacuzzi tub whose powerful jets literally let you float on the surface and three flat screen TVs and two more embedded in a mirror and the wall of the whirlpool.
Funny, in my time on the ship I hardly ever needed to turn on television. There was too much to see on land and around the ship. Nice to know there are a lot of them are available, though.