Revealed! The Tasteful, Sinful Details of Eden on the New Celebrity Edge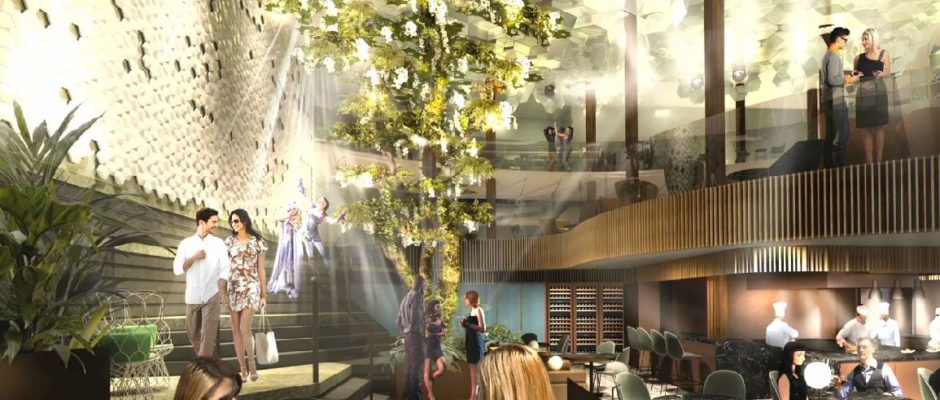 It's…Edenistic. Some might even call it sinful!
The walls are alive in a towering space whose acres of glass provide an infinite view of the sea. The menu includes a dish called Life After Death and appetizers arrive in a cloud of heavenly fog. And all around, scantily clad entertainers are doing things you shouldn't–and probably can't–do at home.
It's Celebrity Cruises' vision of Eden, a signature showplace on its upcoming Celebrity Edge. In a sneak preview of the ship that's due in late 2018, the planners promised the innovative venue spanning three decks at the rear of the ship will be a tasteful and at the same time tantalizingly sinful experience–unlike anything else at sea.
Unique design inspired by nature
Eden's stunning design was inspired by the golden spiral that's known as the Fibonacci sequence, said Scott Butler, founding partner of architectural firm Wilson Butler. It's seen in nature and art in such things as the bloom of a rose or the twist of a snail's shell. In Eden it will show up as a spiral ramp and lounging and dining areas arranged around the three-story high space.
"Connectivity to the ocean is one of the most exciting hallmarks of Edge Class, and with more glass than any other room at sea. Eden embodies that outward-facing concept beautifully," said Richard Fain, chairman and CEO of Celebrity's parent company, Royal Caribbean Cruises Ltd. at the event.
The scale of Eden is bigger than the Hayden Planetarium in New York City, and its area, at 12,650 sq. ft., is larger than the Van Gogh Museum atrium in Amsterdam.
Inside the Garden of Eden
Everywhere there will be plants and a centerpiece will be a soaring Tree of Life. "The new ship re-imagines what it is to be outdoors. Eden is about connecting people to nature, being inspired by nature and bringing nature to life," said Celebrity president and CEO Lisa Lutoff-Perlo at the event. The preview was held appropriately in a flower-filled glass conservatory at New York's Brooklyn Botanic Garden.
In the mornings, Eden will be a multi-level lounge with spaces for guests to relax to have coffee, read a book or do yoga. Celebrity labels this the "chillful" time of day. The afternoons will be more active, with enrichment seminars and food and beverage tastings as well as pop-up performances by musicians and aerialists, Fain said.
Designer Patricia Urquiola was behind many of the key features of the Garden of Eden, including towering pillars with hanging plants. Her signature furniture is also used throughout the space. A wall covered with herbs called the Library of Plants will soar above the Eden Bar. Bar staff will climb ladders to snip off the herbs, garnishes and edible flowers they will add to cocktails.
Earthly delights and otherworldly entertainment
In the evening, Eden becomes a dinner theater with meals served up by "Edenists," who will combine performance art with innovative cuisine.
If the sneak peek in Brooklyn is any indication the experience will be overwhelming–with sights, sounds and tastes vying for attention. Entering the space at the preview was like time travelling to a love-in in the 1960s, where lithe performers wearing wildly eclectic costumes performed dance and mime routines while mingling with the guests. Someone was playing a digeridoo and a woman in a flowing yellow dress swooped above the crowd on a swing.
Celebrity's talent and staging is being done by Variety Worldwide, who blend unconventional theater with dining and nightlife, including a supper club spectacle in Manhattan known as Queen of the Night.
"When people think of traditional cruise ship entertainment, there's a very specific image that people have in mind, but the exciting thing about Eden is we've actually been invited to break so many of those rules," said David Ley, director of Variety Worldwide.
The ongoing show in the preview included aerial acts, ballet, and astonishing acts of balance and precision:
Is she really  dancing on his head?
And what's she's doing with her feet gives a whole new meaning to Lego.
As well, there's lots of captivating music while characters in otherworldly costumes and table-top magicians roam from table to table, putting guests at the center of the performance. Be warned, some also get invited to be part of the acts.
It all has to be seen to be believed.
On the sinful menu
Given the unconventional venue, the food and presentation is unique as well. Cocktails include concoctions served in glasses that look like light bulbs. One  blend of Mandarin-infused vodka, lime juice and passion fruit is called Passion and Poison.
On the menu you can start with a Descending Frost: a whole sea urchin with chunks of fluke, shiso leaf and spicy melon. It's served in its dramatic spiky shell with a fog created by dry ice that's shaved on top.
Among the entrees there's Life after Death: a generous cut of aged prime beef with carrot emulsion, red wine and bonito. When it arrives at the table, the thin shavings of potato on top appear to flutter like wings. It's remarkably showy and delicious at the same time.
For dessert, Orchid in Blossom is a show of chocolate making artistry. It arrives as a globe of white chocolate that opens like a flower when hot dark chocolate sauce is drizzled on top. Inside is a fudge brownie topped with ice cream. It's a real feat to make this flawlessly for a crowd and it's well worth the calories for you to make it disappear.
Even the menu itself is so attuned to nature it's made of recycled paper with basil seeds embedded in it. After you're done, you can take it home as  souvenir, stick it in the ground and watch the seeds grow in your own private garden of Eden.
A progress report
The 2,900-passenger Celebrity Edge is under construction at the STX France shipyard. Starting in December, 2018, the ship will homeport in Fort Lauderdale. Bookings have opened for seven- night itineraries in the eastern and western Caribbean.