Russian Grin: A Traditional Welcome as We Board the Scenic Tsar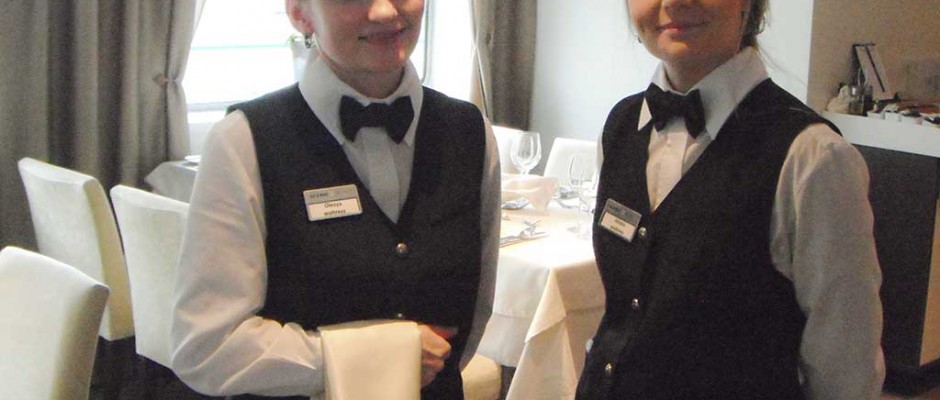 I've been welcomed aboard many a ship, but seldom with such simple grace as the greeting from the crew of Scenic Tsar at a rural dock in Moscow.
The port is in the middle of a heavily forested park that seems totally removed from the gridlocked bustle of the highway from the airport to central Moscow.
As we arrive two young men who look like navy cadets rush out to take our bags and a jovial accordionist strikes up a tune. A young lady carrying a loaf of bread the size of a large cake greets us at the top of the gangway for a ritual that involves pulling off a piece of bread, dipping it in salt and having it with a sip of warm sugared tea—a gesture that joins us to the spirit of all those who will sail together on the ship from Moscow to St. Petersburg with daily stops at exotically historic places like Uglich and Mandrogi along the way.
It may not be the longest or the tallest ship on the Russian rivers but Scenic Cruises' new ship is the sleekest and by far the most modern. It's the first new passenger ship to be built in Russia in the post-Soviet era.
Travel has definitely come a long way in terms of comfort from the days of socialist efficiency. The ship has a contemporary club-like feel with a bright lounge and restaurant area and the staterooms are large with plenty of closet space.
You'd never guess that the ship is an ingenious reincarnation of a ship originally built to carry cargo on the river route. It was cut right down until just its hull remained and otherwise virtually everything is brand new, from the engines and plumbing to the three decks, with their balcony cabins. It's officially registered as a newly built ship.
Though it's marketed as the Scenic Tsar the ship is still owned by a Russian company and still bears its original name on its bow: Alexander Grin. It honors a poet and novelist who lived in St. Petersburg in the early 20th century. His best known story, Scarlet Sails, a tale of a group of explorers in a fantasy land finding love and adventure is a great allegory for our journey.
The crew is all Russian and most of them have served at sea before and my initial impressions are that they have a great sense of hospitality. I'm hoping the chefs can offer up some Russian specialities in addition to the international fare Scenic is known for. And we'll be able to sample a range of local vodkas along the way as well.
We're not sailing just yet. For the next three days we'll use the ship as a floating hotel to explore Moscow's attractions, including Red Square, the Kremlin and the Museum of Cosmonautics and also get some time to experience modern Russian life.
First things first, though. Dinner awaits and then a chance to get some much needed sleep.