Scoping out 7 Stylish Additions to Oceania's Classic Small Ships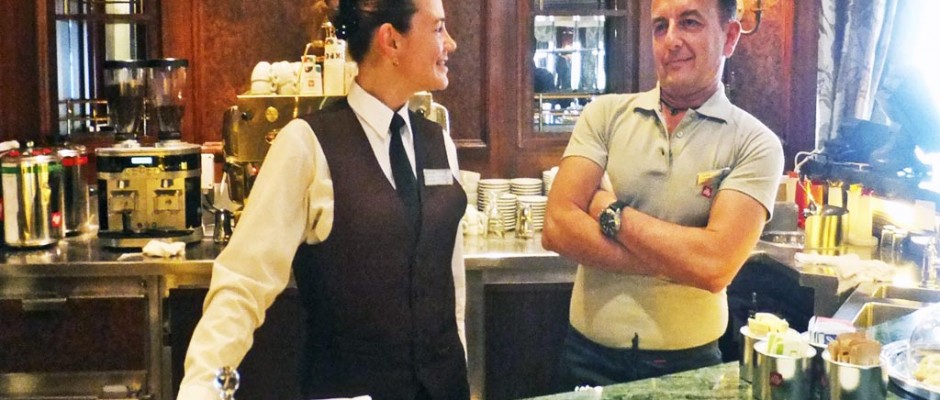 Sailing on one of Oceania Cruises' small ships has always seemed  to me like being a guest at a grand home at sea. Public rooms with polished wood paneling, carved trim work and even elegant fireplaces and a  dedicated staff make the line's three smaller ships comfortable and elegant.
So I was more than a little curious to see how Oceania could have improved the experience on ships that were already in top form . I  joined the Regatta in Vancouver in June  for 10 days in Alaska, its first cruise after weeks in dry dock. Along with sister ships Insignia and Nautica, Regatta was transformed in a program that cost a collective $50-million.
Guests who have sailed before on Oceania's smaller ships will recognize all the same familiar features and club-like atmosphere, with freshened carpets and fabrics but there are additional features that were formerly only found on Oceania's larger ships Marina and Riviera.
"We can now deliver the same Oceania experience regardless of which ship you are on," explained  Kunal S. Kamlani, the President of Oceania's parent company Prestige Cruise Holdings Inc., who was on board Regatta for the first half of our cruise. He described Oceania's future plans in an exclusive interview with The Cruisington Times.
Here's a first look as we head north to explore the Last Frontier:
Fabrics, Fabrics, Fabrics
My wife, Lisa, was in awe of the logistics that must have been needed to not only re-carpet the ship and re-upholster sofas and chairs but to even give vast spans of windows elaborate new treatments.
Even before looking at the menu in the Grand Dining Room, Lisa asked the maitre'd for the name of the maker of the new embroidered drapes and the floral carpets on the floors. Be warned, guys, the rich fabrics and cozy cushions could inspire plans for a redecoration at home.
All of the ship's main lounges got refreshment. The upper deck Horizons bar features a new color palette of sea blues, cocoa brown and mint, complemented by new sofa, chair and table furnishings. Mid-ship Martinis lounge maintains its piano-bar ambiance with all-new furnishings.
Bar Gets a Boost with Baristas
The paneled bar outside the dining room was previously a place guests tended to frequent only before dinner. It's been transformed with the addition of an espresso machine and new tables and couches into Baristas coffee bar, that's a lively place to hang out by day. On this cruise, the chief coffee scientist hailed from Sicily and the cappuccinos arrived with artistic swirls in the cream. The room resumes its status as a cocktail bar in the evening and more people seem to have discovered it at night because of its increased awareness by day.
Art That Evokes
If you've sailed on the line's larger ships, you know Oceania's founder Frank del Rio and vice-chairman Bob Binder have assembled a remarkable collection of contemporary art. Some dramatic new pieces from their collection have made their way onto Regatta, notably in the Toscana Italian restaurant and public areas of the ship. From abstract scenes of a battle at sea to a phantom horse streaking across the sky, they're sure conversation starters.
Tapas on the Terrace
The main casual dining option on board the ship is brand new from floors to ceilings. It's bright and comfortable and it's become so popular they're suggesting reservations for the evening. New lighting, furnishings and counters make the space feel brighter and there's a new cook-to-order grill featuring steaks, chops and lobster tail and a menu of small tapas-style dishes makes it popular for dinners as well as lunch. Outside, on the pool deck, the Waves grill is open through the day and I really recommend the seared tuna or the Reuben platter as an alternative to the classic burgers.
Sports Deck Gets Sportier
The forward area of Deck 11 was a previously underused sunning area. It now features a nine-hole putting course and a really professional set of clubs to play with. Since we are in Alaska it's a little premature to say what it might mean for its popularity, but I predict the extra visibility will make this a more congenial place to play or sun in warmer climes.
The Suite Life is Sweeter
There are significant updates to the Owner's and Vista Suites with an all-new bathroom design that's elegant, yet contemporary in nature. The bathroom features wall-to-wall marble with a decorative inlay centerpiece, along with a granite vanity that sits opposite an oversized shower. The Penthouse Suites received all-new furnishings, rich upholstery and a vibrant, yet calming palette that reflects the sea, sun and sky.
The Spa Bulks Up
The Canyon Ranch SpaClub received a bright new décor in the facelift that included tile mosaics and new changing room. There's also a completely new array of exercise and weight equipment in a fitness room that somehow seems to be bigger than it was in its previous incarnation.
Looks like it will be a great ship to be on for 10 full days as we explore Alaska. Stay tuned.