5 Upgrades to Seven Seas Voyager Make a Grand Luxury Ship Grander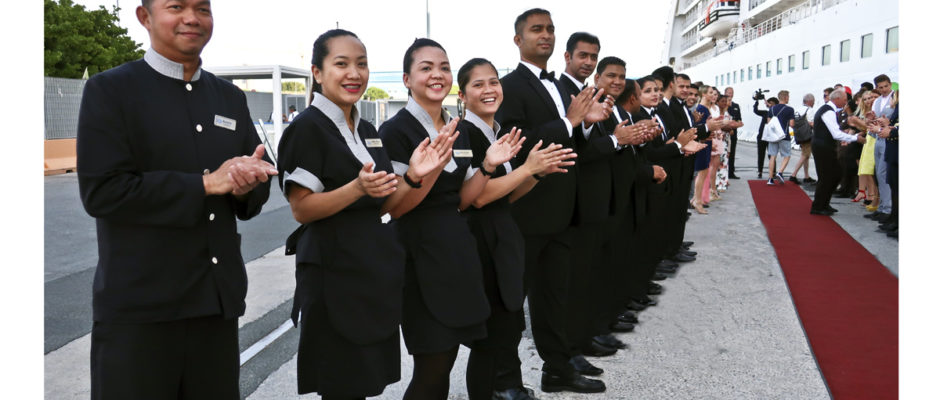 The crystal and silver is polished, the elegant Versace plates are set in the dining room, the suites are immaculate. Now it's time to greet the guests.
Lined up on either side of a red carpet along the pier, the smiling and applauding crew of Regent's Seven Seas Voyager greeted our return from our first shore excursion with a hearty "Welcome Home."
And very home-like this ship is. Even though I'd sailed on Voyager in the past, a cruise in the Mediterranean was like visiting with family in a luxurious home whose staff are constantly asking: Can we offer you more shore excursions? Is there anything else you'd like?
And the Voyager's recent stem to stern renovation—part of a $125-million upgrade of Regent's fleet– has upped the already lofty level of style and comfort of this ship that carries a maximum of 700 guests. Here's a first look at what's new in a globetrotting home away from home:
1) Suites get sweeter
Voyager has bragging rights to having some of the largest-sized suites on any cruise ship. And the rebuild gave them a contemporary redesign that helps make them feel even more spacious.
A month-long rebuild by the same team that designed Regent's most recent addition, the Seven Seas Explorer, make for a contemporary and extraordinarily bright feel. All the suites received a complete swap of furniture and fabrics in hues of gold, taupe and beige and acres of marble-topped counter spaces. The new beds feature Regent's exclusive Tranquility mattresses, so thick and inviting that I didn't have any trouble nodding off as soon as my head hit the pillow.
I could  easily settle in for a world cruise here. There's a walk-in closet the size of a separate room with three sets of bars for hanging clothes and a wall of drawers. The marble lined bathroom features a full-sized tub as well as shower and a complete line of toiletries from L'Occitane en Provence.
Illy pod coffee makers in suite provide espresso on demand. It's a little too tempting in the afternoon. I do wish that the machine would also make cappuccino, but for that, room service is a press of a button on the phone anyway.
To meet the needs of a tech-savvy international crowd. There are plugs for 110 North American voltage as well as 220 volt European plugs and there are more outlets around the suite than I've found on any other ship.
I asked the room steward to stock the fridge with a fine Champagne, but I could have had most any other wine or spirit in the bar as well. As with -almost–everything on the ship, it's all included.
2) Wining and dining in new style
Compass Rose: The ship's flagship restaurant was completely ripped out and rebuilt with a striking new look. Its crystal chandeliers that have a golden glow and a coffered ceiling is back lit in blue in the evening. an effect that's certainly dramatic, but may be more suitable for a dance club than a restaurant where you want to see the true color of the food on your plate. The new seating includes more tables for two and four and extremely cozy padded arm chairs.
Chartreuse: This new alternative restaurant was carved out from a corner of the Horizons Lounge and feels very intimate. Its furnishings, china, flooring and décor elements along with the menu, were inspired by the Chartreuse restaurant on Seven Seas Explorer that launched in 2016..
La Veranda: The bright upper deck restaurant got a fresh design with light grey colored flooring and new sheer curtains that let in more light from the floor to ceiling glass. Removing a wall opened the buffet to both sides of the restaurant and added a cook-to-order grill station. In the evening, the room now is transformed into Sette Mare, an Italian inspired Mediterranean restaurant, where tables on the rear patio are prime attractions.
Pool Grill: The outdoor eating area features a high-tech infrared barbeque grill, so chefs can prepare steaks, chops, lamb and salmon on the open deck in addition to the menu of gourmet burgers and sandwiches.
Voyager Lounge: The marquee bar in the restaurant zone has been reinterpreted with the inspiration of a French cabaret, with chandeliers and crimson colored loveseats along the windows. A quartet that seems able to launch into a credible rendition of any pop song ever written performs before and after dinner. And, naturally the bartenders always remember how you like your usual cocktail.
The refurbishment also transformed the Casino, the Coffee Connection bistro, the reception area and boutiques and the Canyon Ranch SpaClub.
3) Internet is free and fast
Yes. We've been on other ships where internet is complimentary. Ships that may charge a big premium for a supposed expressway of bandwidth can still find surfers going nowhere in the afternoon when everyone on board tries to check in with home or watch a clip from Game of Thrones at the same time.
Regent installed a new system in the refit of Voyager that multiplied its bandwidth by a factor of four and even with a full contingent of guests on board, the speed of the complimentary connection was enough for streaming video, even in rush hours. Oh, a couple of times there were temporary timeouts, but you needn't fear being out of touch while on a cruise on this ship.
4) Fine art exhibition at sea
All the artwork throughout the ship is new, part of an extensive collection decorating the ships of Regent Seven Seas and Oceania Cruises. They're mostly abstracts by contemporary Latin American artists and they're consistently thought-provoking and intriguing, selected with an excellent eye by Frank del Rio, president and CEO of Regent's parent company Norwegian Cruise Line Holdings.. The collection even extends into the suites, which all feature large original canvases.
5) High-energy productions
In addition to the physical enhancements, the ship's got a lively new collection of production shows for the Constellation Theater.
Tuxedo: A fresh take on the music of Tony Bennett, Natalie Cole and Frank Sinatra while also showcasing dynamic arrangements of classic songs by contemporary artists like Michael Bublé, Christina Aguilera, Brian Setzer and Harry Connick Jr.
Lights, Camera, Music!: This elegant tribute to Hollywood musicals showcases cinematic classics.
Broadway in Concert: The cast, many of whom have performed on the productions on Great White Way do songs and dances from shows including Guys and Dolls, Annie Get Your Gun, Cabaret and Les Misérables.
Vegas The Show: You've got the idea: this show is all about glitter and the songs of the entertainers who made Sin City notorious. The Rat Pack and Elvis of course, but anything's possible.
Dancin' Fool: Nothing's foolish about this high-energy music and dance extravaganza that has the cast changing pace from Broadway-style big productions to free-style jive and salsa.
It adds up to a sweet ride
With everything including shore excursions part of the fare, there's no need for the annoying announcements on the PA that happen on many ships trying to get guests to sign up for excursions and get hooked on jackpot Bingo. The morning messages are brief and to the point and you can shut them off in your suite if you want to sleep in.
Of course, it's tempting to sign up for a shore excursion every day, meaning there's less time on board to enjoy the attractions of the Voyager. But it's always sweet to be welcomed back home when the exploration is over.