Ships are Getting Major Rebuilds to Keep up with Trends in Cruising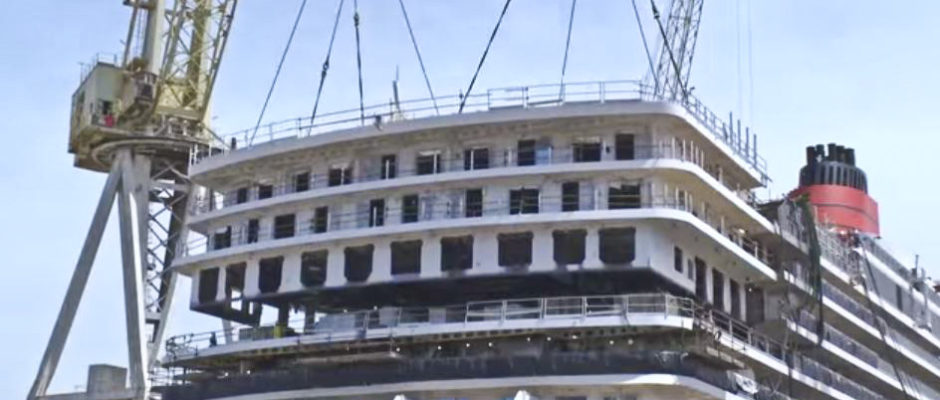 It's a year when innovative new ships are making waves across the cruise spectrum. From debuts of small luxury ships from Seabourn Cruises and Silversea Cruises to the arrival of floating worlds including, MSC Cruise's MSC Meraviglia and Royal Caribbean's Harmony of the Seas and a sister on the way at the mega- ship extreme.
Overlooked in all the excitement is that many of the improvements appearing on the new vessels are being added to existing ships in the fleets. Many are getting extreme face-lifts well beyond the standard maintenance  that regularly puts ships into dry dock for scraping the hull and freshening of fabrics. Classic ships are spending a month or more out of service for major reconstructions that change layouts, expand cabins into suites and add new restaurants and lounges.
It's making older ships feel brand new. And an advantage to shipping out on one of them may be cost savings compared to trying to get the accommodation and sailing date you want on a big new ship that's booked solid because of the new-ship buzz.
Here's a look at some notables coming in the coming months:
Cunard Line
Few ships see such radical changes as Cunard Line's stately liner Queen Victoria, that's sporting a striking new multi-deck addition to its profile.
She's back in service after an unprecedented month-long rebuilding that went well beyond a face-lift. Cunard spent $40 million on the upgrades that included adding an entire section on its upper decks creating 30 cabins and refurbishing 24 suites, adding a new dining room and a new sundeck and a specialty café. The ship now has 43 Britannia Club cabins, including new ones on Decks 7 and 8. Club guests have a new Britannia Club restaurant as well.
The Cunard Grand Suites were also redesigned and reconfigured. The Aquitania, Berengaria, Mauretania and Laconia Suites now have similar square footage to those on Queen Elizabeth, at approximately 1,436 square feet. Five new Penthouse Suites on Deck 8 aft feature floor-to-ceiling windows, defined living and sleeping spaces and bathrooms with natural light. The ship has a new Chart Room on Deck 2 off the Grand Lobby, formerly the site of Café Carinthia that features light bites by day and cocktails by night.
Princess Cruises
After a two-week, multi-million-dollar renovation, Pacific Princess is back in service with modern colors, patterns and textures and a new design on its hull, while still keeping her small ship essence and traditional architecture.
The renovation included refreshing staterooms with 700 Princess Luxury Beds and new fabrics and carpets. There's a new set of Club Class mini-suites; an updated Atrium and pool deck.
Also notable are upgrades to all the dining options. The Sterling Steakhouse offers décor and upholstered arm chairs reminiscent of the Rush Street Steakhouses of Chicago and the Hollywood Brown Derby. Sabatini's Restaurant was updated with modern Italian-designed furnishings and a new lounge area in front of the restaurant. The main Club Restaurant is enhanced by classic British wood trims and contemporary draperies. And the Panorama Buffet sports a completely new look with an open alfresco dining are on the outdoor deck.
Celebrity Cruises
Celebrity Constellation is about to receive a new gourmet Top Deck Burger Bar, and the Rooftop Terrace and Qsine restaurants found on many of Celebrity's newer ships. Qsine will replace the Ocean Liners restaurant. All suites are getting new furniture, carpeting and bathrooms and doors will be fitted with RFID locks opened by key card.
Crystal Cruises
Crystal Symphony will see major changes in a dry-dock in October that will expand the size of penthouses and reduce its total passenger capacity. There will be 28 new penthouses and 12 new penthouse suites. The main dining room, renamed Waterside, will feature all open seating; Silk Road becomes Umi Uma (a new Nobu venue) and Tastes will become Silk, a Chinese-inspired restaurant. The Lido Cafe rechristened the Marketplace will feature a Brazilian churrascaria in the evening. Technology upgrades will mean free Wi-Fi for all passengers.
Sister ship Crystal Serenity will receive the same dining and suite upgrades in 2018. The guest capacity of Symphony will drop to 828 and on Serenity it will fall from 1,070 to 980.
Holland America Line
As part of a $300 million investment, Holland America is updating entertainment, dining and suites across its fleet between 2016 and 2018. Zuiderdam will be among the first to see updates during a dry dock in October.
While enhancements will vary by ship, all Vista- Signature- and Rotterdam-class ships will receive new furniture, carpeting and wall covers, as well as a new quartz stone top on the desk, dresser, nightstands and makeup vanity. Electronic upgrades include a USB outlet added toe bed headboards, LED reading lights and a lighted closet rod.
Suite passengers will also have access to a new interactive TV system with free movies on demand, in-cabin coffee and espresso machine, binoculars for use during the sailing, free mimosas with en-suite breakfast and more. Additionally, Zuiderdam will see its Crow's Nest lounge transform to become a new, interactive trip-planning and enrichment center called Explorations Central.
Rotterdam and Nieuw Amsterdam will also receive similar upgrades before the end of the year.
Regent Seven Seas Cruises
Seven Seas Mariner will receive a bow-to-stern refurbishment in early 2018 to give her a luxurious new décor to match the elegant style of the new Seven Seas Explorer. Compass Rose, the ship's main restaurant will receive a new look with grand crystal chandeliers, rich wooden accents.
Chartreuse restaurant will appear with new furnishings, china, flooring and décor elements inspired by the Chartreuse on Explorer, along with a completely new menu.
The changes will be similar to recent renovation of Seven Seas Voyager. There will also be a new collection of five spectacular production shows for the Constellation Theater.
Silversea Cruises
Silversea's original ship, the Silver Cloud will undergo a major refurbishment to become the company's fourth luxury expedition ship. The formerly 296-passenger ship will be rebuilt to carry just 260 passengers and its hull will be strengthened to make it ice-rated and more agile for Arctic and Antarctic voyages. The extensive refurbishment will include the creation of an Observation Lounge, new teak flooring, upholstery and lighting in La Terrazza and new carpet and upholstery in The Restaurant.
For cruises in polar waters, the guest contingent will be limited  even further to 200. Silver Cloud will also receive a fleet of 18 Zodiac watercraft to make it possible to run excursions for all the guests at once. With 80 per cent of the suites including a veranda, it will be possible to easily head outside to see whales and penguins at any time they appear. The refit will start in August and be completed by October.
Seabourn Cruises
Seabourn Sojourn will receive the upgrades previously given to fleet mate Seabourn Odyssey in a December dry dock. Restaurant 2 will be replaced with The Grill by Thomas Keller. Public areas and suites will get a refresh, and the Spa and Wellness with Dr. Andrew Weil program will be added.