Signs of Slowdown in Chinese Cruising Prompt Ships to Change Course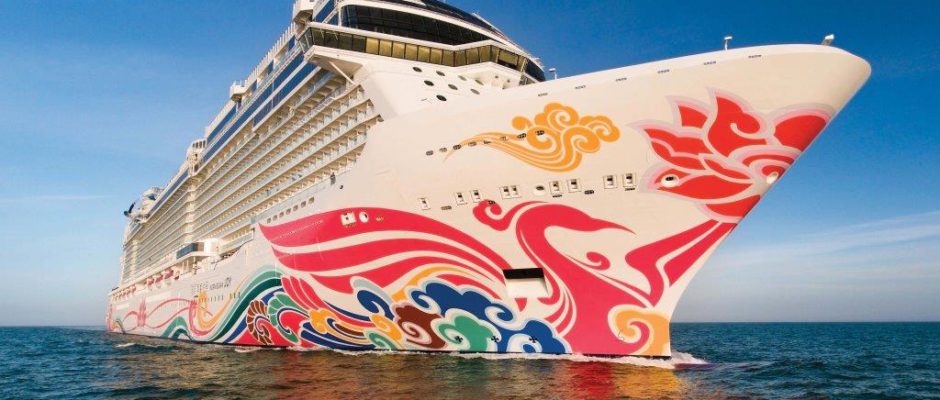 It all seemed so simple: build it and they will come. The major cruise lines all did the math that with many of the 1.4 billion population of China  becoming more affluent and free to travel, there would be an ever growing demand from millions of potential customers from Asia for cruising.
Cruise lines designed new ships specifically to cater to Asian tastes and steered existing ships to new home ports in China.  And the market did grow faster than anywhere else in the world. Goldman Sachs recorded cruise passenger from China had grown 70 per cent annually since 2014. But the bubble seems about to burst. New predictions suggest the number of China-based cruise passengers is destined to fall by as much a 15 per cent in 2018.
Now there's a scramble to reposition ships that were catering to the Chinese markets. Royal Caribbean Cruises and Carnival Corp. have abruptly decided to shift focus – and cabins –  onto other markets.
What's behind the trend?
The analysis by Cruise Industry News predicts just 2.4 million Chinese will book cruises in 2018, down from 2.8 million in 2017. The reasons are partly political, including a Chinese ban on cruises passengers going to South Korea, but they're also about the market, which has seen heavy discounting to fill cabins.
Chinese travel agents have been able to negotiate ever-lower prices to fill empty cabins. An analysis by Morgan Stanley bank found charter rates paid by travel agencies were down as much as 20 per cent in 2017 from 2016.
A Financial Times article quoted Ken Muscat, CEO of SkySea Cruise Line— a joint venture between Royal Caribbean and Ctrip, China's largest online travel agency—as saying that with all the big new ships getting into the market, there was a glut of new product that was hard to fill, so prices plummeted. SkySea's fleet includes the former Celebrity Century, which was renamed SkySea Golden Era.
Another factor was a failure of the market to attract multi-generational family cruises. Chinese passengers tend to be more elderly than their global counterparts and tend to spend less on food and drink, according to reports quoting Diamond Cruises, a China-based line which formed in 2016 and operates Glory of the Seas, a ship that formerly cruised as the Explorer for Celestial Cruises.
Where they're going
Cruise lines changing course include Costa Crociere, which will re-deploy the Costa Victoria from Asia to Europe. Princess Cruises will send the Sapphire Princess to Europe and then Singapore seasonally, while the Majestic Princess will sail out of Taiwan in the spring, followed by a short China summer program and then spend the winter of 2018-2019 in Australia.
Royal Caribbean is also trimming capacity. The Mariner of the Seas will reposition to the Caribbean. And the biggest news is that the Ovation of the Seas–that was custom designed specifically for the Asian market–is going to be relocating in the summer of 2019, to sail to Alaska from Seattle. Ovation was christened by a Chinese godmother – Fan Bingbing, a famous actress, TV producer and pop singer
The only line adding capacity in 2018 will be MSC Cruises, which is replacing MSC Lirica with the larger ship MSC Splendida on a seasonal basis.
Norwegian Cruise Line, will continue to operate year-round with its Breakaway Plus-class Norwegian Joy, which was built specifically for the Asian market and painted with phoenix and lotus designs along its hull.
Challenges created by the changes
The move by the huge Ovation of the Seas to Alaska that was only announced in November will see two of the world's largest ships doing cruises to the Last Frontier in 2019.
Alaskan cruise traffic is already due to jump by 7 per cent this year with the coming of the new 4,000-berth Norwegian Bliss, that's starting service in Alaska this summer. It was also originally destined for the Asian market, with its name Bliss reportedly chosen to translate favorably into Chinese.
The two newcomers each carry up to 5,000 guests plus an additional 1,200 to 1,500 crew members, adding to the numbers that will come ashore in small ports. The arrival of behemoths has already brought concerns in Ketchikan, whose year round population could fit on either of the ships. Ketchikan's City Council has voted to go ahead with expansion of a downtown dock to accommodate larger ships over objections of local business owners and residents.
The golden lining
The Financial Times does find a bright spot on the horizon. It found cruise operators still see long-term potential in the Chinese market, because of the low penetration of cruises in China, where just 0.2 per cent of the population have cruised.
Royal Caribbean chairman Richard Fain told investors in a recent conference call that Spectrum of the Seas, a sister to Ovation that's destined to debut in 2019 is still scheduled to be based in China.
Now if only they can get those 1.4 billion who have never taken a cruise to think about booking balcony cabins.