Soaring Ambitions: A Sneak Peek Inside Crystal's Exclusive Jet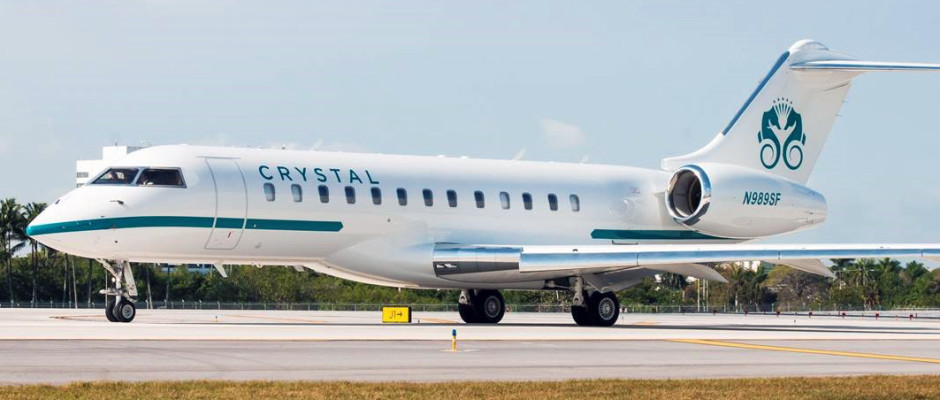 Everything inside this swank private jet is finished in rich,  gleaming dark wood and sensuous leather. The lavish washroom is replete with an onyx sink, a vase filled with fresh cut flowers on the vanity–and even a suede cover on the facility.
There are no limits to your soft leather Crystal Luxury Air seat recline here, either. In fact, if you're sleepy, the crew will transform your seat into a well-cushioned private bed with ultra-fine linen sheets, downy pillows and cashmere blankets. This is, after all, your private world.
The destination of your private jet, along with a small circle of  your very well-heeled friends, could be Bora Bora to join an adventure cruise or to anywhere else in the world to link up with a voyage on one of Crystal Cruises luxury ships.
Well, we can all dream of what flying to a vacation should be like, can't we?
And Crystal's hoping that those of us with very deep pockets will want to make those dreams come true on board their new private jet. The latest addition to its fleet was revealed with appropriate fanfare in Fort Lauderdale in advance of Crystal Luxury Air's inauguration of service on April 10, 2016.
The Cruisington Times got an advance look inside what has to be one of the most opulent planes to ever lift off.
The white Bombardier Global Express XRS jet is laid out to seat just 12 guests and accommodate four at a time comfortably at a dining table that's set with Crystal's whimsical Bistro china and, of course, gleaming crystal stemware.
The plane is designed to be part of a new fleet of Crystal Luxury Air jets that guests can book privately to fly to Crystal's ocean, river or expedition cruises or to residence stays.
This is the next level of Crystal exclusivity, said Crystal's president and CEO Edie Rodriguez, as she explained how this fits the company's rapid expansion "from a cruise line to a global luxury experience company."
The Bombardier jet has been divided into three separate cabins, for business activities, relaxation and sleeping quarters. If you're over six feet tall you might have to duck just a bit in the aisle because there's a low ceiling, but it is very well padded.
The forward cabin boasts wide leather  club seats with foldout tables for dining; the mid-cabin is configured for conferences or conversation with seating for five, a work station and cabinet; the aft cabin offers a three-person divan that can be transformed to another large bed–presumably for one, unless you close the door.
A galley is located forward, featuring a refrigerator, commercial oven and Nespresso machine. A wide range of technical amenities include laptop ports, video entertainment, XM Radio, surround sound and a 31-inch LCD TV, along with high speed internet and in-flight phone service.
With a range of just under 12 hours, the plane can fly non-stop from the U.S. east coast to the South Pacific without refueling.
Your jaw's destined to drop when you hear the price: flights are billed at $8,000 per flying hour. But put that in perspective, Rodriguez says: that's for a plane that can pamper up to 12 passengers. If you divvy up the cost, that  can make it less expensive – and a whole lot more exclusive – than flying first class on some commercial airlines. And it can whisk you virtually anywhere in the world without changing planes.
Crystal Luxury Air is already thinking bigger. It plans to add a Boeing 777 to its fleet in 2017 and a 787 Dreamliner in 2018.
Yes, we all get to dream.