Star Clippers Plans Cruises Around Cuba but Yankees Still Can't Book Them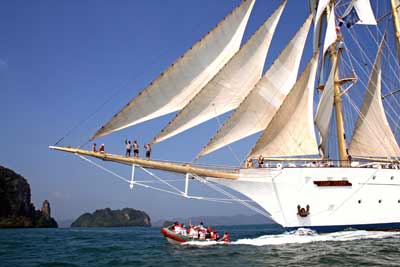 Good news for Europeans and Canadians: Star Clippers is continuing to offer a series of cruises to ports around Cuba,
For Americans, there's not so good news: they're still technically not invited.
Star Clippers have offered Cuban itineraries since February 2014. In 2015, Star Flyer sails from Cienfuegos, with itineraries taking in Cuba's offshore cays and colonial towns, as well as the Cayman Islands.
But a call to the Miami office of Star Clippers for information brought the response that they couldn't even talk about the cruises. All inquiries are being referred to the European-owned company's head office in Monaco.
A Star Clippers spokesman in Monaco  said Canadians and Europeans will be the market for the trips because despite the current thaw in relations, American tourist aren't allowed to travel as tourists to the island just 90 miles from Florida.
The dramatic announcement by President Barack Obama that the U.S. is restoring diplomatic ties seems to open the door to American travel to Cuba. But it will still be up to Congress to lift trade embargoes before that happens. And that might take some time with a Republican-weighted  Congress looking to make Obama look bad.
"We, at Star Clippers, were delighted to read President Obama's statement and we sincerely hope that all U.S. citizens will be permitted to visit Cuba in the not too distant future. If and when that happens, Americans will be warmly welcomed on board Star Flyer," said Andy Lovering, the company's director of sales and marketing.
Intriguingly though, the cruises are being priced in U.S. dollars.
Of course, Americans can already apply to visit Cuba. Diplomats and journalists can get visas. There are also categories for visits to relatives and for student and religious groups who are doing humanitarian visits.
Casual visitors and cruise passengers are still restricted, although there is a new category called support of the Cuban people. Expect applicants  who claim their rum and cola purchases will help keep bartenders in business.
Before the U.S. ban, many cruise lines called regularly on Cuba, mainly at Havana and Santiago de Cuba.
Star Clippers' Cuba season will include cruises out of Cienfuegos that spend an entire week visiting different locales  around the island, including Cayo Blanca, Casilda (Trinidad),  Cayo Largo and Archipiélago de los Canarreos.