Stress and Time Melt Away on a Day at Seabourn Sojourn's Spa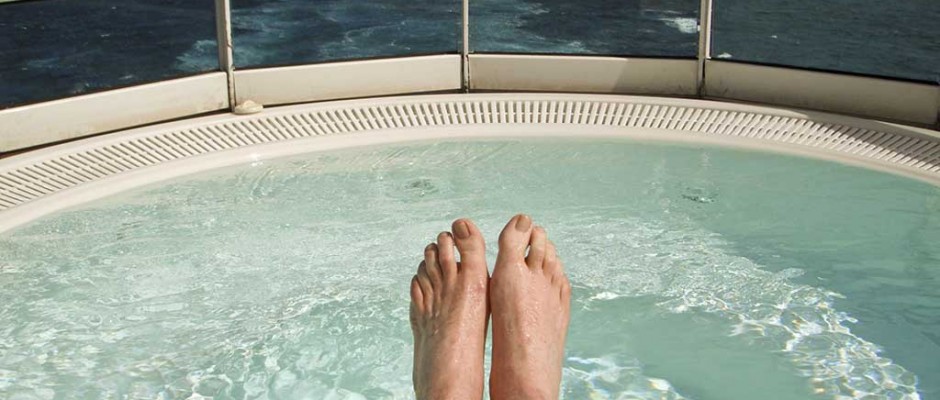 There's a pattern I've seen regularly on cruises. The first day at sea, the fitness center is packed. A lot of people make a vow to hit the gym and put in time on the treadmills and stair climbers so they can reward themselves with desserts at lunch or a pre-dinner cocktail or two.
The first sea day on Seabourn Cruise Line's large luxury ship Seabourn Sojourn was no exception. The two dozen pieces of TechnoGym equipment, the small stretching area and the weights in the fitness room were busy for most of the day. Then reality invariably sets in. If passengers haven't been working out at home, they end up aching and decide to reward themselves with dessert anyway. Or they do have that extra dessert at lunch and decide they'd rather take an afternoon nap. And only the dedicated continue to use the gym later in the cruise. I saw the same effect on a day at sea in which I decided to sample all the many facilities of
Seabourn's by-reservation Serene Area.
Sojourn's spa zone is the largest on any Seabourn ship, covering a vast amount of space on two levels at the stern of the ship. The Serene Area is open for use by passengers having spa treatments or for day use at a cost of $30. I found on this Norway itinerary that cool weather kept other passengers away from the outdoors area on the second deck and it became my own personal retreat on what became a beautiful warm and sunny day with only a light breeze.
On this upper level, there's a big sunning area and whirlpool and on one side is a shaded lanai area with sheer curtains dividing the chairs. There are ample private spaces for a dozen couples if it's a particularly busy day. For even more privacy I could rent a Private Villa (for a fee of $650) that features massage tables, a menu of personal treatments and a vast tub that lets you soak in Elemis herbal potions. Want lunch or drinks brought up? Just dial for room service. A great attraction of the upper deck is the panoramic view from the top of the ship. On this day, the wispy clouds in the sky looked like angels' wings.
After a couple of hours luxuriating in the tub and whirlpool and catching some rays, I moved to the lower Serenity level—that had a futuristic look of a science fiction holo-deck. There are eight lighted and heated "thermal lounge chairs" and reclining chairs that feature cocoon-like hoods to let you meditate. There's even a glass sculpture of a female form in the center of the room that looks a hologram. It's got its own spa area that includes an "Experence Shower" made by a company called Happy Sauna. The water comes scented with herbal extracts of papaya, or eucalyptus or lime. Cold fog sprays in a mist of scented water under a blue light. Then you can switch to tropical rain, under red light droplets of water. Ideally I would have liked to be naked while feeling the mist or the scented randrops but the area is co-ed and the showers don't have curtains or doors.
After that I had alternating visits to the aromatherapy sauna and steam room. In the herbal sauna, essences and sea salt are in a pan over the heater and tiny drops of water dripping on it create a scented moisture. The salt is added, apparently to clear your sinuses and lungs but breathing the fresh Norwegian air for a few days I was feeling no congestion at any rate.
A couple of times through the afternoon I did a Kneipp Walk is a circular fountain with hot and cold areas designed to alternatively warm and chill your feet and ankles to improve circulation. You start in the warm basin and walk slowly around to the halfway point of the fountain where you step over into the cold basin.
I expected more of a whirlpool effect but the water is actually still and you do the moving. The idea is to walk slowly raising and lowering your feet which creates pleasant tingling sensations. It's deceptively effective because even though the water is not shockingly hot or cold, it feels stimulating.
I ended the day with yoga and stretching in the fitness area. And here`s where I have a quibble with the layout of the spa. Even though there is generally enough room in the fitness area, it can feel very cramped with a full house because it holds a dozen treadmills and elipitical machines as well as an array of strength training equipment.
There's actually a bigger studio space in the spa area that includes what Seabourn promotes as a Kinesis wall, with equipment for high-tech strength training. But on the first day I was told by the fitness instructor the room is off limits except for extra cost personal training and one group class a day that I found fell at an inconvenient time.
The mirrored room with higher ceilings that the fitness room actually sits empty for most of the day and I found that a shame because it would be perfect for personal yoga or stretching and I think that people should be allowed to use the Kinesis equipment on their own with the advice of the instructor.
At the end of the day I was so extremely relaxed that I`d lost track of time and when I finally looked at my watch it was 4 in the afternoon. It was time for a nap before getting ready for cocktails, dinner and a show. That`s life on a sea day on Seabourn.