Taking the Plunge: Royal Caribbean Scuba Program is Unique and Fun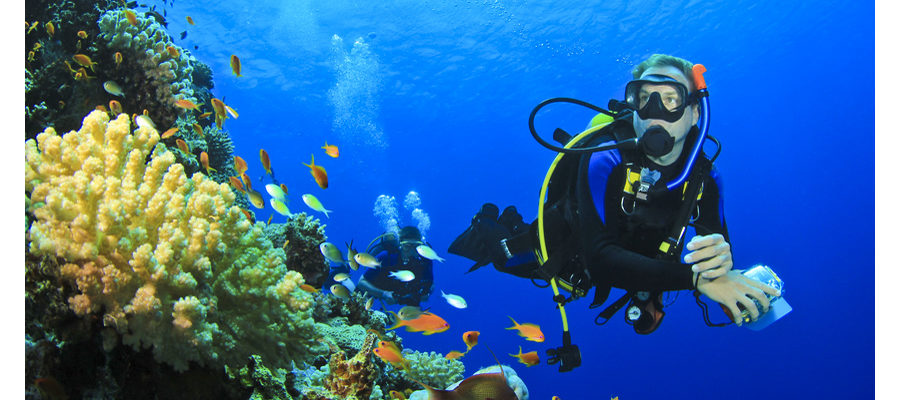 There's a vastly fascinating part of the world most people have never explored: the unique and brilliantly colorful realm under the sea.
It's about to get a whole lot easier to visit the empire of the sea with a new dive training program coming to Royal Caribbean's fleet.
Royal Caribbean has become the only cruise line with on-board PADI (Professional Association of Diving Instructors) Five Star Dive Centers. Even newbies can become certified scuba divers as part of their vacations and head right from their ship to sites where they can explore some of the world's most colorful coral reefs, and fabled shipwrecks in destinations like Aruba, St. Thomas and the British Virgin Islands.
Experienced divers can also  upgrade their skills or bookk two-tank dives on stops in the Caribbean and the South Pacific.
Here are some things to consider about the program that will  be available on 10 ships:
What's involved?
Royal Caribbean offers a range of programs–from a 30-minute Try Dive program, for those just wanting to get a sense of what it's like to dive, to PADI's Reactivate Program for certified divers wanting a refresher; prices starting at $29 and $59 per person, respectively.
Those seeking the ultimate scuba dive vacation can enroll in PADI's Open Water Diver course to earn their complete scuba diving certification, starting at $599 per person.
The premiere scuba course begins at home with the online course using either the PADI Touchapp for mobile devices or PADI eLearning online for desktop and laptop computers, leaving more time for the fun of scuba diving while on vacation.
Guests receive first-rate training starting in a swimming pool on their ship and then doing introductory scuba dives in the clear, serene waters of multiple Caribbean destinations and the South Pacific.
Once on the high seas, apprentice divers will test the waters in the ship's pool before heading out to complete the four mandatory, open-water training dives that  will be split among two different ports of call.
A menu of dives for experienced divers is also offered at each port.
What's the advantage?
You're using the same new and well-maintained equipment for each dive and the dive trips leave right from your ship and are led by PADI professionals.
Diving equipment is provided with the exception of a mask and snorkel. These are available for purchase or can be rented. Royal Caribbean recommends that guests purchase them before their cruise or while on-board. The line promises that prices on their ship shops are very competitive with dive shops ashore.
While scuba diving is offered as a shore excursion option for already-certified divers from other cruise lines in the Caribbean, those excursions are run by local dive operators.
A major drawback with excursions run by private dive shops is that  each operator uses different brands of equipment that can take one dive just to get used to. And because you're moving from island to island on a cruise, it means you're starting fresh at each new port, setting up and getting used to a new set of equipment.
Another advantage to the shipboard program is guaranteed scheduling. If you've booked dives independently with a shop ashore, you may find that the ship gets in to port after their morning dive group departs. Even if you're on a dedicated shore excursion from your ship, it can require a lot of time and effort on land before you get on a boat and get to a dive site.
Why is the program unique?
There have been scuba training programs available on smaller adventure cruise ships in the past, but no other line currently offers on-board certification programs. It requires a large group to justify the expense of having equipment and instructors on board every cruise.
PADI is the world's most respected and recognized organization in recreational scuba diver training and certification. Its "C Cards" certifying the training are recognized around the world.
After returning home, guests will be certified scuba divers able to  plan and execute dives in the future. They'll also have the stories to share about the fascinating aquatic realm they've discovered.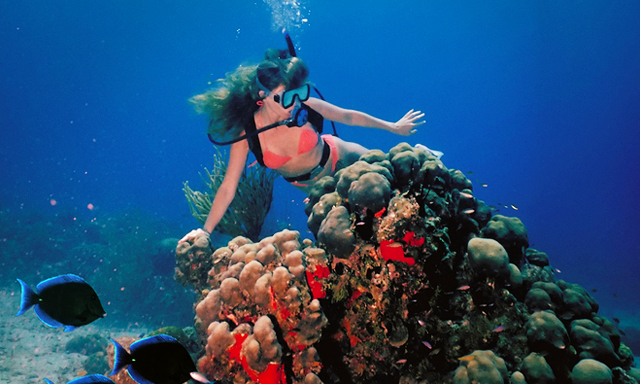 On a scuba dive in Aruba–Photo courtesy Royal Caribbean
Where are diving experiences available?
PADI Dive Centers can be found on 10 Royal Caribbean ships, including Oasis-, Freedom- and Voyager-class ships, as well as Quantum-class' Anthem of the Seas.