Talking with the Party Animals in Costa Rica's Lush Rainforest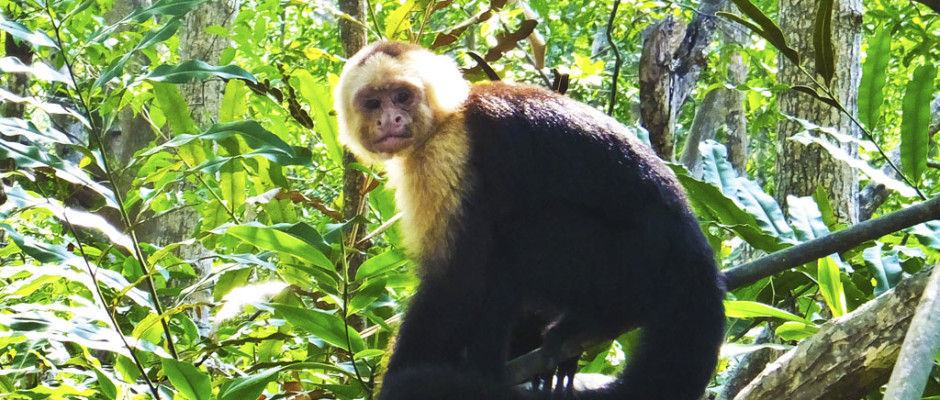 At breakfast I had a visitor – a big scaly one – stop by our table.
As he hopped up onto a nearby wall in all his spiky multi-colored brilliance, the two-foot-long iguana – whose nickname around here is Pedro – looked like he'd just arrived from a feature role in Jurassic Park, bobbing his head like a master of all he surveyed.
Then along came Basil, short for brown Basilisk lizard, with an extended fantasy sail above his spine and who looked like the kind of long, creepy critter you'd find in a very dark corner of a Harry Potter film.
I was staying at the Arenas del Mar Rainforest Resort in Costa Rica before a Windstar cruise  to get up close and personal with the animals. And what better way than to have a conversation over breakfast?
It was pretty clear what they'd like to discuss: a little of your tortilla, por favor. Or even better, one of those cashews from my waffle. They were cute in a weird sort of way, but also able to take no for an answer and move along. But my wife tucked her legs up onto her chair in what seemed like an excess of caution until our waiter casually commented: "Yeah, they can jump up a couple of feet…"  Feeding the wild animals with people food here is discouraged, for their own health. But fresh people toes might be too tempting.
These are the kind of surreal, but not unexpected meetings with fascinating animals you can have every day in Costa Rica's expansive rainforests. Most species in the country are protected, so they don't develop a fear of humans. I tried to learn to talk with the animals, and I think I might have made a few friends along the way.
Here's a sampling:
A Barrel of Monkeys
I thought the manager of the Arenas del Mar was joking as she showed us how to double lock the mini-bar on our fourth-floor room's terrace and hide the key. "You don't want the monkeys to start helping themselves," she explained.
That can happen, as they're swinging through the trees at eye level regularly.  Aptly named howler monkeys can announce their presence with a human-like scream. White-faced capuchin monkeys swing like Tarzan from branch to branch.
A folding fan my wife had left on the table must have looked interesting to someone, because it was long gone when we looked for it later that afternoon. Somewhere in the trees, a monkey was wondering what the silk-covered flipper was used for. The savvy critters had ignored the hotel's coffee mugs and barware set out on the counter; they'd seen them before and had probably already collected the whole set.
The guest rooms at the resort are clustered in small complexes that deliberately blend in with the rainforest all around. Our suite with a panoramic patio is perched at tree-top level. There's no better place to watch nature being natural.
The resort is located on a surfer's paradise beach at the edge of  the expansive Manuel Antonio National Park. Day trips will take you along trails where nature rules. Costa Rica, which is only about the size of West Virginia, boasts it has more species of birds that the United States and Canada combined, along with 200 reptile species and 208 kinds of mammals.
 The Birds Are The Word
There are few birds who can match the stunning beauty and depth of colors of scarlet macaws and they're easy to spot here. They arrive in flocks in the rainforest's trees, which all seem to have ripe fruits or nuts hanging from their branches. It's not a good idea to stand underneath a branch where the birds are eating, though, because the rain of shells and seeds when the birds are dining can be like a hail storm.
The Costa Rican Air Force
Pelicans fly in huge formations along the Pacific shore and can dive dramatically into the waves when they spot fish. Their flights are nicknamed the "Costa Rican Air Force"  in honor of the fact that Costa Rica doesn't have an actual air force or army. It's one of the few countries in the world that's abolished its military.
As the big birds bobbed in the waves along the shore they seemed to listen as I tried to strike up a conversation, but they were too busy fishing for lunch to have much to say in reply.
What Big Teeth You Have
Crocodiles – enormous ones that could swallow a human whole – are the feature of a bridge across the Tarcoles River on Route 34, the coastal highway to Quepos, where the rainforest resort and national park are located. The bridge isn't hard to find, there are souvenir shops and parking lots on either side of the river and people line the railings of the bridge.
You can look down and easily see groups of the unbelievably behemoth bruisers feeding or sleeping in the mud. Good thing they aren't good at climbing the banks onto the bridge, because it wouldn't be a good idea to have a jaw fest with these critters.
Man, Eating Fish
To end a day in the coastal rain forest, what better way to celebrate than with a local craft beer and a barbecued catch of the day at a party on the beach. A whole, fresh-caught red snapper, garnished with vegetables and a spicy chili marinade on the side, could easily feed two.
Meeting Some New Stars
Another amazing wild kingdom stat in Costa Rica is that the country  also boasts 35,000 species of insects.
Fortunately, there didn't seem to be any of the biting variety as we reclined on lounge chairs in the dark and marvelled at the deep sky studded with brilliant stars. It's the kind of view that's been lost in most places. At Arenas del Mar,  there are few man-made lights to compete with nature and the celestial show is stunning.
I feel as though I've made a lot of new friends in Costa Rica, some up close and some far, far away.