Tours from AmaSonata Give the Lowdown on the Lower Danube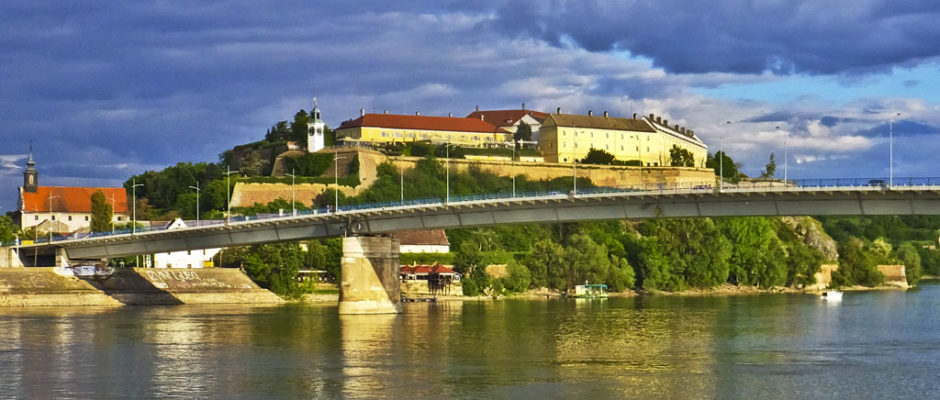 There must have been a sale on the letters B and V when they were naming cities along the lower Danube.
The itinerary for our journey from Budapest toward the Black Sea has us visiting Belgrade, Belogradchik, Baba Vida and Bucharest. And our tours include Vidin, Villany and Vukovar.
They're places that are less familiar than the classic Blue Danube cruise itineraries that go  up the river to Austria and Germany. So prepping for tours from AmaWaterway's new AmaSonata had me switching back and forth between web sites on cultures and 2,000 years worth of history in eastern Europe.
In every port on our journey, there are a menu of optional complimentary guided tours or on-your-own adventures on foot or by bike.
More than Mohacs in Hungary
Our first port after departing Budapest is a place that was literally a turning point in history. An epic 1526 battle here saw the  Ottoman army led by Suleiman the Magnificent gain control of Hungary, which the Ottomans  occupied for the next 150 years.
A second battle at Mohacs in 1687 sent the Ottomans packing and  led to return of Christian rule under the Habsburgs. A memorial park with a soaring arch commemorates the battles,  but Mohacs itself is a small town.
Ama guests board buses for a 25 mile trip to Pécs (pronounced like Peach), a charming, bustling city that's been attracting students and artists since the founding of a university in medieval times. Its many flower-filled parks. plazas and sculpture gardens make for a great walking tours.
But first we stop  at a unique underground attraction: A well-preserved fourth century Christian mausoleum. It was only discovered in 1975 beneath the city's venerable cathedral and it's still being excavated. Along with artifacts of early Christianity are colorful, vivid wall paintings of Biblical scenes including Daniel in the lion's den and Adam and Eve in the Garden of Eden.
Free-flowing Vino in Villany
For the afternoon, we sample the wines of the picturesque slopes in the Villany-Siklols region, that's been  planted in wine grape vines since Roman times. Thanks to the area's Mediterranean climate its Pinot Noir Cabernet Sauvignon and Merlot grapes produce consistently reliable, hearty red and rosé wines.
Views of  Vukovar
There's no need to use your imagination to envision how devastating war can be. From the time we walk off the ship in Vukovar, the scars from Croatia's 1990s war for independence are hard to ignore. The country's largest river port was shelled regularly by Serbian forces during an 87-day siege and bullet holes still pock mark nearly every wall a quarter of a century later.
The city's water tower became a continual target as Croatian defenders kept raising their flag from its top. It's been left in ruins as a monument to the devastation. But the city is still a shadow  of its former self.  Even the riverside hotel where peace talks were held is today an empty, crumbling shell. Many homes near the river were permanently lost and those that have been restored are occupied by an aging population.
One of the few new additions to the town has been a beautiful memorial cross in a riverside park to commemorate the thousands who died in the fighting.
Raising Spirits in Ilok
Thankfully, our tour today to the wine-making region of Ilok  shows that Croatia's economy has recovered in the years since.
The Ilocki Podrumi wine cellars, just  20 miles from Vukovar, date to the sixteenth century. Cool caves  far beneath Ilok's palace are lined with enormous oak casks that can each hold as much as 800 gallons of wine. Coves in darkened recesses are lined with stacks of bottles that have become almost unrecognizable because they're so heavily laden  with dust. Most of these date back to well before the 1990s war. To protect the bottles from being stolen by invaders, the cellar storerooms were bricked in and have only recently been reopened.
The cellars kept the aged reds are in remarkable shape. One of the rooms contains bottles from a 1947 vintage that was bought by the British court to be served at the coronation of Queen Elizabeth II in 1953. It's still drinkable today.
After the tour comes a tasting with generous pours of the  flavorful, young white wines the vineyards are known for today: Grasevina, Traminac and a Frankova rosé.
Novi Sad and Joy in Belgrade
I've always wanted to see Belgrade, which has a reputation for being one of Europe's premier party capitals. Truth be told though, with its copious amounts of brutalized architecture from the Communist era, it hasn't got the physical charm of the other Bs, Budapest or Bucharest we're also visiting on this trip. Nonetheless, it's got a lot of sparkle.
After an evening of free time in the port of Novi Sad with its many cafes and pubs, we head inland to the capital the next morning.
The neo-classical streets of the old city center have become pedestrian-only shopping areas. Everywhere you go, there are street musicians and people who appear to be dressed for clubbing even during the day.
But Belgrade's night life isn't confined to night clubs. The play bill of coming attractions at its nineteenth century National Theater is among the most amazing I've ever seen. Two or more different performances of opera, ballet, orchestra or plays are on offer every night of the week on its main and repertory stages.
The Total Tito
Josep Broz Tito, the architect of Yugoslavia and its first president remains a hero to many Serbs. His memorial and mausoleum can be the main attraction or just a photo stop depending on which expedition from AmaSonata  you choose. Among  Ama's special limited edition tours is one that visits Tito's mausoleum, known as the House of Flowers. A visit to the Museum of Yugoslav History includes a screening of films from Tito's private movie collection. The tour also includes New Belgrade, a sprawling planned city of high rises built after 1948 that today are home to more people than the old city of Belgrade itself.
Another Ama optional tour gave me a bigger buzz. It's a trip up Avala Mountain for a tasting at the Quburich Brandy distillery, which has a panoramic view of Belgrade below.
From a platform near a Monument to the Unknown Hero, we raise a toast with post-war brandy plum brandy: "To the end of wars."
We've got much more to look forward to on the second half of AmaSonata's Lower Danube cruise.