What to Say When They Say: God Only Knows When You're Going to Fly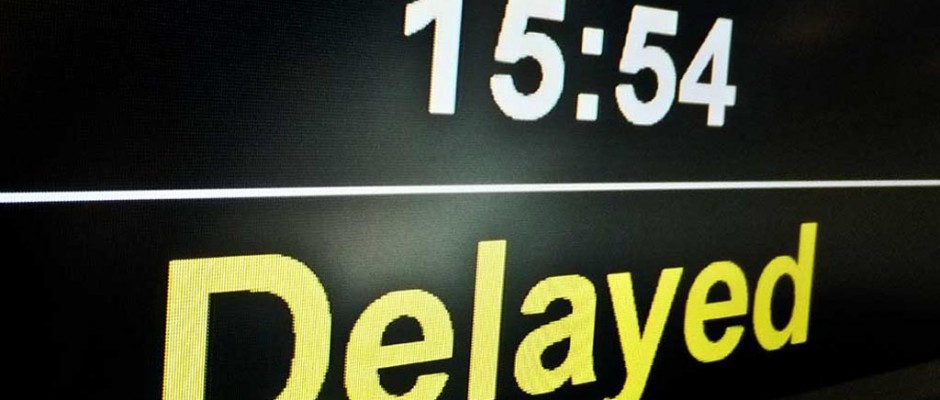 It's a sign that you may not be boarding your flight when uniformed police surround the desk of the departure gate just before an agent is about to make an announcement.
It happened on an ill-fated flight I was hoping to take from Toronto to get to my next cruise.
We'd been delayed six hours from a 7 p.m. departure due to a thunder storm and then mechanical problems with the plane. Agents kept delaying the departure an hour at a time it was until 1 a.m.
Finally with no new plane available and the airport's 2 a.m. curfew coming up, frustrated flyers were about to be told they'd have to leave the security area and wait in the terminal all night, because there were no hotel rooms available for them and no flights could leave before 6 a.m.
This being Toronto, a riot didn't ensue. But it could have in a lot of other places I've flown through in my travels.
And scenes like this are happening increasingly often, as cost cutting airlines stretch their maintenance schedules and cancel flights if they're not fully booked.
The worst-case scenario may have been the computer glitches  that have recently grounded entire fleets for many hours. Passengers waiting at airports around the world can be basically stuck with no clear idea when –or if– they'd actually be able to make a flight.
Any time of year, a storm hitting a hub airport half a continent away could delay hundreds of flights in other cities where the weather is fine.
Even a burnt-out light in the cockpit's dashboard can result in an entire aircraft being put out of service, with the likelihood that there isn't a spare plane to use as a backup.
So I've learned from bitter experience to hope for the best– but have a strategy for if the worst happens. It's essential if you're heading to a cruise, where if you aren't at the dock on time the ship sails without you.
Build in a buffer
It used to be just practical advice to plan to arrive at your departure port at least a day before the cruise sails. Now, it's a requirement. If I'd missed the ship because of my delayed flight from Toronto, it would have meant my wife and I would miss the first two days of the cruise, which were at sea. And to catch up with the ship, we'd have to get ourselves and our luggage to an island that's only served by tiny prop planes that had no seats available.
Avoid connecting flights
Even though travel agents may make reassurances that a gap between flights of less than two hours is a "legal connection," many airports now require passengers on connecting flights to queue up and go through security again before they can get to their departure gate. So two hours is a bare minimum.
The sheer volume of baggage that needs to be shifted between planes also makes a short turnaround time a tenuous bet for having something to wear when you get to your destination.
If at all possible, even though they may cost more, direct flights are always a better bet for getting there and avoiding hassles in airports. Any delay in your initial flight may mean missing the connection and with air schedules being pruned back, there may not be another flight available that day.
Keep your cruise line in the loop
Most large cruise lines now ask for details of flight arrival and departure times when you check in on line, but some niche lines don't. Be sure you send your expected arrival time to them and try to message them if the plan changes.
Book the cruise line's transfer
Even though the charge may be higher than hailing your own cab, booking the cruise line's transfer to the ship makes you their problem. The cruise line's representative at the airport will be aware if your flight is coming in late and will have someone waiting at the airport for you and do what they can to get you to the ship on time.
It's also best to make bookings through an agency that deals with cruise lines regularly and has some influence with the line you're sailing on.
Have an emergency contact
Make sure you carry the number to reach the line's port agent, who can also be very helpful in getting messages to the ship and arranging to get you to the next port to board the ship.
Stand your ground
Know your rights. If you are delayed for more than three hours you are generally entitled to compensation in the form of meals or a discount on a future trip. But many airlines don't mention that fact and you have to be pretty firm with the junior assistant at the gate to get anything than "I'm sorry, there's nothing I can do'"
Use whatever clout you may have as a frequent flyer with the airline and ask to speak to a manager–not a gate agent, who has no authority to authorize compensation or hotel and meal vouchers.
Here's an interesting comparison of passenger rights in the U.S. compared to the European Union
Canada has not upgraded the standard passenger rights laid out in the Montreal Protocol since 2008. Stronger rules have been proposed but never passed into law.
Even if you are technically entitled to a voucher for a meal or some other compensation, even managers will often claim that the delay was due to weather or circumstances beyond the control of the airline and outside their legal obligations. In other words: take it up with God.
In the case of my missed flight in Toronto, the increasingly food-deprived hordes were finally told at midnight they could use their tickets as vouchers for $10 worth of food at any restaurant that was open.
At that time of night, that meant a queue 100 people long at the only restaurant still open in Pearson: a Tim Horton's that had sold out of everything but sugary Tim Bits.
We'd need the energy boost, though.
Our flight out of Toronto didn't finally fly out until almost noon the next day. Yes, we did make it to our cruise, but by the skin of our teeth.
For more tips on avoiding flight foul-ups, see Too Bad We Sold Your Seat
– By Wallace Immen