What Works– and What Could Work Better–on the Sparkling New Carnival Sunshine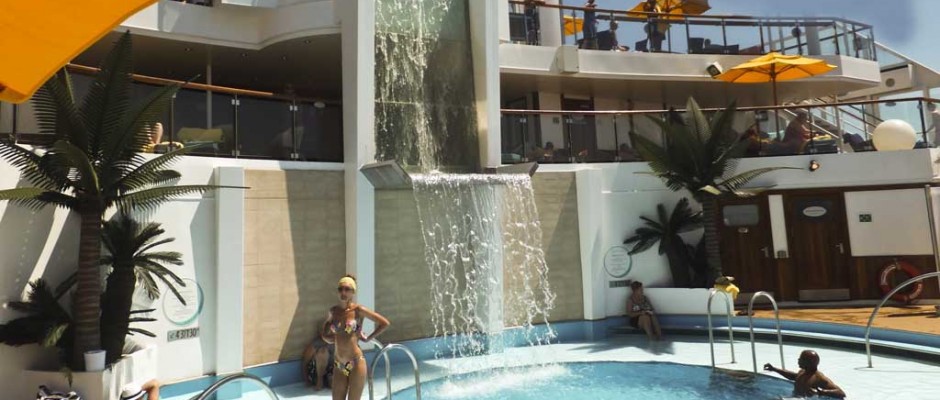 There's so much to see on the newly rebuilt Carnival Sunshine and there's been so little time to actually see it.
On my cruise from Barcelona around the Mediterranean to Venice, it's been a port a day with morning to evening shore excursion for four straight days.
Finally, there's been a much needed "Fun Day at sea" to sleep in and explore the ship that was formerly known as Carnival Destiny, but is now so completely new that it's been renamed.
I've found it really does qualify as a new ship. In two months at an Italian shipyard, everything in all the passenger rooms and public areas was removed and replaced. Two new decks were added on the forward end of the ship and an entirely new sports deck was added in the stern. The feel throughout is elegant and contemporary, which Carnival Cruise Lines says reflects the reimagination of the entire Fun Ship fleet .
Here's a test drive of some of the most significant new features:
Serenity
At three decks devoted to adult-dedicated quiet space, the Serenity zone is the biggest yet on any Carnival ship. A signature waterfall that pours into a dedicated pool area is a great touch. On days in port Serenity is a a wonderfully uncrowded haven.
However, a sea day is not the time to try to settle in to Serenity. If you don't stake out a space before 9 a.m. you're definitely not going to score one of the clamshell-shaped private pods and even the lounge chairs either in the sun or shade are occupied.
The Carnival use it or lose it policy of clearing off deck chairs unused for more than 40 minutes doesn't seem to work well in Serenity because people hold on to their spaces here–even if it means ordering food for delivery from the bars.
The Library Bar
Yes, there still is a library on the Sunshine, even in the digital age. It's filled with a fair selection books and its a pleasant place to take a quiet break–or even do some reading.
Something they have on Sunshine but on no other Carnival ship is a working bar in the library. From 5 to midnight you can get a good selection of wine along with a selection of good reads for those who aren't into the party scene.
Automated bars
During the day there's also an automated wine dispenser in the Library. A swipe of your card dispenses wine from a selection of bottles in an automated dispenser and puts the cost on your room account. Caymus Conundrum is one of my favorite wines but at $11 a glass I decided it's a pretty impersonal way to have a drink.
A new twist on the concept is an auto pub beer dispenser in the Lido area. Once again, with a swipe of your card you draw your own draft beer. It's a nice idea; but when I tried it, the Red Frog brew came out more foam than beer. I found it more fun to head out on deck and have a pro pull my pint.
The Sunshine Atrium and Bar
A successful transformation of the formerly overlit big central open space has turned it into outer space. A big chandelier resembles the sun and a series of stainless steel orbs spiral off into the cosmos. It's cool without being overwhelming or over the top. The place has a friendly feel and it's busy but not overcrowded most times of the day.
Ji Ji Asian Restaurant
I think this is the best alternative restaurant value at sea for its $12 cover charge. The best strategy is to get a group together so you can share a selection of the dishes that come in big portions. The waitresses are charming and the table settings are beautiful, as are the presentations of the food. As an aficionado of Asian cuisine, I can vouch that the kitchen knows its stuff. There's also a selection of exotic drinks and wines that aren't available in other places on the ship.
A plus for the Asian area is the lunchtime wok station that cooks up fresh veggies and noodles that you  select from a buffet selection. it was my little secret in the early days of the cruise because the wok areas is not easy to find behind the rear wall of the Lido food station area. But by the end of the cruise, it was attracting long lineups.
Havana Bar
This is a new Carnival concept and it has plenty of potential for a cruise  line that does a lot of sailings in the Caribbean.  I found the Cuban-inspired bar was under-populated most evenings because it a little hard to find because it's tucked away behind the Asian and Italian restaurants.
Of course, it was also hard to judge its popularity on this European cruise. With so many full days in port, the late night music and dancing and mojito ambience didn't really resonate with passengers who faced getting up at 7 a.m. to do another long tour. I'll bet it's a hit when the ship relocated to start cruises out of New Orleans and Florida.
Cucina del Capitano
The family-style checkered table cloth Italian restaurants with singing waiters have been a  great addition to Carnival's dining choices on its newest ships, including Carnival Breeze. On Sunshine, though, I didn't find it quite as successful. The restaurant shares one large open room with the Asian restaurant and the Havana Bar. That makes it feel more like a warehouse than a cozy restaurant. The menu is classic Italian and expertly prepared, so it's definitely worth its $12 cover charge.
For lunch and snacks the restaurant runs a  pizzeria where they make fresh rounds with a range of toppings all day long. Trouble is they can't make them fast enough. I invariably found a lineup with a 10 to 15 minute wait whenever I tried to sample a slice. One problem was that by the time people finally got served they often grabbed off three or four slices each, leaving people behind waiting longer for the next batch to bake.
Piano Bar 88
This innovation has become the most happening place on other Carnival ships where it's been introduced and this may be the best designed space yet.  Carnival really knows how to hire piano men who get the crowd into the act.
Punchliners
This comedy club is another must-do evening venue. Two comedians on the cruise traded off gigs that last about an hour each and there is generally a substantial line to score a seat for the next show. The adult-only shows later in the evening can get mighty raunchy but the audiences love them.
Overall, I found the rebirth of the Carnival Sunshine ranks as a major success. Carnival has taken a 15- year old ship and made it feel new and lively and yes, even elegant.
By WALLACE IMMEN