Windstar Without the Wind: Is it Still a Sailing Adventure on Star Breeze?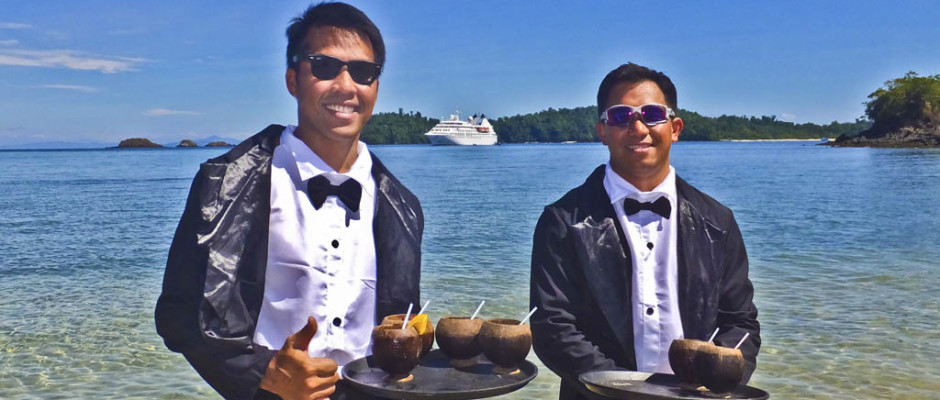 The familiar heroic strains of the theme from  the movie 1492: Conquest of Paradise  resonate from speakers on deck at the signature  sail-away party on Windstar Cruises' newest ship. All eyes are on the brilliant tropical sunset as we weigh anchor and begin to pull out of a fantastically lush cove in Costa Rica.
But instead of unfurling sails up the masts of this Windstar ship, the crew slowly hoists a white pennant up the flagpole.
It's a new look and feel for a cruise line that made its reputation with high-tech sailing ships that feature dramatic triangular sails. Sailings ships are still a core of the Windstar fleet, but now there are three new additions: motor yachts that became well known and extremely popular as the original ships of Seabourn Cruise Line.
We put the new-look ship and its crew through their paces on a week-long Pacific cruise along Costa Rica and through the Panama Canal.
The Ship's New Look
Star Breeze and two sister ships. Star Pride and Star Legend, accommodate a maximum of 220 guests. For years,  the ships have  consistently topped the lists of best small cruise experiences for their comfort and elegant décor. Their claims to fame include the ample size of their suites, which feature full walk-in closets and spacious marble-lined bathrooms.
The Breeze is fresh from a $9-million rebuild that brought in all new furniture and replaced all fabrics and carpeting in a tastefully contemporary palette of tones of blue and sand.
Major upgrades to the ship include a Windstar-style observation lounge known as the Yacht Club, which features a coffee bar, and creation of a movie screening and meeting space from a former card room. The deck areas have been revamped, with elimination of a swimming pool and installation of a smaller whirlpool and hot tub area. The upper sun deck was also widened by four feet to accommodate lounge chairs.
Whether the changes work for you will depend on how much you like having a swimming pool. Windstar claims it wasn't used often on the old ship. Meanwhile, the new deck arrangement offers more shade, which is a good thing on tropical voyages where temperatures rise into the high 90s in the afternoon. The changes also create more mingling areas on deck and make the pool bar more attractive as a hangout choice at sunset.
The Shipshape Crew
A number of officers including the captain and many crew came with the ship when it changed owners. There are dining room staff and bar tenders who go back a decade with the ship. It's their home and they love it.
Over-all they're a lively, sunny and well-trained group, which is a Windstar tradition. They really seemed to enjoy getting to know guests and do things with flair. They're also quite talented and were out in force for a line-dancing session after serving on a deck barbecue.
Consistent Cuisine
Food is a forte of Windstar and the kitchen teams work around the clock making most everything from scratch and bringing local ingredients from ashore on board regularly.
The open-setting main dining room known as AmphorA features comfortable new chairs and a mid-century-moderne décor. Mirrored walls and ceilings warmly lit by small Murano chandeliers create a supper-club atmosphere with table top lamps providing flattering lighting. It makes for a lively, if somewhat noisy, room with lots of good conversation and laughter.
The menus feature a wide range of fish, meats and chops as well as daily vegetarian selections, overseen by a chef from India who knows his ingredients. A luxury of this ship's small passenger contingent is that foods can be prepared to order you can specify your preference in done-ness and level of spicing.
Presentations on the plate are enhanced by artistic flourishes done with slices of colorful vegetables. If you really want veggies though, I'd recommend you order them as a side dish. There's also an all-too tempting daily option of a side of crispy fries.
The complimentary alternative restaurant, Candles, is the Veranda deck restaurant transformed at night into an open-air bistro. The specialty is technically steaks and chops grilled to order, and I found the seafood a good choice here because catches of the day were being brought on regularly.
Drinks are not included in the fare and a choice you should consider is the bar package, which costs $116 a day a suite. That would mean that both occupants of a suite would plan on drinking five or six  drinks each  day to make it worthwhile. It does cover top shelf liquors and wines that cost up to $12 a glass.
I opted out of the drinks plan and found very drinkable California house wines and French sparkling wine by the glass– or by the bottle starting at $26.
Shipboard life
Windstar attracts an active crowd and there were daily shore excursions in the rain forests and national parks along the Pacific coast. Agility is important because going to shore each day along this undeveloped Costa Rican coast with no docks is done with rubber rafts known as Zodiacs.
Guests going ashore walk down to the sports deck and put on life vests before they hop aboard and sit on the edge of the inflated boat. A packing tip: Take waterproof shoes or flip flops because for a beach excursion you could be making a "wet landing" in ankle-deep water. Sun block is also essential in the blazing afternoons this close to the Equator where every day the temperatures climb to the high 90s.
The optional shore excursions on the Costa Rica itinerary range from rain forest hikes to zip lining or dolphin watching expeditions, and most are priced at around $100 a guest. Most days there are options of  going ashore to a beach or  water sports from a deck that lowers from the back of the ship with a range of toys from a water slide to paddle boards.
The highlight stop each cruise is the beach barbecue on an island off the coast of Panama. Crew in formal wear wade into the waves to meet the incoming guests with trays of complimentary rum punches and Pina Coladas and the staff sets up comfortable cabanas along the fringe of the gorgeous sandy beach.
With such a small contingent of guests and an open seating dining concept, it's easy to make acquaintances and meet for cocktails or dinner.  We  met and dined with a former Navy captain, a house-flipping expert and  a party planner, who were repeat guests on Windstar, as were 86 of the 200 on board this cruise.
It's best not to plan on impromptu dinner gatherings, though.  One of the quirks of the scheduling is a daily briefing for passengers in the show lounge at 6:30, where the theatre-style seating makes it difficult to mix and mingle. Right after that, most passengers head straight down to dinner at 7, where there's a lineup to get in and get seated, even though passengers can be seated until 9.
Best Addition in the New Look
Something many guests don't find early in the cruise is the coffee bar in the Yacht Club lounge. In addition to barista service, there are morning pastries and snacks and inventive sandwiches throughout the day. It makes a good alternative to the buffets and the views from the upper deck can't be beat.
What Could Use Work
There are pages of cocktails on the menu, but I found many of them disappointing, because the bar was not using fresh citrus in drinks. In this wonderfully tropical region where limes grow to the size of baseballs and every bar on land is serving fresh squeezed juices, the drinks aboard ship were made from mixes reconstituted from powders.
The Verdict:
Star Breeze is a spacious, well-appointed, appealing size of ship and it attracts a well-travelled crowd. It lacks the nostalgic sails, but Star Breeze has successfully been transformed to Windstar's adventurous brand.