Wonder, Majesty, Joy and More: A Look at 2017's Cruise Ship Crop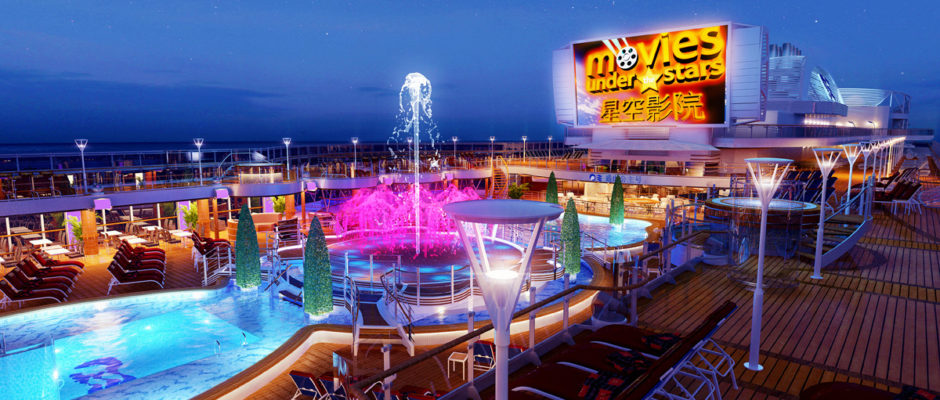 Meraviglia: it means 'wonder' in Italian. It's also an enormous cruise ship from MSC Cruises that aims to challenge the biggest ships ever built for features.
It's just one of the new crop of ships due to be christened in 2017 that promise wonders never seen before.
There are ships for every taste: intimate ultra-luxury yachts, huge Caribbean cruisers and expedition ships that can take you to the Antarctic or the good old USA. Among the notable new arrivals are the  largest ships ever for Seabourn, Silversea and the world's largest sailing ship, the Flying Clipper.
You're likely to miss two of the notable newcomers, though. They're headed straight to China and will be marketed mostly to  the Asian market. But they're a look at the future, because nearly all of this year's new arrivals will get sisters in the coming years.
Here's a look at this year's berth announcements:
Seabourn Encore, Christening in January
Even though she starts service in December, Seabourn's newest won't be officially christened until Jan. 7. The gala event in the port of Singapore features Sarah Brightman serving as godmother.
The all-suite, all veranda Seabourn Encore is the line's biggest to date, about 25 per cent larger and one deck higher than Seabourn fleet-mates Odyssey, Quest and Sojourn, with a capacity of 600 guests. Interiors are by hospitality design icon Adam D. Tihany, who envisioned the ship with the fit and feel of a luxury yacht.
During her inaugural winter, Encore will sail in Southeast Asia and Australia and will start a European season starting in May.
Viking Sky and Sun, due in February and December
True to the tradition of its European river ship cousin, Viking Ocean Cruises is building in multiples. Viking Sky is the third of a series of four identical 930-guest ships. Originally expected in 2016, building was delayed and she is scheduled to finally sail in February, 2017 for a European spring and summer in the Baltic and Mediterranean.
In a twist for the fourth ship, Viking Sun is planning to do a world cruise as its maiden voyage. Starting from Miami in December, 2017, the ship will visit five continents and 66 ports on a 141-day itinerary that will end in London.
Both ships are similar in design to the earlier Viking Star and Viking Sea featuring Nordic-themed restaurants and lounges and lots of glass. The cruises include complimentary wine, beer and soft drinks a lunch and dinner, complimentary wi-fi and shore excursions and use of the thermal suite.
Silver Muse, arriving in April
The largest of Silversea Cruise's growing fleet, but not that much bigger. The 596-guest Silver Muse will pack in many more innovations, along with a high-tech theater. The all-suite accommodations feature more large and connecting suites than other ships in the fleet.
There are eight different dining options in place of a main restaurant, including a theatrical Japanese restaurant and a grill your own steak house. The La Dame restaurant, part of Silversea's exclusive partnership with Relais & Châteaux, is a re-imagining of the popular Le Champagne restaurants on other Silversea ships.
American Constellation, launching in May
Better known for river cruises, but due to get known for Atlantic coast cruising is American Cruise Lines. Its 170-passenger American Constellation is one of two identical U.S.-flagged ships the line is building at Chesapeake Shipyard in Maryland. The design features marble-lined bathrooms, verandas with floor to ceiling sliding glass windows and butler-delivered room service. Additional amenities will include kayaks and Zodiacs.
The maiden voyage is set for May 6, for a summer season of 10-night cruises from Boston to  East Coast destinations including Bar Harbor, Newport, Martha's Vineyard and Nantucket.
MSC Meraviglia, the shows start in June
It means wonder in English and MSC Cruises' biggest ship yet is being promoted as a wonder of the world that it plans to repeat, with more in the future. At 1,060 feet long and 165 feet wide, she falls just  short of the size of Royal Caribbean's super ships Oasis, Allure and Harmony of the Seas. There are accommodations for 4,500, and up to 5,700 with families sharing staterooms.
Entertainment is definitely a focus, with an 11,000 square foot theatre hosting six different shows, with as many as three performances daily. In an entertainment coup, MSC has Cirque de Soleil At Sea, two exclusive shows being performed each night in The Carousel Lounge, a dedicated circular performance space with a wraparound glass walls. A specialty restaurant in the lounge has 100 seats for passengers who reserve dinner while watching the show.
It's not all about the sea. A central promenade is designed to be the ship's social center, with restaurants and bars and nightly parades. In a partnership with South Korean electronics maker Samsung, a central indoor promenade will feature a 250 foot long LED screen whose sky-scapes will change as the day goes on.
Meraviglia will spend her first summer sailing the western Mediterranean with three home ports: Genoa, Marseille and Barcelona.
National Geographic Quest, starts exploring in June
Lindblad Expeditions will venture forth with its new ship on June 26. Quest is scheduled to begin sailing Seattle to Sitka Alaska Inside Passage cruises through the summer. The ship will relocate in the fall to explore  Costa Rica and Panama, then to Belize and Guatemala in early 2018. About a third larger than existing Lindblad ships with an additional fourth deck, the 100-passenger coastal vessel will have 50 cabins, 22 of which will have balconies.
She's the first of two new expedition  ships on order for the adventure line.
Norwegian Joy, arriving in summer
Custom-built for the Chinese market, the new 3,850-guest Norwegian Joy will be sailing full time in Asia, catering to Chinese passengers, with homeports in Nanjing and Shanghai.
A new concept needs new traditions, so Norwegian Cruise Line has decided instead of a godmother, the ship will have a godfather.
A Chinese-American singer songwriter, actor and film director, Wang Leehom, who has worked with international stars including Tony Bennett and Usher and has performed in over 100 cities worldwide, was chosen to be a brand ambassador between east and west. The ship is a Norwegian Breakaway-plus class sister to Norwegian Escape and Norwegian Bliss, introduced last year. But she has many intriguing new features.
Innovations include the first two-level competitive car racetrack at sea, hovercraft bumper cars, an open-air laser tag course, interactive video walls and two multi-story waterslides. They're probably destined to appear in future ships of the line.
Majestic Princess, coronation due in summer
Princess Cruises is building the third ship in its Royal Class . To be based in China year-round, Majestic Princess will include features catering to the Chinese market, including a Cantonese restaurant from celebrity chef Richard Chen and an expanded shopping zone with luxury designer brand and more connecting rooms for extended families.
She will home port in Shanghai for cruises to Korea and Japan.
Flying Clipper – setting sail in the fall
The new-build from Star Clippers is a five-masted, square-rigged vessel that will feature three pools, including one that funnels sunlight through the ship's atrium into the dining room below and a glass-sided dive-training pool, a watersports platform, an atrium restaurant with open-seating dining and a variety of cabin layouts.
Flying Clipper, carrying  300 guests, and powered by 35 sails is a  near-replica of the largest square-rig sailing ship ever, the France II, that was built in 1911.  Star Clippers' version will have all the latest technology and will sail the Caribbean in the winter and spend summers in the Mediterranean.
MSC Seaside, making waves in December
The first of another new class of MSC Cruises ships, MSC Seaside will be the first in the fleet to be christened in the United States.
A promenade with glass floors wraps around the ship, offering a variety of places to shop, eat and sunbathe. In addition, Seaside's Aquapark at Sea will feature a number of interactive attractions.
PortMiami and MSC Cruises signed a letter of intent to collaborate on a newly renovated and expanded dedicated berth and terminus, which  will serve as Seaside's homeport for year-round Caribbean cruises. A second Seaside-class ship will be delivered from the shipyard in May 2018. A third, on option, would be delivered in 2021.