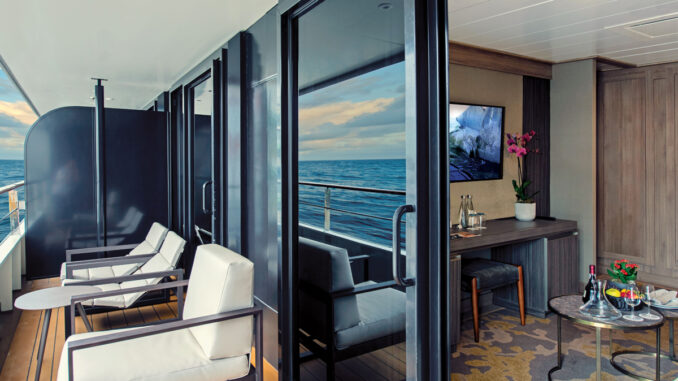 Atlas Ocean Voyages is introducing the cruise industry's first dedicated Solo Suites. Available for booking aboard World Navigator voyages departing from March 22, 2022, they offer a suite-level experience without a single supplement.

Appointed in retro-chic décor, the Solo Suites measure 183- square feet and will be among World Navigator's four categories of suite accommodations. "We are always searching for ways to elevate and innovate the luxe-adventure experience," said Alberto Aliberti, president of Atlas Ocean Voyages. "As the first new luxury product in the industry for more than two decades, Atlas is already poised as the industry's most-inclusive luxe experience. Atlas' new Solo Suites is another example of how we are catering to the new lifestyles and preferences of the modern luxury traveler."

Each Solo Suite features a queen-size bed, flanked by twin nightstands with embedded USB and power outlets, and 42-inch, flat-panel television and infotainment system. The suite are illuminated with sconces and recessed ceiling lights for a soothing ambience, while a large, picture-frame window hangs over a rich-wood desk, which also encloses a mini-fridge stocked with the guest's personal beverage preferences. The en-suite, marble-paneled bathroom features L'Occitane bath amenities and is accentuated with a mosaic-tiled shower with surround body jets and rain shower for a restorative, spa-like experience in the privacy of the Solo Suite. Ample storage is also provided. In addition to two closets for clothes, guests also enjoy an additional shoe closet to hold footwear.

Atlas' signature All Inclusive All The Way provides all guests a complete and seamless experience by including complimentary round-trip air travel, choice of a shore excursion at every port, prepaid gratuities, polar parkas, emergency medical evacuation insurance, premium wine and spirits, international beers and coffees, and regionally inspired gourmet dining.

The Ice Class 1B-certified exploration ship World Navigator will be joined by World Traveller and World Seeker in 2022 and World Adventurer and World Discoverer in 2023.