I'm not naturally a Green Eggs and Ham kind of guy. But it seems a lot of guests on Carnival Cruises are.
I love my warm chocolate melting cake. And so do a lot of other guests on Carnival's ship; they serve 20 million of these signature desserts a year.
And while I never thought I'd enjoy an alligator fritter, now that I've had the opportunity to sample the (tastes like chicken) treat on Carnival Vista, I'd order one again.
Carnival's newest and biggest ship yet packs in a lot of intriguing opportunities to expand taste and dining experiences. The 10-year-old son of a friend of ours surprised us all one evening as we were dining at Vista's Ji Ji Asian restaurant by announcing that he not only wanted to try a spicy Szechwan chicken entrée, but also wanted to eat it with chop sticks (and he was a fast learner).
Even the most conservative American eaters could be converted into worldly epicureans on Vista, that has broader dining options and bigger restaurants than on any previous Carnival ship. And many of the restaurants have inviting covered patios for dining outdoors when the weather's fine.
Here's a taste of what you'll find: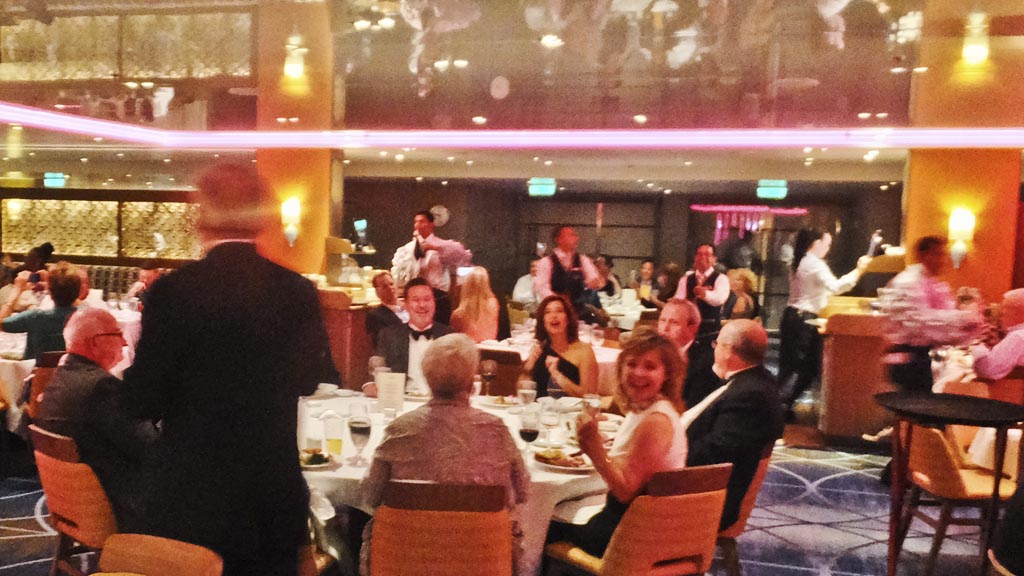 With seven alternative restaurants on Vista, you may never need to dine in one of the main dining rooms.   Mind you, there's nothing shabby about the offerings in Horizons— for those who want to choose when to dine and Reflections— for traditionalists who prefer a set dining time at 6 or 8:15. They offer nightly chef's repertoire of local cuisine of the ports being visited along with a "bet you've never tried this" appetizer suggestion, that might be alligator fritters or frogs legs. And there are Carnival's signature desserts  which are hard to pass up.
A notable change I found is that there are no table cloths on the tables in the dining rooms except on captain's nights. It's called the "American table" style, and while it may be the way a lot of Americans eat these days, I found it an unnecessary cost cutting that takes away from the special event feel of dining at sea.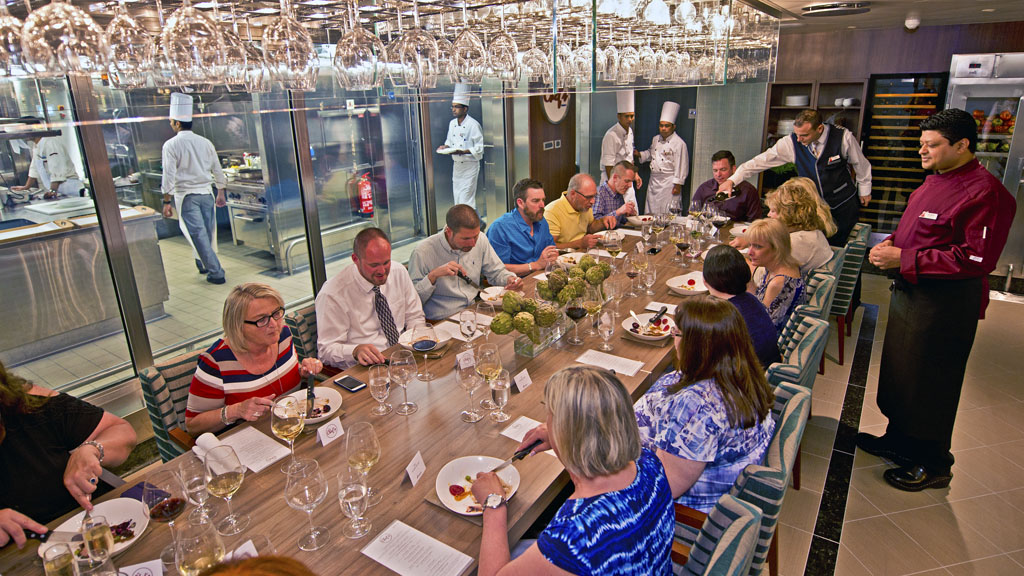 Chef's Table
This is a hidden gem. It's a beautiful glass enclosed room within the galley in which a lucky 16 guests can watch and taste an eight-course meal being made by chefs. It's an experience I didn't get a chance to  have on my cruise, because reservations are sold out with a wait as much as six months in advance of every cruise, even at the cover charge of $75 per diner.
If the capacity of the room were any larger, though, the meal wouldn't be the same experience, so the only recommendation is get your request in when you make your booking.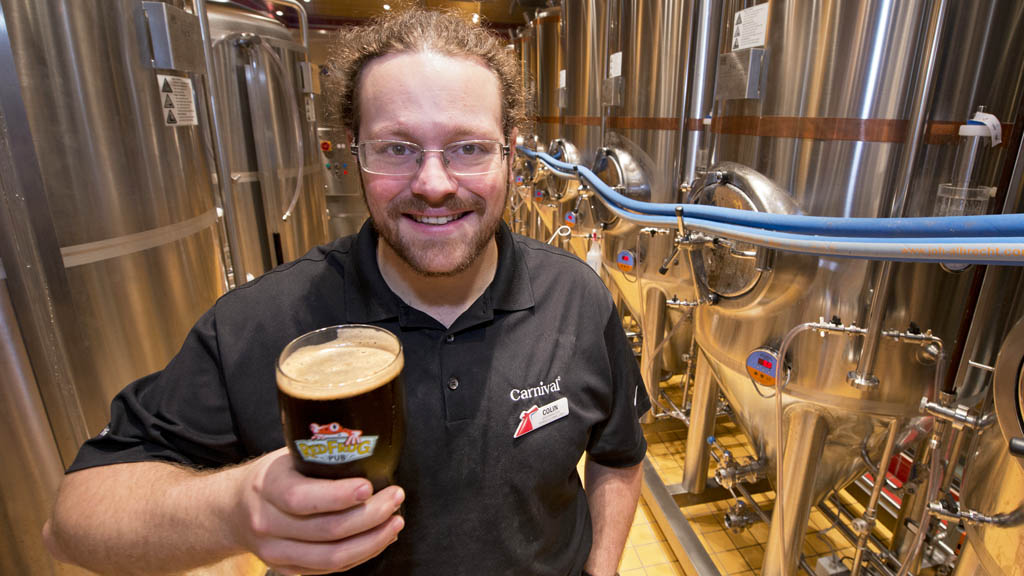 RedFrog Brew Pub
The brew master is from Pennsylvania, but he's worked at breweries in Germany. The entry hall to the pub features mash tanks and copper kettles that can brew up about 200 gallons of beer a week, which  barely keeps up with demand, so check the craft brewery out early in the cruise.
There are three quirky styles that are quite different from the ThirstyFrog lager that's brewed for Carnival ashore and is the draft beer of choice in in the bars on board. There's a Caribbean wheat, with distinct flavors of orange peel and coriander. Then there's a Java stout that I found was reminiscent of drinking an Irish coffee. The third on-board brew is a "Port Hoppin IPA" that not only has distinct citrus flavor, it comes in at a buzz-inducing 6 per cent alcohol. You can also get pub grub that can make it a meal at RedFrog.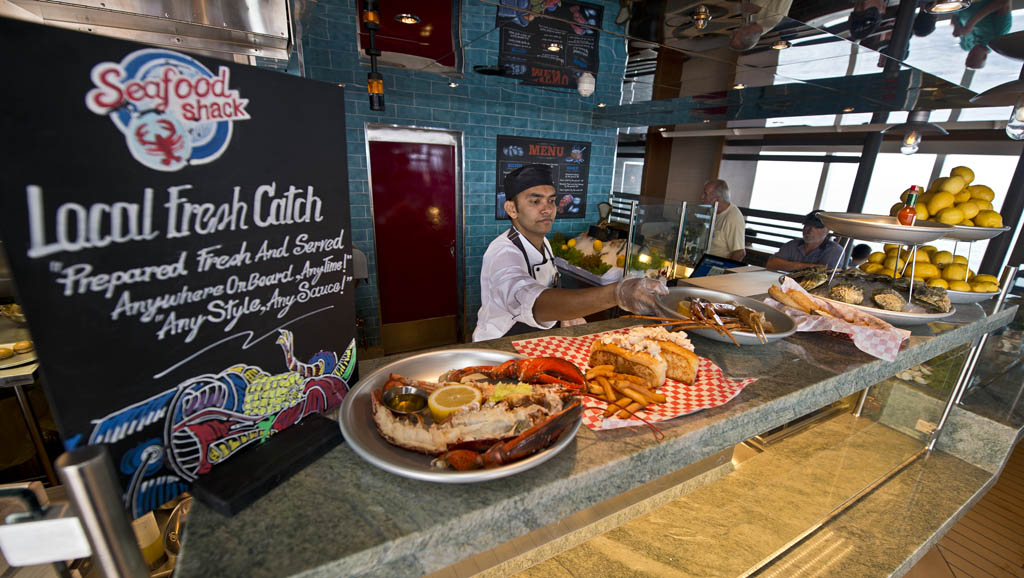 Seafood Shack
A first for Carnival, this a la carte restaurant has its own dedicated kitchen and claims to bring in local catches of the day in the ports the ship visits. The specialty is whole fish grilled, broiled or fried to order that you can have served at any restaurant or at a dining area outside the Shack that's near the Tides Pool on the rear of the Lido deck. At lunch times, it serves a menu that ranges from a bowl of clam chowder at $2 to a lobster roll at $12; the fish are priced by weight and market price.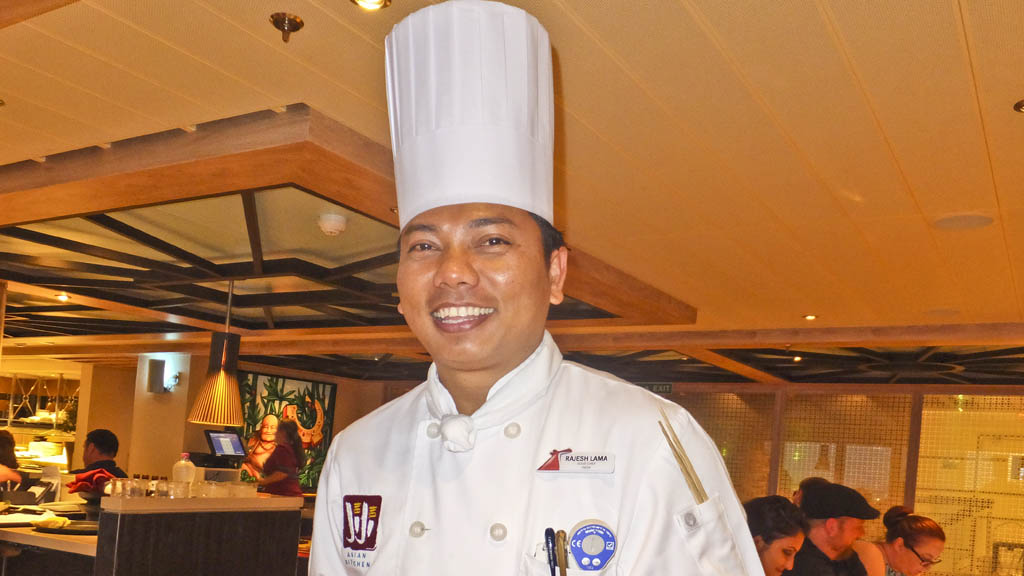 Bonsai Sushi
Probably the most successful concept restaurant on Vista, Bonsai is in a prime mid-ship location and it has an outdoor patio that offers comfy seating, charming colors and a panoramic view. There's a high level of service by an immaculately trained wait staff who guide you through the menu that offers a full range of Japanese specialties from sushis and teppanyaki to bento boxes and noodle dishes. Order a boat if you want to sample it all, but be warned: it's a lot of food. The prices are a la carte, with skewers and soups at $2, sushi rolls at $5 and bento boxes at $10.
I highly recommend the "Let us entertain you" omakase menu. It means literally "I leave it up to you" and the chef makes what he thinks will intrigue you based on your preferences. You can have as many courses as you wish for $22 for two guests. We started with batter fried fresh jumbo shrimp with a succulent sauce. Then, an elegant roll that turned out to be a spinach cake with a spicy peanut sesame sauce. Then came black cod with a bean sauce on a green leaf with rice and plum sauce. I found it every bit as delicious as the black cod that's the signature dish of a famous Japanese chef. If you want, Vista's chef will keep experimenting; but of course, there's always a dessert.
Ji Ji Asian Restaurant
So much for the old saying that Asian food leaves you feeling hungry: it's important to arrive with an appetite  at Ji Ji. One person in a couple or group is designated to order multiple appetizers and entrees to be shared at the table. I found that when you're ordering for more than one you invariably over-order and have no room for a dessert at the end. And it's really tempting to eat your way through all the well-spiced and sauced Chinese and Thai specialties on the extensive menu.
By day, Ji Ji is the Mongolian Wok, but unlike the wok stations on some other Carnival ships, this one is a sit-down and order from a menu restaurant. The first day of the cruise was a port day and it was easy to score a table at lunch for a wok fry. By the sea day in the middle of the cruise, there was a 20-minute wait to get seated.
I miss the ability you have on other Carnival ships to select the items you want cooked from a buffet and then watch the chefs toss and stir the ingredients and add the sauces. Here, you check off the kinds of noodles and veggies and the kind of sauce and protein you want and it's wokked up in the kitchen and served by a waiter. It's incredibly tasty and complimentary, so it's no wonder there's a wait for a table.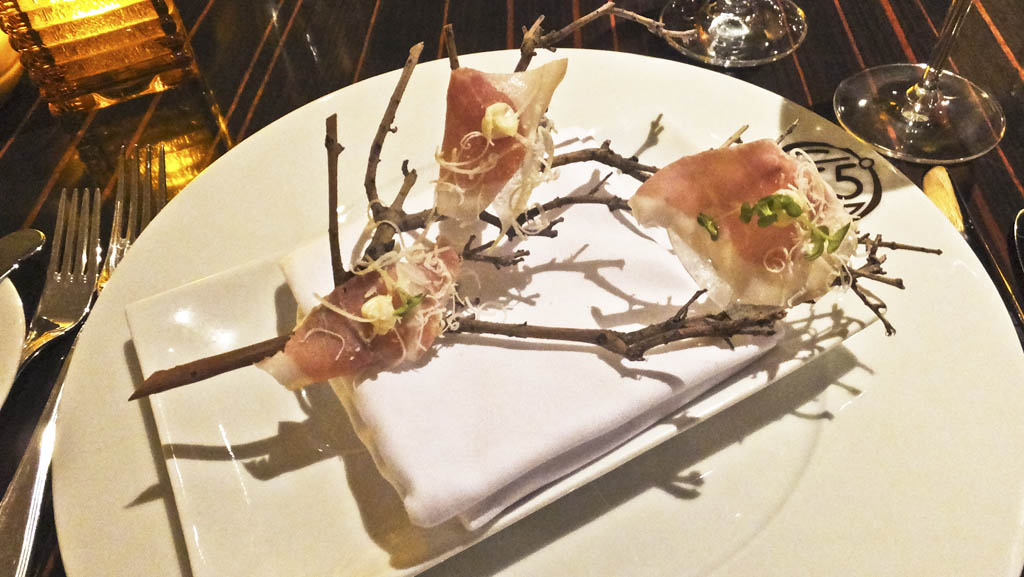 Fahrenheit 555
Carnival's classic steak house has a curved, streamline look on Vista, with lamps resembling big candles recessed into niches in the walls, a visible kitchen in the far corner and a separate ante-room for parties. It features a predictable ultra-American menu featuring faultless prime beef, including the 18-ounce Cowboy Steak for Texas-sized appetites. But it's also got its share of inventive surprises, like the prosciutto ham appetizer that hangs the thin slices like leaves on the twigs of a tree.
As you might expect, the most popular orders are the filet mignon and surf and turf. There's a $35 per guest cover charge.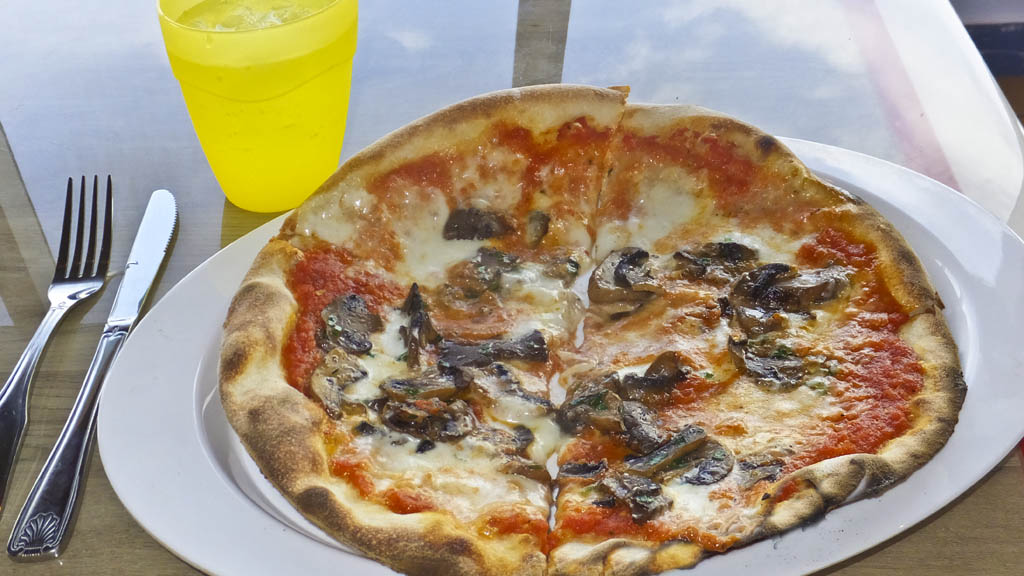 Pizzeria del Capitano
A spinoff from the Cucina del Capitano is this pizza station on the rear lido serving a menu of rounds made with hand tossed dough and fresh ground tomatoes and chunks of mozzarella baked in a specialty oven made in Italy. It bakes the thin-crust pizzas in only three minutes, so you'll always get them fresh and hot. The pizzas are complimentary, so this joint open 24 hours a day is dangerous for those with late night munchies.
Cucina del Capitano
Lots of satisfying Italian comfort food is on the menu of  the checker table cloth restaurant that's a larger scale version of restaurants that Carnival has on many of its other ships. There's a lot of the "moon hits your eye like a big pizza pie" and "funiculi, funicula" music on the speakers, and then the whole staff suddenly stops what they're doing and breaks into song and dance. Mamma Mia! But the food is like mama used to make–if Nonna was from Napoli. Evenings, there's a cover charge and at lunch time Cucina serves complimentary pastas.
Blue Iguana Cantina
This Lido deck Mexican burrito bar is similar to those on many other Carnival ships, but it seems to serve up its burritos and wraps a bit quicker than on other ships. That may be due to the fact that it isn't as busy due to the number of options around it. Many diners don't realize it's open for breakfast, though. Burp.
Guy's Pig & Anchor Bar-B-Que
It's not yet up and running, but a spinoff from Guy Fieri's burger joint on Carnival Vista will be an open-deck smokehouse for barbecue concoctions like "championship pork butt, smoked round of beef Andouille sausage and Blue Ribbon chicken It's going to be served with comfort sides like "Mac Daddy Mac n Cheese" and "Old Skool Potato Salad and collard greens." Can't wait.
Flamboyant roadhouse cuisine junkie and TV host Guy Fieri developed the Carnival pool deck burger bar concept with its surf's-up California décor that's been installed on a lot of Carnival ships. On Vista, the dining area is expanded and actually has a good ocean view. I avoided the temptation to have the calorie-rich burgers and greasy fries for regular snacks during the cruise—but a lot of my fellow guests clearly didn't.
Dr. Seuss Brunch
And the green eggs and ham? That's at the special Dr. Seuss brunch that seems remarkably popular with kids as well as grownups who dig the classic story book rhymes and want to meet characters like the Cat in the Hat and Thing One and Thing Two for photo ops. There are "gravity defying pancake stacks" (tinted red and white) funky French toast (with colorful icings and "Moose Juice 'n' Goose Juice." And, by the way, classic breakfast fare is on the menu as well. The cover charge is $5 a guest.
Meanwhile, if you want me, I'll be at Vista's Java Blue coffee shop having one of the best cappuccinos at sea.