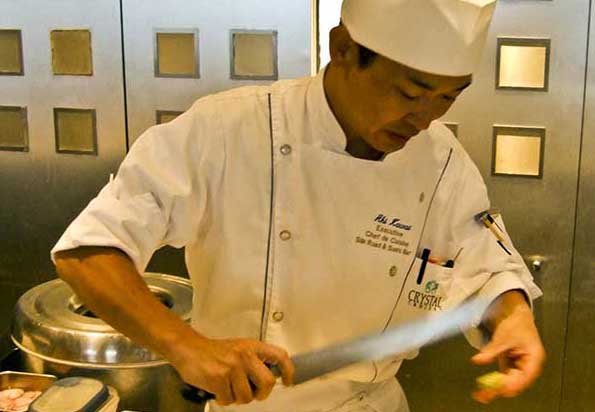 In Venice, Ahi Kawai walked an hour from the ship to the fishing docks in search of the freshest seafood for the Nobu Sushi Bar and Silk Road Restaurant aboard Crystal Serenity.
"Japan is my favorite place to buy fish, but Venice is very nice," he said, examining displays of octopus, tuna, cod and mackerel. Satisfied with his purchases, he walked back to the ship toting two 25 pound bags of catches of the day to ensure that his sushi bar lives up to the standards of Nobu.
Surprisingly, the Silk Road restaurant and sushi bar don't serve fish fresh from the dock. "We get all the fish fresh and put it in a super freezer that instantly freezes fish at minus 80 degrees. That way it doesn't affect the texture and we can be sure it will be in perfect condition even on a three-week cruise," he explained. The super freezer is one of the things Nobu Matsuhisa who is a stickler for freshness and detail insisted on if his reputation was to be put to the test on a cruise ship. The fish that's needed for the day is thawed in a special technique too, put in warm water with salt and gradually thawed in a three-hour process in a special refrigerator.
And the results I was to find in three visits to Nobu on my cruise on Crystal Serenity in the Mediterranean were among the best Japanese meals I've ever had, even in Japan. This is AvidCruiser's second review of Nobu afloat. On the first, Ralph Grizzle experienced the Nobu on sister ship Crystal Symphony and delivered the verdict: "Nobu at sea, it's the real deal." See Ralph's video Crystal Symphony's Silk Road & Sushi Bar.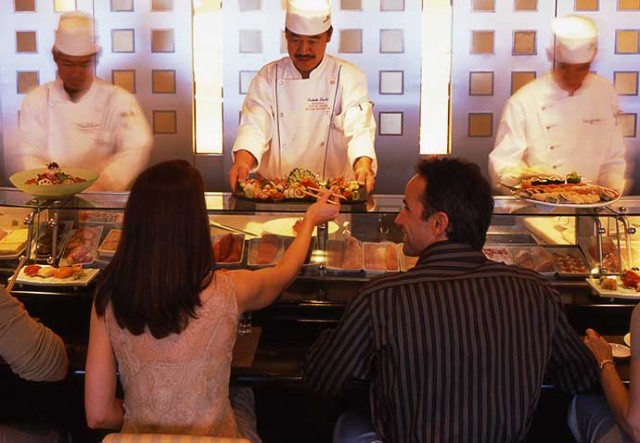 It was my turn to experience the restaurant which sports a new cosmopolitan look, in the wake of a recent stem to stern renovation of Crystal Serenity and a subsequent re-decoration of Nobu. New fabrics include luminescent black wall coverings that set off the striking calligraphic art and ceramics that decorate the room. I found the staff to be as sharp as the sushi knives that carve unforgettable experiences out of raw fish. "The sushi chef has to give you the whole experience. He has to be an entertainer and talk about the fish and size up the customer to decide what they might like," Ahi explained. He was born in Japan and immigrated to San Diego in 1995, where he opened a Nobu restaurant in what has become an international restaurant group thanks to partners of Nobu who include Robert DeNiro. Then, Ahi went to sea when Crystal Serenity launched the first floating Nobu restaurant on the newly launched Crystal Serenity in 2003.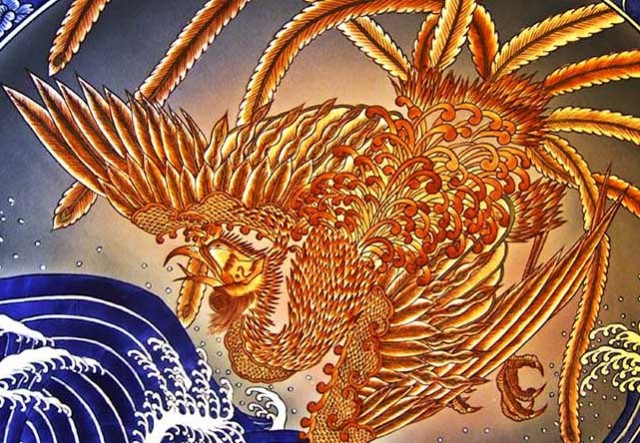 "Training from Nobu is extensive. In four months of chef training you learn a precision that few other restaurants can aspire to. You have to become very accurate in weight and presentation. Other restaurants train you 80 percent in their way, Nobu is 100 percent."
He explained American tastes are different than Asian, so presentations are varied as well. "An American might be put off to see a fish with its eyes staring back from the middle of a plate for instance. For a person who is new to sushi, perhaps California roll," he said.
But many Crystal guests are experienced with Japanese cuisine so there are choices that range from tuna to octopus to geoduck clams.
"Nobu is not as traditional in the tastes of sushi as Japanese sushi bars might be. His time in Peru gave him an appreciation of South American spices and sauces, chilies and cilantro. His spicy rococo chili sauce from Peru is an example," Ahi said.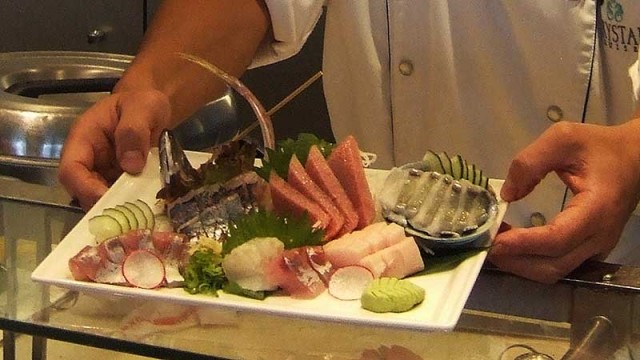 Don't worry if you aren't familiar with a sushi menu. The Nobu waiters are happy to suggest an assorted plate to start that includes Nobu's signature sushi and sashimi, including salmon tartar with Sevruga caviar, tiradito Nobu-style, and yellowtail sashimi with Jalapeño, reflecting the Peruvian influence. And because I couldn't choose among the main course options, I went with a Bento Box with tasting portions of three of Nobu's classics —Stir-fried lobster with truffle-Yuzu sauce served with asparagus, shiitake and snap peas; Black cod marinated in Saikyo miso with lemon; and Grilled wagyu beef with a choice of anticuccho or wasabi pepper sauce.
The appetizers and entrees were so filling on my first visit, I didn't get to dessert, so I just had to go back, and I recommend the restaurant's signature Bento Box filled with chocolate soufflé cake with shiso syrup and sesame ice cream. Nobu at sea is still the real deal.