5 Holland America Upgrades Balance Tradition and Innovation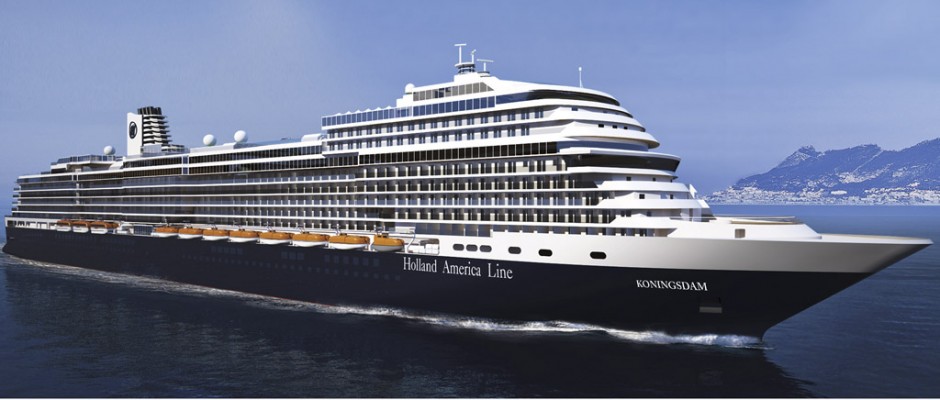 It's a new era for a line steeped in tradition, Holland America Line announced as it outlined plans to spend $300-million on upgrading its existing fleet as it adds two more ships over the next two years.
Yet while they call it a leap into the future, it's clear that HAL recognizes the appeal of its "-dam ships"  to loyal tradition-minded Holland America guests, as it reaches out to a new generation of cruisers who want more tech and style and added entertainment choices.
"It's an evolution, not a revolution," said Orlando Ashford, the line's President, at a press conference in New York. "This honors our past, and creates modern twists going forward."
There are things guests of Holland America Line can count on: the hulls of all the ships are painted a deep nautical blue. All have traditional club-like lounges and elegant dining rooms and events like afternoon tea. Waiters address you by name and bellhops deliver mail to your room in uniforms that include classic pillbox hats.
While nostalgia is wonderful, it can be limiting in a world of cruising in which it's almost a given that the next ship will be bigger, with more options and higher technology than those that came before.
That's why HAL plans a two-year program of fleet upgrades that will include adding some of the new dining and entertainment options coming in its new ship Koningsdam that starts sailing in April, 2016.
More than $40-million of that will be in immediate suite enhancements, including new decor, premium bed duvets, new vanities and night stands, interactive televisions, as well as Bose docking stations, in-suite coffee makers and espresso machines. The features will be added as ships go to scheduled dry docks for maintenance, beginning with Eurodam in January, 2016
Enriching journeys and adding value throughout the cruise experience are even bigger goals, Ashford said. The upgrades include not only a new look for the line's websites, but more on-board experiences and new features to help travel agents and potential guests pinpoint the cruise and shore excursions that will best match their interests.
Here's a look at what to expect:
1) Expert Content for Planning
The website redesign aims at making all of Holland America's portals the most comprehensive and easy to use sites for cruise planning.
Through a collaboration with the media company that publishes AFAR magazine, the websites will offer destination guides for the 400 ports of call and scenic cruising areas Holland America visits. A network of local experts will curate the content and provide guests with recommendations for top attractions, restaurants and shopping experiences in each destination.
Ashford said this is not meant to compete with the advice that travel professionals give guests. He said HAL will make the Afar Media write-ups available to agents to use for their own marketing.
2) Personalization Tools
Once guests have chosen an area of the world they want to explore, a second collaboration with website company Utrip will create individualized recommendations on itineraries, port highlights and shore excursions that match the interests of guests.
These are recommended by either a pre-determined profile or a personalized one created with interactive sliders covering History, Art and Culture, Food and Drink, Nature and Outdoors, and Contemporary Life. Interactive maps will allow users to see the location of each suggestion and click for additional information. The feature will help travel agents recommend itineraries that will best meet client expectations, Ashford added.
3) Enriched Cruise Experiences
A partnership with the producers and resources of BBC Earth is set to roll out across Holland America's fleet starting in April, 2016 and will be on all ships by September 2016.
A highlight of the partnership will be a live concert specially adapted for the line based on the Frozen Planet program, which will feature documentary footage of polar explorations accompanied by live musicians.
Enrichment activities will include a game show about wild and little-known facts about the natural world, and BBC Earth theater screenings with special introductions by the film crews behind the programs.
Junior cruisers can get in on the adventure as well with on-board explorer trails, workshops, and BBC Earth animal and dinosaur fact shows. They can even try their hand at being a journalist and make videos on board.
4) Enhanced Culinary Options
HAL will be expanding what it calls its Culinary Council to offer more signature recipes of celebrity chefs and noted restaurants. Member chefs include master chef Rudi Sodamin, Jonnie Boer, David Burke, Elizabeth Falkner and Mark Best.
Jacques Torres, a real life Willy Wonka with five chocolate shops in New York will be perking up dessert menus. The dean of pastry at the French Culinary Institute in New York, he's star of the Food Network show Chocolate with Jacques Torres.
Another initiative being introduced on Koningsdam is a collaboration with Washington's Chateau Ste. Michelle winery. In the Blend tasting room, guests will be able to concoct their own custom wine to be served at dinner or to have in their staterooms. Ashford said he expects the feature to be added to other HAL ships in the future.
5) Updated Brand Identity
To signal the changes, Holland America will be phasing in a new logo and slogan, changing 'Signature of Excellence' to 'Savor the Journey'. The new logo remains in blue with a stylized ship's prow surrounded by an oval, but it edits out a sailing ship which harkened back to Holland America's start in 1873 with trans-Atlantic service between the Netherlands and New York. (Only Cunard Line and P&O Cruises have longer histories). Both new looks will be added to ships starting in January, 2016
Holland America is betting that guests who are regulars will look at the changes and love them and that a new tech-savvy generation of cruisers will be drawn to the line, Ashford said. It's probably a safe bet.