7 Strategies for the Tastiest Dining Experiences on Oceania's Sirena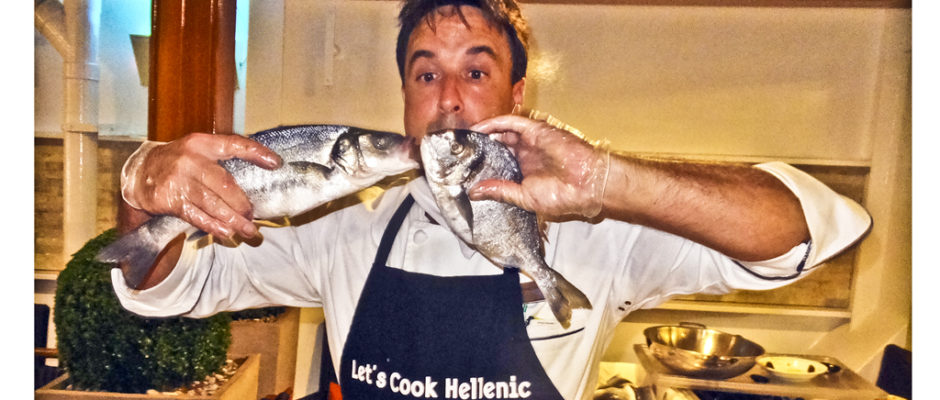 Let's begin with escargots in Burgundy garlic butter with rosemary, then a salad of assorted greens with orange wedges.
For the entrée, tamarind-glazed black cod with sweet ginger sauce and vegetable ragout. And for dessert, the  chocolate mousse is just too tempting.
These are the sort of chef's selections you'd expect for the grand captain's gala dinner on most other ships. But on Oceania Cruises' newest ship Sirena, these were among the menu choices on the embarkation evening in the ship's main restaurant, the Grand Dining Room.
There will be different culinary treats on the menus every evening to come and alternative gourmet restaurants to sample. Dining on Oceania Cruises is consistently elegant and scrumptious.
The venues added to Sirena in its introduction to the fleet are being added to sister ships Nautica, Regatta and Insignia. They're  all included in the cruise fare, but with so many choices, a bit of strategic planning can help get the tastiest experience possible.
1) Grand Dining Room
On the menu: Menus change daily and there are at least 12 entrées every evening. Among other options the first night out were a mushroom risotto, venison medallion, quail and a choice of steaks. Every evening the menu also features three unique signature dishes by Oceania's celebrity French chef Jacques Pepin.
Growing up near Lyon, Pepin learned classic French cuisine techniques, but he can't resist adding intriguing modern twists. I could never get jumbo shrimp sautéed in extra virgin olive oil with garlic, parsley and tomatoes to turn out as succulent at home. There are also nightly CanyonRanch SpaClub calorie wise and vegetarian options.
My only quibble was that the service some evenings felt a bit too brisk. We'd hardly finished ordering and tasting the wine before the appetizers arrived.
The strategy:  The Dining Room doesn't take reservations and if you're looking for a table for two at a window, you'll generally be told there's a 20 to 30 minute wait in the Barista's lounge, which is not an inconvenience as it features comfortable sofas and chairs.
In reality, the wait is seldom ever very long at all. Interestingly, my wife and I  ended up striking up interesting conversations with other couples during our waits. Our discussions ended up continuing at  tables for four or even six. By the end of the cruise, we were trying to squeeze 10 at a table for eight.
If you really do want a table for two without a wait, it's easiest to snag one if you're an early bird—around 7 p.m.
2) Tuscan Steak
On the menu: Yes, the name says it's a steak house but this restaurant has got a dual personality. It's also Sirena's Tuscan trattoria. The décor is simple and contemporary, with none of the classic bullfight paintings on the walls or wax dripping Chianti bottles on the tables. They don't make a big production of bringing a cart with a choice of a dozen kinds of olive oils for dipping your bread. The one olive oil they do provide does nicely, thanks.
As you'd expect,  the menu has a wide array of prime beef cuts, including a New York Strip for big eaters: the King's cut weighing in at 32 ounces. The signature dish is the Bistecca alla Fiorintina, a Tuscan style porterhouse which also requires a big appetite. It comes as a 20-ounce serving for one or 40 ounces if it's shared by two.
I veered toward the Tuscan side of the menu, which along with definitely Italian-inspired dishes such as osso bucco or veal chops with porcini mushrooms. The menu also includes less-Italian options  like Kobe beef meatballs and an excellent Dover sole.
The strategy: Two visits to this restaurant are definitely a good idea, to be able to sample both sides of the menu. The alternative dining rooms are complimentary and guests in concierge-level and above accommodations can book twice on each cruise segment. But because of that, prime tables for two are at a premium around 8 p.m. If there are specific nights you want to dine a deux to celebrate a big event, make a booking on line as soon as you book your cruise, because advance bookings for alternative restaurants close two weeks before sailing date.
Once on the ship, you can make reservations and generally snag the table you want it you're willing to dine at 7 or at 8:30.
3) Red Ginger
On the menu: A bowl of warm edamame arrives to nibble while you peruse the menu. The chef can also prepare a sampler of sushi and tempura while you decide. The signature starter that's difficult to resist is the watermelon and duck confit salad, with a satisfying sweetness to balance the richness of the duck.
Then it's decision time, as each of the entrees is spectacular. There are Malaysian, Chinese, Thai and cross-cultural Asian options. The curry prawns and lobster pad Thai are stellar seafood options and there are Thai vegetarian dishes. Then there's a whole separate menu of inventive Asian desserts.
The strategy: The shared sushi plate to start can be filling, especially if you plan to order the pad Thai and then even contemplate a dessert.
Immensely popular, the dining room can be extremely busy at 8. A reservation for 7:30 or 8:30 may bring more choice in tables and a more leisurely dining experience.
4) Terrace Café
On the menu: On the rear of the Lido deck, this is Sirena's casual buffet and on a warm, sunny day there's nothing better than a table on the open rear Lido, which features a large overhang and big umbrellas to shade the tables. The salad bar can be a bit predictable, with a choice between Cesar salad or mixed greens and heavy dressings. But there are a number of other more inventive salads available on the cold dishes counter. The carving stations and pastas are different every day and there are specialties of the countries we're visiting.
In the evening, this is the casual dinner buffet. But there's also a schedule of special themed evenings. For them, the chefs are on deck preparing ingredients they brought on board that day and you get to chat with them while they're cooking.
On a recent Mediterranean cruise, the chefs had brought aboard a dozen flats of fresh fish on ice in Kotor, Montenegro and turned the evening into a gala fish fry. On a late  evening in Corfu, the theme was Greek. Another Asian themed evening featured a while suckling pig.
The strategy: The theme nights tend to happen on evenings when the ship is docked in port, so you should get the schedule and plan to dine at least once here for a special evening event and do the specialty alternative restaurants on other days.
The outdoor Terrace tables are in high demand in the evening and there are no reservations.If you discover there's no table available outside when you arrive, ask the staff to bring you a before-dinner drink at an inside table with a view and then let you know when a table opens up. There's generally something available fairly quickly.
5) Jacques Bistro
On the menu: It's not technically a separate restaurant, but a corner of the Grand Dining Room gets transformed into a French boite at lunch time, complete with menus on clipboards and place settings with Jacques Pepin's logo.
The lineup includes classic French bistro choices like croque monsieur and steak au cinq poivres with frites, but there's a daily selection of specials. The daily soups are particularly luscious. It's fun and it's table service rather than buffet style of the Terrace Café, so there's a greater sense of occasion.
The strategy: Good days to check out the Bistro are when you're not coming or going from a shore excursion and feel like you want to have a relaxed mid-day meal rather than a buffet. The ambience puts you in the mood for a glass of wine and a look at the separate dessert menu.
6) Horizons for tea
On the menu: The expansive observation lounge at the front of the ship is a quiet retreat by day but at 4 o-clock, it gets packed for the daily tea. There's chamber music and a panoramic view but the big draws are the trolleys of sinful pastries, the table of scones and tea sandwiches and buffet nibbles to tide you over until dinner. Oh yes, they serve tea as well, with water heated in an elaborate silver urn.
The strategy: Prime tables, of course, are along the windows and they're grabbed quickly. Best bet is to arrive about 10 or even 15 minutes ahead of 4.
7) Waves Grill
The all-day grill near the pool requires no strategy, except how to avoid temptation. If you need an excuse, the menu of comfort foods is supplemented by a salad bar.
Particular faves are their grilled Reubens piled high with smoked meat and  the mushroom cheese burgers… so messy to eat but, oh, so good.