Barging In: Myths and Realities of Small Boat Cruising in Europe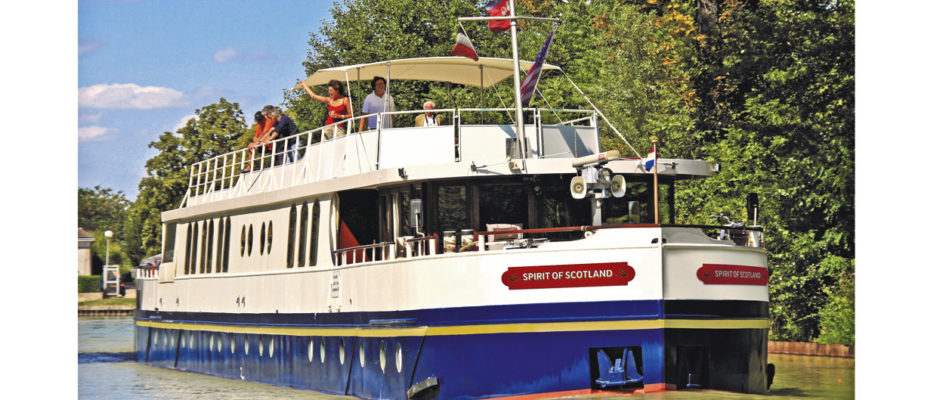 When you think of river cruising in Europe, the Rhine, Danube and Seine come immediately to mind. But how about the Nivernais Canal, the River Yonne, the Brenta, or the Canal du Midi?
Europe is criss-crossed by less-known rivers and canals that were major ways to get goods and people around in the days before highways and air freight. Sailing them is a niche that's become a specialty for 40-year old European Waterways, whose small historical barges go where other cruises can't.
There are a lot of misconceptions about hotel barging, says Derek Banks, co-founder and managing director of European Waterways in an exclusive interview with The Cruisington Times.
What do people have to see to believe about barge vacations?
The first impression guests always have is that a barge is much larger than they imagined. It's like Dr. Who's Tardis, it's deceiving. We're the biggest boats traveling on the waterways we are on and we're at the maximum size for most. Sometimes you can often hardly fit a credit card between the boat and the sides of the locks.
People also come away surprised that we don't go very far in a week. We travel only a couple of miles a day and you can literally walk alongside the barge, if you want to. It's a very close intimate experience, you're within feet of the canal banks so you're really a part of what's going on in places tourists seldom see.
It's also a misconception that the guests will be mainly Europeans. The typical passenger is North American, with Americans and Canadians making up 70 per cent of our guests. Another 15 per cent are Australians and 10 per cent Brits.
The working language on board all the boats is English. There are a few non-English speaking clients, but they invariably charter the entire boat. Half of our departures end up being whole boat charters and the rest are individuals who meet like-minded passengers. Some of our guests have come back as many as 20 times.
What's the key difference with other types of cruising?
If people have never barged they don't realize the amount of personal attention they get. Our maximum capacity is only 20, with the average being 10. There will be six crew for 12 passengers,
On a barge you can visit unique off-the-beaten-track places. We can keep offering new and unique itineraries because there are 1,000 miles of inland waterways.
What's a day like on board?
We cruise for four or five hours a day and we eat for four or five hours and the rest of the day we go on excursions. It can be as easy-going or intensive as you choose. You either walk ashore to a market or a castle or take a quick ride in a minibus to a vineyard or a chateau. There are two minivans assigned to each boat to take guests wherever they choose to go.
It's all very close up. For instance in Scotland we get shown around by the head gardener of Cawdor Castle or get taken by a priest to see the workings inside a cathedral tower clock or go to a lock house to see how the 300-year old lock systems work.
What's the history of your fleet?
The majority of our vessels were originally built as Dutch trading vessels; only two were purpose-built for only carrying passengers. The oldest–the Art de Vivre–was built in 1917. It started out as a munitions carrying boat that brought supplies to the Somme in the First World War and became a hospital ship in Northern France. It was later owned by a great, great grandson of Napoleon Bonaparte and used for carrying Cognac in France.
Another barge, the Chablis, was part of the Second World War resistance based in Brussels and it served as part of a network that got airmen captured by the Germans back to England.
There are a lot of boats that were used for ferrying wine or grain. It takes four or five man years of work to convert a working barge into a hotel barge and we have a full-time team that's developed unique skills in barge building.
Over the past 40 years, European Waterways has become a fleet. I'm a skipper myself and with my partner John Wood-Dow we own eight vessels ourselves. The other nine are owned by friends of mine who have joined and kept up the standard we have.
What routes are unique to you?
Apart from being the longest established operator we have innovated routes like being the only hotel barge on the River Cher in the Loire River valley, so we cruise right beneath Chateau Chenonceau. There used to be a link down the Loire River but it was shut in 1952, so we had to lift the barge onto a flatbed to put it in the Cher.
Another route on the Caledonian Canal is also not linked to any European waterway, so our first boat the Highlander had to be trucked to the canal. This year we've done  the same with a second barge we added  on the canal.
What's new for 2018?
Spirit of Scotland is our latest. It's a purpose-built 12-passenger boat cruising the Highlands of Scotland.
We now have five vessels in Burgundy, doing traditional cruises around Sancerre and Chablis. And we've added a vessel in Champagne this year. That means you can link up two weeks to create a Burgundy and Champagne cruise. We're also the only boats on the canal out of Venice that was built by Mussolini that runs alongside the Po River. Other cruise ships have tried to do the Po, but regularly had trouble with low water levels on the lock and canal system that runs to Ferrara. We're small enough to not have that problem and we can go into regions where there aren't many tourists.
There's a lot we still haven't explored and we're always looking for new experiences. We have standard weeks in the brochure, but we can add in things according to client wishes and we always throw in surprises as well.