Celebrity Commits to a Revolution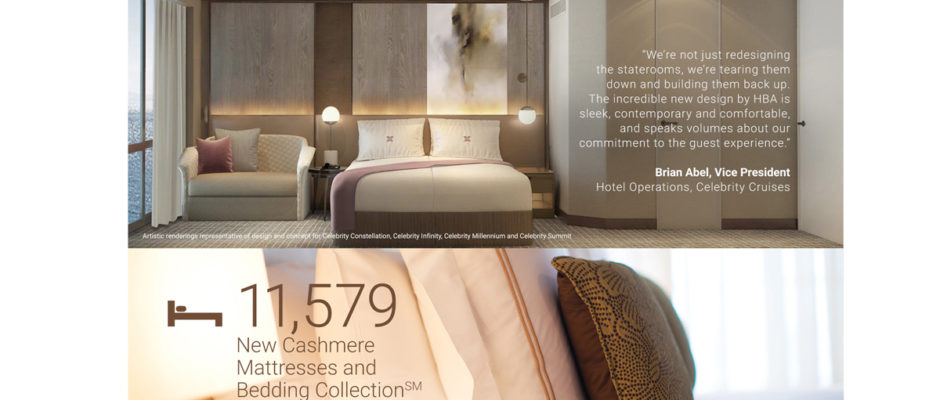 We're talking about a revolution, but it's one that's being meticulously plotted.
Starting in 2019 Celebrity Cruises has committed to spend $400-million renovating and upgrading their fleet to give all nine ships the feel of the new Celebrity Edge, launching in 2018.
All staterooms will be reimagined by designers Hirsch Bedner Associates and reconfigured. This will include the installation of over 11,579 cashmere-covered mattresses and bed sets and a more efficient configuration of the storage spaces in the cabins.
The cruise line isn't just redesigning the staterooms, but tearing them down and building them back up, said Brian Abel, vice-president of hotel operations at Celebrity Cruises.
New Retreat Sundecks will be added that are designed to feel like a high-end resort on an upper level with panoramic views. Michael's Club –which is currently the suite lounge on some ships – will be rebranded as the Retreat Lounge for suite class guests to enjoy complimentary beverages, snacks and live entertainment.
Celebrity Constellation, Infinity, Millennium and Summit – the oldest ships in the fleet – will be outfitted with the new Oceanview Café international marketplace concept, featuring globally influenced menus and a sleeker, more whimsical ambiance.
"Celebrity Cruises has always been recognized as an innovative, trend-setting brand, and the Celebrity Revolution is just another instance in which we keep raising the bar in modern luxury travel. This is the largest investment the brand has ever made to modernize our fleet; and it's all for our guests," said Lisa Lut0ff-Perlo, President and CEO of Celebrity Cruises announcing the project.
The rebuilds will be done as ships go in to scheduled dry docks between 2019 and 2023.