Celebrity Flora: New Luxury Ship to Explore the Galapagos Islands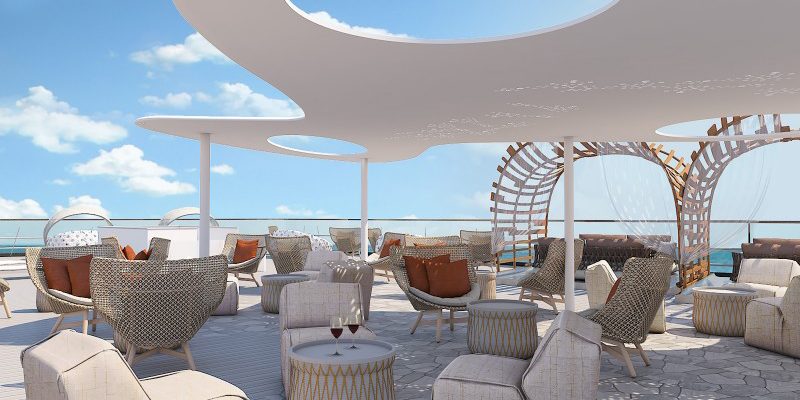 Celebrity Cruises is raising the bar for its expedition fleet with plans for a revolutionary Galapagos explorer, the Celebrity Flora. The 100-passenger ship is designed for marine exploration and includes anchorless technology that maintains the ship's position while protecting the fragile ecology of the sea floor.
Flora will set new standards for guest luxury on wildlife expedition, with personal suite attendants, new dining venues and an open-air stargazing platform, said Lisa Lutoff-Perlo, president and CEO of Celebrity Cruises. "From the luxurious all-suite accommodations to eco-friendly innovations, we created a ship that brings a new level of luxury, sustainability and natural exploration to the region. Guests will feel as though they're boarding a high-end yacht for a week of unparalleled adventures, and they are!"
The design of the ship will be consistent with the new Celebrity Edge and other larger Celebrity ships, with an emphasis on the natural and organic, Lutoff-Perlo said. About half of the accommodations will incorporate a virtual balcony concept that will debut on the Celebrity Edge. Lounges, suites and restaurants will have floor-to-ceiling windows to provide guests a 360-degree view of the islands and their unique wildlife.
The ship will carry a fleet of three Zodiac inflatable boats for shore excursions led by experienced guides and wildlife researchers. Darwin's Cove and the Naturalist Center are zones for learning about the destinations, wildlife and environmental efforts.
Celebrity Flora, being built in a Dutch shipyard, is slated to enter service in May, 2019. The Ecuadorian Government restricts the number of ships that can operate in the ecologically fragile islands and their size is limited to 100 passengers or less. Flora will a will replace two small ships now sailing for Celebrity, the two smaller ships, the 48-passenger Celebrity Xperience and the 16-passenger Celebrity Xploration.
"Celebrity Flora will undoubtedly mark a very important milestone in the tourism development of Ecuador and the Galapagos Islands, offering high quality and sustainable tourism," says Enrique Ponce de León, Ecuador's Minister of Tourism.