Crystal's Adventurous Endeavor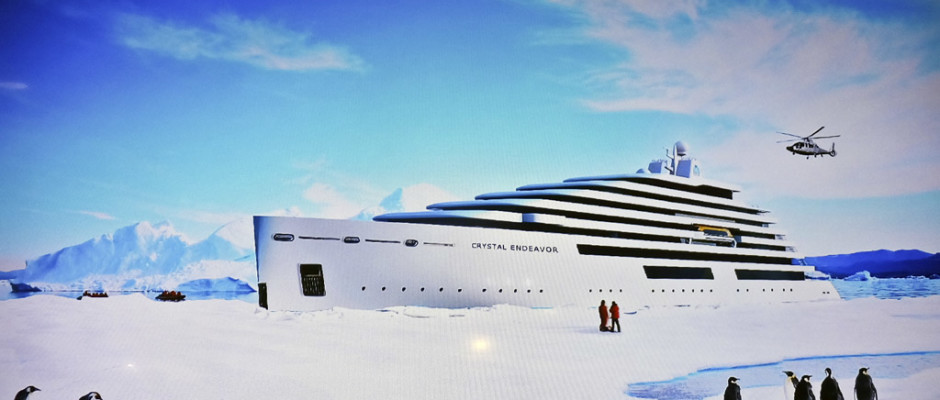 In the wake of launching its first expedition ship, Crystal Esprit, Crystal Yacht Cruises has made a splash with plans for the biggest purpose-built polar class yacht yet.
Crystal Endeavor coming in August, 2018 will measure 60 feet long and carry 200 guests in some of the largest suites afloat, starting at 400 square feet. "With Crystal Esprit, we discovered there are many guests, young and young at heart, who enjoy sports at sea and discovering remote islands, and as the interests and age of luxury travelers increasingly vary, we will continue to expand our collection of luxury travel options," says Crystal president and CEO, Edie Rodriguez.
The ship–to be built in Germany to class PC6 Polar designation able to cruise in the Antarctic–will also sail in the Americas and Europe in spring and summer.
With a Remote Operated Vehicle (ROV, used extensively in the offshore industry), expedition cruises will also be organized to see sunken galleons, warships and passenger ships, and with dynamic positioning, she will just hover over deep sunken attractions without using anchors.
A complete range of "toys" will include two helicopters for flightseeing expeditions, as well as two, seven-person submarines, eight electric amphibious zodiacs,  jet skis, wave runners, kayaks, fishing facilities, paddle boards, snorkeling and scuba equipment, recompression chamber, dive support tender and a multi-person ATV. To further deliver guest experiences distinct from any other expedition vessels, Crystal Endeavor will be equipped with SEABOBs – underwater scooters.